[sam id="1″ codes="true"]
QUIGG: MY DEDICATION IS THE DIFFERENCE
Bury star says he'll KO Frampton in Manchester blockbuster
Scott Quigg has told Carl Frampton MBE that his dedication to boxing will lead to a KO win in their World Super-Bantamweight title unification clash at the Manchester Arena on Saturday night, live on Sky Sports Box Office.
Tempers flared at today's press conference for the fight as the World champions addressed the throngs of media in attendance, with verbal barbs from the teams – focussing on a row over dressings rooms – were followed by an intense face-off.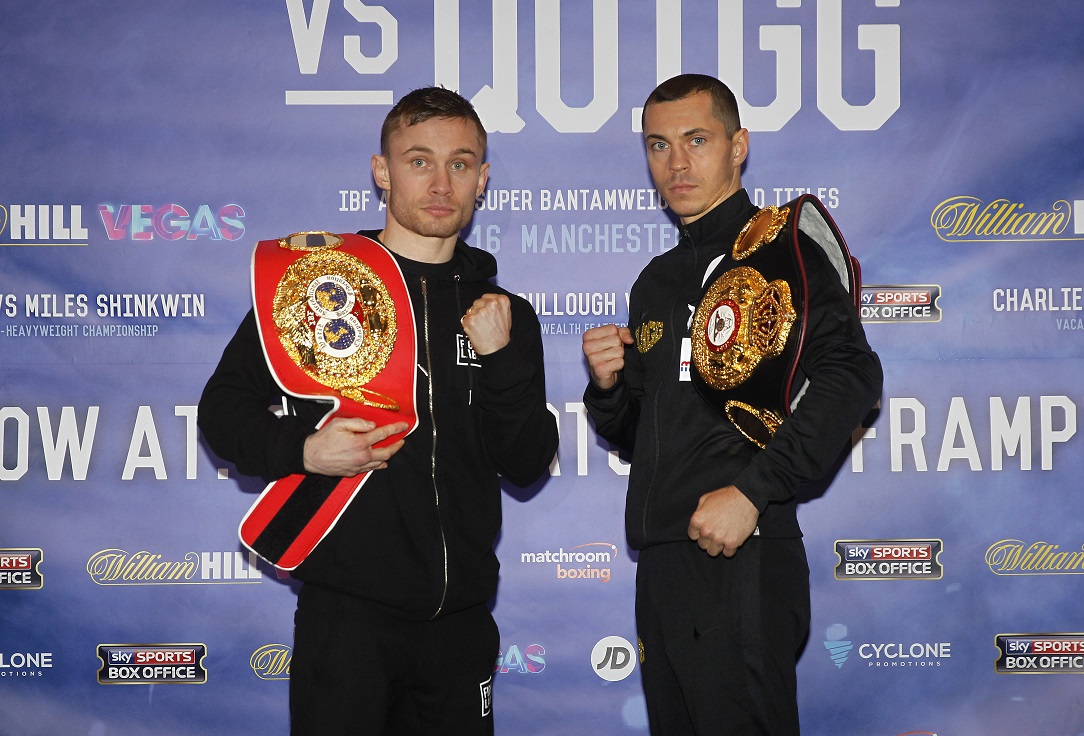 The crossed words and argy-bargy underlined the high stakes in the clash, with both IBF king Frampton and WBA ruler Quigg saying that defeat was unimaginable.
Pundits and fans are calling the clash a true 50-50 battle but both teams are confident of success, and for Quigg, it's his total commitment to his craft that he believes gives him the edge.
"Nobody does what I do in terms of dedication to the sport," said Quigg. "I'll win because of boxing brain and ability.
"It'll mean everything to me. Since the age of 15 all I have done is eat sleep and train. My family lived around me. They make it easier. Saturday is my moment of destiny and, believe me, I will win this fight. I've put in too much for anyone to stop me.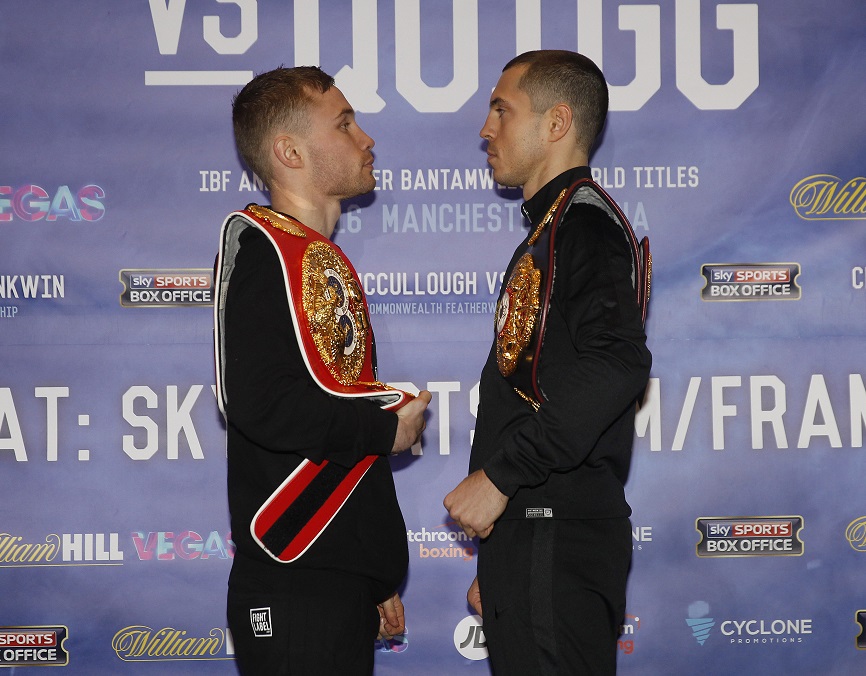 "The one thing about me is I cannot act, I'm just me and I speak the truth. I'm not the best talker but I just tell it how it is. I'm never going to be on Mastermind or anything like that, academically I'm not the brightest, but I don't get where he is coming from with the lack of intelligence.
"I'm streetwise, I know what I am doing. Maybe it's the way I speak, that I stutter a bit sometimes, but that will be his downfall because he genuinely believes that I have no intelligence and can only fight one way, and that will be his downfall.
"My fights have finished early because stuck to what I've gone out to do. I'm going to pick the right shots at the right time. If the knockout comes early, it comes early. If I've got to box for six or seven rounds to get it, then fine. I'll box smart and then the shots will connect to take him out. That's what will happen.
"People are saying now that because I've been knocking guys out quite early that I've been going out for the stoppages, but that's not the case. I've been going out and I've been boxing. If you go looking for the knockout it doesn't come. You go out, stick to your boxing and you set the shots up. If I land clean on any Super-Bantamweight or Featherweight in the world, I will knock them out. So, it's about just making sure I pick the right time and I open the gaps. And when the gaps are there then I'll take them."
Quigg and Frampton clash on a huge night of action in Manchester, with Gavin McDonnell facing Jorge Sanchez for the WBC Silver Super-Bantamweight title and an official eliminator for the WBC World title.
[sam id="1″ codes="true"]
Manchester's Hosea Burton faces Miles Shinkwin for the vacant British Light-Heavyweight title and Belfast's Ryan Burnett takes on Frenchman Anthony Settoul for the vacant WBC International Bantamweight title.
Belfast's Marco McCullough faces Morecambe's Isaac Lowe for the vacant Commonwealth Featherweight title, unbeaten Flyweight Charlie Edwards takes on Luke Wilton, while there's action for Commonwealth gold medallists Josh Taylor and Scott Fitzgerald, Conrad Cummings and Marcus Morrison.