Tyson Fury predicted he would be heavyweight champion of the world one day, and it came true. Five years ago he also predicted Anthony Joshua would become heavyweight champion too, and it came true! Fury's gift for looking into the future appears to be pretty accurate.
Last year Fury dethroned long reigning champion Wladimir Klitschko in Germany to become undisputed champion. He was later stripped of the IBF version of the belt, which Joshua (16-0, 16KOs) then won by stopping Charles Martin.
But before Joshua turned pro and Fury (25-0, 18KOs) was even English champion the pair sparred in London and according to folklore it was a 'war' – Joshua did his best to knockout Fury, because the Mancunian had sent a message out that no-one wanted to spar him. So to get some willing candidates he offered to give anyone who knocked him out his Rolex watch… A hungry Joshua took up the challenge!
Both went for it and Joshua gave Fury a real goos spar, they each landed some big shots, remembers Joshua, but he says he was unable to knock out Fury.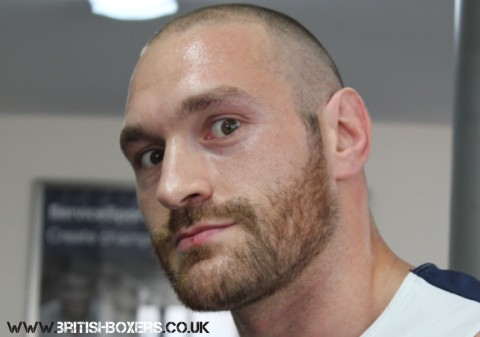 The two unbeaten Brits though are destined to meet for real somewhere down the line, it will be the biggest ever all British world title fight ever if it come off and they get to go at it for real, two British heavyweight champions in a unification fight would be unprecedented.
Joshua offers more insight into what happened when they both traded punches, with a luxury watch at stake, and believes there was mutual respect when they left the ring.
"This was early on when I was an amateur, so I didn't even know who Tyson Fury was," said Joshua.
"This was the time when he was fighting John McDermott, so he was in London at the time, come down from Manchester.
"I remember reading that Tyson Fury is going around different gyms sparring and if anyone can knock him out, they get to keep his Rolex. If you know me, I'm hungry. I was hungrier back then. Those assets and stuff were so far out of reach to me.
"I remember him popping in the gym and then coach says: 'All right Josh, you're sparring.' In the boxing gym, there is no word called 'no'.
"I just got my head guard on, gum shield in, and we just cracked on. Me and him just had a straight war. What I learned about Fury is, we've got the same heart. We're both fighting people and we go to war. 
"I didn't manage to knock him out. We both hit each other with some big shots, powerful shots.
"Years ago he predicted 'watch out for the kid, he'll be heavyweight champion of the world one day' and he got his prediction right." 
WATCH THE FULL VIDEO ABOVE OF JOSHUA TALKING ABOUT FURY SPARRING SESSION.