Tonight Bolton's Amir Khan takes on the Mexican super star Saul 'Canelo' Alvarez in a fascinating match-up in Las Vegas.
Our former lightweight world champion Khan, 29, is not only looking to claim the WBC world middleweight crown, he is attempting to dethrone one of the best fighters in the world, pulling off one of the games biggest upsets and cementing his claim as one of the greatest British boxers ever.
FIGHT RECORDS:
CANELO: 46 wins, 1 defeat, 1 draw, 32 wins by KO
KHAN:   31 wins, 3 defeats, 0 draw, 19 wins by KO
Many believe the fights outcome lies on Canelo's power against Khan's speed, but Khan can bang and his power is being under estimated here. Canelo struggles with boxer, movers and this was evident against Floyd Mayweather who outboxed and outpointed him.
Again Erislandry Lara's boxing skills and movement caused hhim problems and bamboozled him, eventually the Mexican won but only by split decision, the blue print is there, but it takes a exceptional individual to pull that off, against a seriously good fighter. Can Massive underdog Khan be that fighter? and become only the second man to defeat the 25 year old Canelo in 48 fights.
UK fight fans can watch the fight live on BoxNation
WATCH the video above by HBO, it is a great preview for the fight and has everything you need to know about the boxers and their preparations for the biggest fight of the year. We hear from the fighters, trainers & media members leading up to this highly anticipated showdown for the Middleweight Championship of the World.
Press Conference highlights
[sam id="1″ codes="true"]
Weigh-in Highlights
Khan looked in great shape as he hit the scales bang on the 155-lb limit ahead of his super-fight with middleweight world champion Canelo Alvarez (who also came in at 155lb) this Saturday night, exclusively live on BoxNation. 
Khan, who starred for Britain during the 2004 Olympic Games says he will be out to bring home another belt to a nation that is experiencing real success in the sport.
"British boxing is on such a high right now and I want to add to that by beating Canelo," said Khan.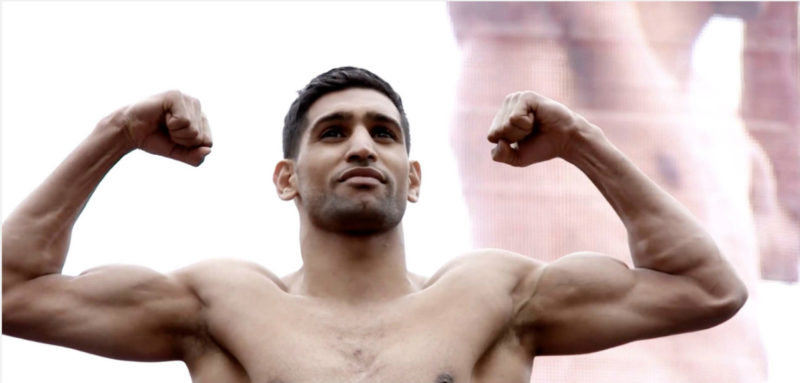 "We have 11 world champions and we're really experiencing something very special in the country. I'm going out there on Saturday night to add to that and make British boxing and sport proud.
"This victory will be for the UK and all the fans. The fight really has a unique feeling about it, something similar to the Olympic Games in 2004 when I made it to the final, and I hope to do the country proud again," Khan said.
A significant number of British fans have travelled over to the fight to voice their support for Khan in what will be a mostly Mexican and pro-Canelo crowd who are celebrating the Cinco de Mayo holiday weekend. 
A host of top celebrities and stars are set to be in attendance for the fight, including British boxing legend Lennox Lewis, who believes a Khan victory will allow him to cement his place amongst Britain's best-ever.
"This is the greatest era for British boxing and this fight allows Amir to take his rightful place among all the stars. He has been waiting for this opportunity for so long, he's had his ups and downs and now is his time," said Lewis.
"I really believe he has a great chance of winning because of his movement and his speed. This is an important fight for Amir and British boxing so I would call on everyone to support him and get behind him. 
"He's come into the lions den to take those world title belts and you have to have nothing but respect for that. It's going to be a great fight and one I'm really looking forward to," he said. 
To watch the fight, live from 1.30am on BoxNation on Saturday night, subscribe now!