Muhammad Ali – The loss on Friday of 'The Greatest' was met with sadness around the world, leaving not only the boxing community stunned and in reminiscent sombre mood.
People of all walks of life, from every country, city and village on the globe remembered the legend who not only transcended the sport of boxing, but left his mark and teachings in the human consciousness, Ali will be remembered for much more than just a pugilist.
Ali died on Friday at a Phoenix hospital in the US, where he had spent the past few days being treated for respiratory complications, he was 74 years old. His death was confirmed by his family in a statement who said they 'would like to thank everyone for their thoughts, prayers and support".
On Saturday a family spokesman confirmed Ali had died of septic shock "due to unspecified natural causes."
The world's wide out-pouring of sentiment and tribute over the weekend has been huge, proving Ali was more than a boxer, he was a very special person who crossed boundaries, stood up for his rights and educated and changed the psyche of a generation and his memory will never die.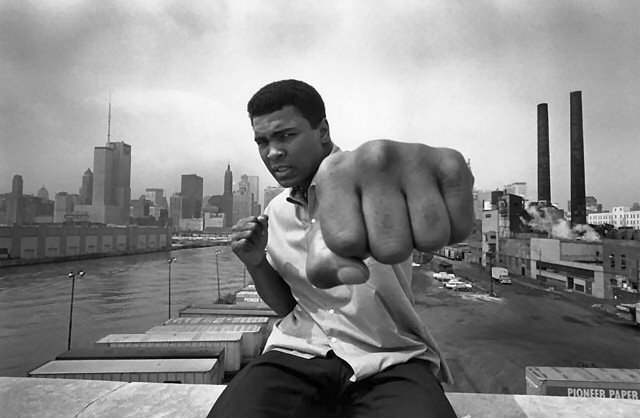 Born Cassius Marcellus Clay on 17th January 1942 in Louisville, Kentucky and started boxing when he was 12, winning Golden Gloves titles before landing a gold medal at the 1960 Olympics in Rome, defeating Poland's Zbigniew Pietrzykowski in the final.
Upon returning to his native Louisville, a young Clay who grew up in the segregated America finds as Olympic champion he's not immune to the racism that is was prevalent in the country of his birth that he had just successfully represented. After being refused service by a waitress at a "whites-only" restaurant, a disgusted Clay threw his gold medal into the Ohio River. (He was in later years rewarded another medal, but his stand at the time is legendary and an early catalyst to the figure head he was to become)
In June 1963, Ali made his first visit to the UK to take on London's Henry Cooper at Wembley Stadium. It was the fight that 'R Henry" knocked the great one down with a left hook. Ali recovered to stop Cooper in the 5th round. – Britain welcomed Ali with open arms and over the years, the majority supported him also in his Vietnam war refusal.
Ali once said he had more letters of support during this time from his UK fans. (He returned to face Cooper again in 1966, after he became champion, the fight was stopped in the 6th after the Brit was badly cut and the ref waved it off)
After four years as a professional and a record of 19-0, 15 Kos) he got his first world heavyweight title shot against the formidable champion Sonny Liston in February 1964. Still named Clay, the young brash challenger stopped Liston after he failed to get off his still for the start of the 7th round. At the time it was considered one of the biggest shocks in heavyweight history.
After the fight Clay announced, he had converted to the religion Islam and would like to be referred to from there on in, as Muhammad Ali.
A year later in May 1965, Ali made the first defence of his title in a rematch against former champion Liston and again left no argument, knocking the former champion out in the 1st round.
Ali went onto defend his title another 8-times before having his title taken from him in April 1967 after he refused to be induction into the U.S. Army due to his religious convictions. He angered many Americans after claiming, "I ain't got no quarrel with those Vietcong." He was subsequently stripped of his WBA title and his license to fight. He was later charged with draft evasion, fined $10,000, and sentenced to 5-years in prison. After many appeals by his lawyers he was spared jail but was banned from boxing professionally for over three and a half years.
Ali eventually returned to the ring in October 1970 against Jerry Quarry, winning in three rounds. – While Ali had been away, there was now a new heavyweight champion of the world in Joe Frazier, the pair were destined to meet, and after one more tune up fight, the pair squared off in March 1971 at Madison Square Garden in New York in one of the biggest heavyweight showdowns in history. A left hook by Frazier dropped Ali in the last round to clinch the win. The long lay off didn't help Ali and Frazier was a hungry champion. After 15 of the most brutal rounds, Frazier outpointed Ali. It was the start of a trilogy of fights that will forever be remembered in sport.
Three months later, the Supreme Court ruled in Ali's favor, reversing the 1967 draft-evasion conviction, a moral victory for the boxer who stood by his belief's against massive pressure and taught the world a lesson.
Ali had to fight his way back up to eventually get another shot at the world title. In the meantime Frazier had been knockout by rising star, the uncompromising big hitting George Foreman and if Ali was to ever regain his title, he would have to get it off the seemingly unbeatable Foreman.
After defeat to Frazier, it took Ali 3-years to get the rematch, the winner would go on to challenge Foreman. This time,  In January 1974, Ali got the win on points to gain his revenge and set-up the fight with Big George. Ali beat Frazier on points over 12 rounds back at the Garden and the fight with Foreman is made.
The "Rumble in the Jungle" in October 1974 in Kinshasa, Zaire was one of Ali's most memorable victories against massive odds, even his own team didn't think he could do it against powerful man mountain Foreman. But he did, knocking out the champion in the 8th round. The elusive Ali introduced the boxing world to the rope-a-dope strategy that day in Africa and made Foreman tire himself out trying to hit him before he finished the job to claim back the world heavyweight title that was taken from him.
Ali made 3-succesfull defences of his WBA and WBC titles before a third fight against arch rival Frazier was made. – The "Thrilla in Manila" fight in the Philippines was one of the most savage fights in heavyweight lineage. These two proud competitive warriors were prepared to give everything they had to beat the other and they battered and bloodied each other in a ferocious battle, before Ali was to retain his belts when Frazier's corner pulled him out of the fight before the 15th and final round.
The fight with Frazier had taken has much out of Ali as it did Frazier and he was never the same fighter again after that war. Infant if Frazier hadn't been pulled out by his corner at that moment before the last round, it may have been Ali's corner pulling him out, afterwards Ali was quoted as saying, it was the closest he had ever come to death.
Post the third Frazier fight, and up to September 1977, Ali made another 6-defences of his titles, before losing to the 1976 Olympic champion Leon Spinks via a 15-round split decision defeat in Las Vegas. Spinks had only had 7-pro fights going in and it seemed Ali had under estimated the youngster. However Spinks' reign was short and brief, and just 7-month's later a fired up Ali won back the WBC belt scoring a unanimous decision over Spinks, to become the first man ever to win the world heavyweight title three times.
The signs of Ali's demise were clear now though and he was far from the boxer who lit up the ring with his speed and movement years earlier. He was still better than most but there was younger upcoming ambitious boxers coming through, looking to make their own way and reign supreme at the expense of Ali. One of them men was his former sparring partner Larry Holmes, who had picked up the WBA version of the world title after Ali lost it to Spinks.
After beating Spinks in the rematch and regaining his title, Ali in-fact retired in June 1979 and should have remained retired, going out on a win, as the champ. But the lure of the ring and a big payday against the new star Holmes was too much, and the fight was made for 2nd October 1980, in a temporary arena constructed in a parking lot at Caesars Palace in Las Vegas.
Holmes had become an established champion in his own right and was now in his prime. Ali was now 38 years old and a shadow of his former self, but given his past feats, many still felt he could somehow defeat Holmes, realistically he had no chance. It was a horrible night for Ali fans and afterwards even Holmes cried in his dressing room at what he had done to the man he had looked up to as a young up coming fighter. The Ali who three times battled Frazier and knocked out Foreman was a memory, against Holmes he had no reflexes, no legs, no punch and was beaten relentlessly, only his pride and fighting heart kept him up at times as the crowd urged him on. But Holmes, who was eight years younger than Ali, dominated every minute of every round. – Finally, after 10 rounds of punishment, Angelo Dundee, Ali's trainer, stopped the fight.
It was the end of an era, the greatest heavyweight champion of all time would never thrill the audiences again. The sad thing is Ali had one more fight against Trevor Berbick, who would eventually go on to win a world title. It is a fight Ali fans, like the Holmes fight do not like to remember.
It was 11th December 1981, in Nassau, Bahamas, and the last time we would ever see Ali in the ring again. Just a month shy of his 40th birthday he took on the 28-year-old Berbick, to the disapproval of two physicians, including his former doctor Ferdie Pacheco, who had voiced concerns about Ali's health and with the accumulation of punches over the years he was worried the boxer was punch drunk.
It was a sad sight to see Ali being beaten to the punch and out jabbed by Berbick who eventually won the fight on points over 10-rounds. After the fight he retired.
Ali's health problems worsened over the years and in 1984 he was diagnosed with Parkinson's Disease. Out of the ring he was still the legend and an inspiration to humanity and now in passing, his spirit and legacy will live on and grow for generations to come.
In 1996, he carried the Olympic torch and lit the cauldron to signal the start of the Summer Olympics in Atlanta. He was also awarded a second gold medal, to replace the one he tossed in the river 36 years earlier.
Once asked about his legacy, Ali answered: "I would like to be remembered as a man who won the heavyweight title three times, who was humorous and who treated everyone right.
"As a man who never looked down on those who looked up to him … who stood up for his beliefs … who tried to unite all humankind through faith and love.
"And if all that's too much, then I guess I'd settle for being remembered only as a great boxer who became a leader and a champion of his people. And I wouldn't even mind if folks forgot how pretty I was."
THE BLACK SUPERMAN!
DAZZLING SPEED!
30 Quotes of Muhammed Ali
1. "Float like a butterfly, sting like a bee. His hands can't hit what his eyes can't see."

2. "It's just a job. Grass grows, birds fly, waves pound the sand. I beat people up."

3. "I'm young; I'm handsome; I'm fast. I can't possibly be beat."

4. "Don't count the days; make the days count."

5. "If my mind can conceive it, and my heart can believe it, then I can achieve it."

6. "It's hard to be humble when you're as great as I am."

7. "I'm not the greatest, I'm the double greatest."

8. "If you even dream of beating me you'd better wake up and apologize."

9. "Braggin' is when a person says something and can't do it. I do what I say."

10. "I am the greatest, I said that even before I knew I was."

11. "Only a man who knows what it is like to be defeated can reach down to the bottom of his soul and come up with the extra ounce of power it takes to win when the match is even."

12. "I'm so mean, I make medicine sick."

13. "I should be a postage stamp. That's the only way I'll ever get licked."

14. "Impossible is just a big word thrown around by small men who find it easier to live in the world they've been given than to explore the power they have to change it. Impossible is not a fact. It's an opinion. Impossible is not a declaration. It's a dare. Impossible is potential. Impossible is temporary. Impossible is nothing."

15. "He who is not courageous enough to take risks will accomplish nothing in life."

16. "A man who views the world the same at 50 as he did at 20 has wasted 30 years of his life."

17. "If they can make penicillin out of moldy bread, they can sure make something out of you."

18. "I shook up the world. Me! Whee!

19. "I hated every minute of training, but I said, 'Don't quit. Suffer now and live the rest of your life as a champion.'"

20. "Service to others is the rent you pay for your room here on earth." 

21. "A man who has no imagination has no wings."

22. "He's (Sonny Liston) too ugly to be the world champ. The world champ should be pretty like me!"

23. "I am the astronaut of boxing. Joe Louis and Dempsey were just jet pilots. I'm in a world of my own."

24. "I've wrestled with alligators. I've tussled with a whale. I done handcuffed lightning. And throw thunder in jail."

25. "Hating people because of their color is wrong. And it doesn't matter which color does the hating. It's just plain wrong."

26. "It's not bragging if you can back it up."

27. "I'm the most recognized and loved man that ever lived because there weren't no satellites when Jesus and Moses were around, so people far away in the villages didn't know about them."

28. "At home I am a nice guy: but I don't want the world to know. Humble people, I've found, don't get very far."

29. "It isn't the mountains ahead to climb that wear you out; it's the pebble in your shoe." 

30. "Live everyday as if it were your last because someday you're going to be right."
RIP MUHAMMAD ALI - YOU WERE THE GREATEST!