Here is a treat to get fight fans in the mood for the massive Kell 'The Special One' Brook vs Gennedy 'GGG' Golovkin fight at London's O2 Arena on September 10. – Last week Sky broadcast the 'Behind the Ropes' series, documenting Brooks preparations has he moves up from welterweight to Middleweight to take on Kazakstan's fearsome Golovkin.
In the video you can see footage of him sparring with Liam Smith, who is himself in camp getting ready to take on Saul 'Canelo' Alvarez in Dallas next month. – Brook also addresses the weight issue and explains how not having to boil down to the 147-pound welterweight limit will help him in performance and in his private life to, adding he has become the perfect family man.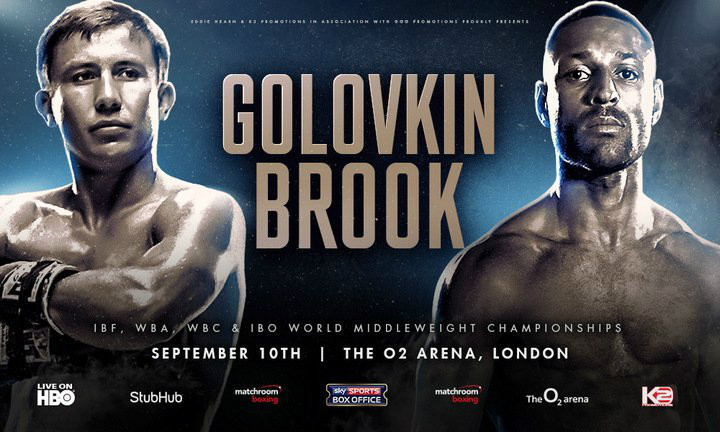 [sam id="1″ codes="true"]
Brook, 30, the unbeaten IBF welterweight champion will step up two weight divisions and face arguably the most daunting assignment in boxing against the unbeaten phenomenon that is the undisputed best middleweight around in GGG.
Golovkin has won all 35 of his professional bouts, stopping 32 opponents on his way to collecting the WBA, WBC and IBF titles.
But Sheffield born Brook, who will find himself the underdog going in with Golovkin, is relaxed and confident of victory and credits not having to boil his muscled frame down to make the welterweight limit to his new Mr Happy.
"It's fantastic. I'm a nicer guy," Brook said. "If my missus was here, she'd tell you how nice it's been at home." said Brook when explaining how his partner Lindsey and their two young children have also been reaping the benefits.
"I'm able to eat and she's super happy with me. There's no more Mr Grouchy, I'm happy because I can eat.
"I've been getting plenty of sleep because I've got a belly full of food. It's been great.
"I've got loads of energy and I'm playing with the kids. It's those little things and I don't get ratty like I am when I'm making those lighter weights."
Brook also feels the extra weight has helped him hit new heights in the gym, with Liverpool's WBO light-middleweight champion Liam Smith among the sparring partners.
Smith fights Saul 'Canelo' Alvarez in Arlington, Texas, on September 17 in his own against-the-odds tilt at one of the sport's pound-for-pound superstars.
"It's been nice having that extra weight and just getting used to the bigger size of the guys," Brook explained.
"I've been keeping my speed, developing more power too. I'm light on my feet, but also able to dig down and pull out some big power shots. I feel sharper at this weight."
Sky Sports Box Office will show the Golovkin v Brook Live on September 10
Video: DaveyBoy EssexUk/Rd3
[sam id="1″ codes="true"]