Marcus Morrison makes his return to the ring next Saturday, on the undercard to Anthony Crolla v Jorge Linares as he looks to move to 13-0 (9 early) in his promising career. He took some time out to speak with BritishBoxers about how things have gone so far, and the plan for the future.  

Morrison has looked flawless in his career so far, making light work of each opponent and looking more impressive with each victory. I asked him how training was going before the upcoming fight, to which he replied: "Everything's going well so far, just coming towards the end of camp now, I've got my last hard sparring tomorrow and then just taking it down next week with a light few days in the gym."
"Sweet MnM" will be facing France's Matiouze Royer (15-26-6, 3 KOs) on Saturday night, and providing he comes through as planned, then he's looking to push on in his career. He told me: "I'm happy with how it's gone at the minute, I've been kept active, as long as I'm fighting regularly then I'm kept happy."
He added: "I won the WBC international, but that's just a stepping stone for me at the minute. I've not come this far to just win a WBC international title, I've got bigger aspirations than that to go on and win the bigger titles. I'd like to do the traditional route, win the English title, defend that a few times and then do the British."
[sam id="1″ codes="true"]
Marcus has the luxury of training with an array of world-class fighters, and this can only be a plus for his development. When asked about what it was like training with such a stable of fighters, he said: "Success breeds success and the gym is buzzing at the minute. We've got Crolla fighting Linares, Liam (Smith) fought Canelo and I can't help but improve when I'm in the gym with the likes of Crolla, the Smiths, Scott Quigg and everyone else with titles. I spar great rounds with Liam Smith at light-middle. I also spar Callum Smith and Paul Smith, there's nowhere else in the UK that I could get that sparring."
He began training with Joe Gallagher as a 17-year-old prospect, six years later the partnership is still going strong as 'The Ring Magazine Trainer of the Year2015′ looks to lead his fighter all the way to the top.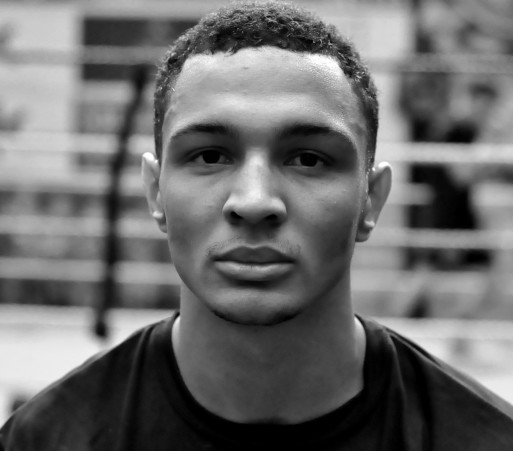 Marcus Morrison – pic: boxing portraits.com
In the build-up to Frampton v Quigg back in February, there was a lot of focus on Joe Gallagher, leading to some negative opinions about what the trainer can be like. I asked Marcus what his thoughts were, to which he replied: "Joe is the type of man where all he cares about is boxing and his fighters, and he'd tell you himself that if you're not in his circle of fighters then he doesn't have much time for you. But if you're one of his fighters then he'll put 110% into you and that's what you want as a fighter, and his attention to detail is so much, that he picks up things that other trainers might miss." 

It's clear to see that Gallagher must see huge potential in Marcus; it's common knowledge that he is very particular with who he accepts as part of the team. This being proven as he took the recent addition of Paul Butler (Former IBF bantamweight champion) into much consideration before agreeing to train him. 

At the top of the bill on Saturday night, Anthony Crolla faces arguably his toughest test to date as he faces hard hitting Venezuelan Jorge Linares. I asked Marcus how he saw this fight going, as he has a better gauge than most, seeing Anthony in training day in and day out, he assured me that: "I say this every time, but he really is in the best shape of his life. I can see Anthony dragging him into the trenches and stopping him late on."

I inquired as to how it felt to be fighting in Manchester again, his hometown. He told me: "It is always night to be fighting in your back garden on such a massive bill, in front of a few thousand at the MEN arena. As a kid, these are the nights I dreamt about. This will be my sixth time I've fought at the arena, so it's a little fortress for me at the minute." 

The last time that Morrison fought in the Manchester Arena was his two round destruction of Jefferson Luiz de Sousa to win the WBC International Silver middleweight title, so he will be hoping for more of the same again.  

Despite fighting for the WBC belt at middleweight, Morrison informed me that his plans for the future will be taking place at light-middleweight. "The only reason I fought at middleweight was that it was a good opportunity (fighting for the Vacant WBC Silver belt), but I'll be fighting at light middle going forwards, unless another opportunity presents itself."
Hopefully Saturday goes as planned for Marcus, and then it's a case of pushing on to bigger things as he is carefully guided by his team for the future. With a host of young domestic fighters looking to prove themselves at the weight, it shouldn't be too long before we start to see Marcus in some big, exciting fights. 
[sam id="1″ codes="true"]