Now managed and promoted by Tyneside's Steve Wraith, unbeaten Sedgefield prospect, Jeff Saunders, will make his first appearance under new guidance at the citadel of north-east football on September 25.
Saunders, 25, made his bow just short of eighteen months ago at the Metro Radio Arena and has flourished in the pro ranks, stopping five of his seven opponents, including dismissing Istvan Kiss in a near record-breaking 15 seconds at the Lancastrian Suite back in July 2015.
Just last month he signed with Steve Wraith having left MGM who had taken care of his early career, a move he, and his family (he's trained by his father Jeff Snr over at the South Durham Gym) feel is perfect for the next stage of his career.
Having stepped up to six rounds in his last outing, being taken the distance by the tough, durable journeyman Mark McKray at Leeds' First Direct Arena, Saunders told Peter Mann for www.britishboxers.co.uk  "There's a big difference between management and promotion in the fight game.
"I was managed by MGM Marbella but I was still boxing on all of Steve Wraith's, and some Matchroom, shows, which is still a possibility for me moving forward. I do appreciate and thank MGM for all that they did for me during my first year though and the record I possess in the paid ranks, well it certainly speaks for itself.
"I'm progressing well though and I learnt a lot from my first six-rounder. It was a good experience for me and found that I had a bit longer in which to do things. I don't want to be jumping the gun though moving forward, I want to learn the trade a bit more and see where it takes me.
"It was strange to be finally going past three rounds but I just thought to myself 'hey, let's do it again.'"
Six rounds though should not be a problem for the Sedgefield big-hitter whose elder brother Bradley, also a professional boxer, once said: "He's that good that he hit's harder than me."
Utilising the skills and abilities he'd have learnt as a previously active member of HM Armed Services (Parachute Regiment) to which mother Tracey (a senior amateur official) still has some involvement which included a recent trip to Catterick Garrison to aid the training of their officials, Jeff is, understandably, looking forward to his next six rounds, if it goes that far.
"Someone is getting knocked clean out," he added.
"That's what's happening, not what might happen on September 25. Another thing is that I will have a belt around my waist sooner rather than later."
He'll be doing just that at the Steve Wraith – Pat Barrett co-promotion, 'Showdown at St James' as he co-headlines the show with Newcastle's returning light heavyweight, Sam Best, also undefeated.
That could well be a Northern Area shot in the next twelve months with Jeff most likely aiming to take the traditional route to the top. Around the super lightweight division opponents could well include that of Hartlepool's Peter Cope, Guisborough's Josh Leather, Horden's Anthony Hardy or even Sunderland's Glenn Foot.
The English strap is currently held by Romford's Anthony Upton who will face the winner of the upcoming eliminator between Freddy Kiwitt and Anthony Hardy; the British meanwhile is currently held by Huddersfield's Tyrone Nurse.
Debuting early last year Sam Best scored the first of two stoppage wins with victory against Haidar Sadik, he followed that up with victory against local rivals Steve Cooper (on points) and Lynden Watt(another stoppage, this after just 48 seconds).
Best, who at 23-years-old, has been trained throughout his still fledgling career by Matty Jobes in the heart of Newcastle is anxious to get back in the ring and make up for a near year out where he has seen partner Emily give birth to the pairs first child, son Owen.
"I've had to take some time away from the sport to look after my family which is the most important thing," said Sam looking back at an extended break.
"It was a case of getting used to the pros and living the lifestyle but things are very different this time, I'm more composed and developed, not only as a person, but a fighter as well.
"I've been back in the gym fully for the past three weeks now though and this is a great opportunity where I'll look to show off some new tools and different styles; last year was just a warm-up for me.
"We've got something up our sleeves come fight night as well, a surprise that I'm sure will please the fans and then I can look to moving forward with some great fights ahead.
"(Steve) Cooper, I've a lot of respect for him so to face him for an Area title further down the line would be something I would be interested in."
"I'm born-and-bred in Newcastle so this is brilliant, the icing on the cake really and I know that The Kings Army will be out in force come fight night." Read more…
Other local boxers on the bill include: Darlington's light-heavyweight Carl Wilson and super-lightweight Neil Hepper. Newcastle's James Barnes, plus, Ferryhill's Billy Snaith and Adam Watson.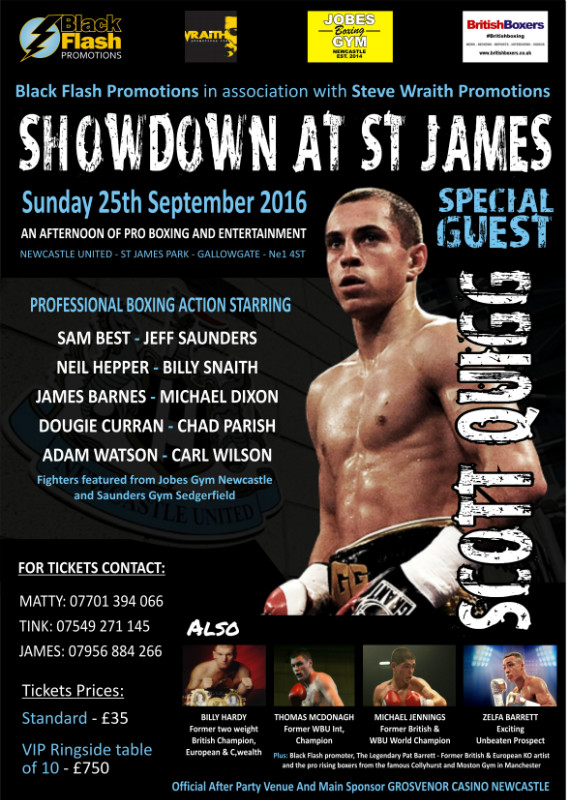 Special boxing guests in attendance at ringside will be former world champions Scott Quigg and Michael Jennings, plus former International title holder Thomas McDonagh. The Black Flash himself Pat Barrett and assistants Paulie Da Silva and brother Myke Barrett, Plus their thriving camp of boxers from the Collyhurst and Moston Club in Manchester, including; Zelfa Barrett, Matthew Ryan, Sean Ben Mulligan, Alex Rutter, Chris Monaghan and former GB representative Lyndon 'King' Arthur, who will make his pro debut the night before on the undercard of Anthony Crolla vs Jorge Linares at the Manchester Arena.
Tickets for the Steve Wraith – Pat Barrett co-promotion, 'Showdown at St. James,' sponsored by Grosvenor Casino and Pavel's Gents Hairdressers, are available now from the fighters and online at www.proboxingnewcastlegateshead.com priced at £35 standard and £75 VIP.
[sam id="1″ codes="true"]
VIDEOS FROM NEWCASTLE FOR 'SHOWDOWN AT St JAMES
Promoter Steve Wraith
Interview with Sam Best 
Interview with Neil Hepper
Matty Jobes – Head coach at Jobes Gym Newcastle
[sam id="1″ codes="true"]