On the 14th of January 2017, IBF World Champion James DeGale (24-1, 14 KO's) will seek to unify the super middleweight division against WBC Champion Badou Jack at The Barclays Centre in New York in a fight where the vacant Ring Magazine title is also on the line. The problem? Hardly anybody seems to care. 
At a time when it is feasible to suggest that boxing is on its way to becoming Britain's second most viewed sport (behind the giant that is football), there seems to be a distinct lack of interest in the upcoming unification bout. 
James DeGale has always divided opinion. Despite of being an Olympic Gold medallist, he was booed before his very first pro fight at the National Indoor Arena in Birmingham way back in 2009. During the early stages of his career it can be suggested that perhaps DeGale never wanted to be liked. Very rarely in boxing are you rewarded with success by operating in the middle ground; you are either the hero or the villain. DeGale seemingly opted for the later, raising his fist and his eyes to the heavens before and every fight in a manner that was more reminiscent of a theatre production than the behaviour expected of an Olympic medallist. The British public were all too happy to oblige. The press only grudgingly offered praise and were happy to offer scathing criticism. 
[sam id="1″ codes="true"]
After building a perfect 10-0 record, in 2011 DeGale took on George Groves in what was seen as a grudge match with Groves having previously beaten DeGale in the amateurs. DeGale lost a razor thin decision in what remains his most high profile fight on home shores. While some felt DeGale was unlucky not to get the decision, others felt vindicated. DeGale had showed a lack of sportsmanship in the build up and had proven himself to be more style than substance over the course of twelve rounds. Despite being over five years ago – a lifetime ago in boxing years – this is for some, particularly the casual viewer, the freshest memory of DeGale that they have. Thus, it is no surprise that the British public have continued to give him the cold shoulder. 
What cannot be denied however is the fact that in recent years DeGale has certainly matured as a fighter and has toned down the showmanship to reasonable levels. No British Olympian, not even the highly regarded Amir Khan has come as close to proving themselves as the best in their division in the way DeGale has. Yet the problem with this is that much of DeGale's development has taken place outside of the UK. The fans have never truly had the opportunity to grow to like him. More than that being down to DeGale himself, this is in part due to his relationship with his promoters. 
In the last few years, many of Britain's top fighters, including the likes of Carl Froch, have been promoted by Eddie Hearn's Matchroom. Officially, DeGale is still promoted by Hearn and Matchroom. Nevertheless much of his recent success has come in North America under the banner of the enigmatic advisor Al Haymon. Like the majority of the fighters advised by the reclusive Haymon, DeGale even thanked his advisor after his world title victory against Andre Dirrell (25-2) in May of 2015. DeGale is adamant that his decision to work with Haymon is purely down to money and exposure, stating: "Don't tell me money doesn't motivate you. When you are in a hard sport like boxing and are in a position where people want you, you start changing."
While this certainly indicates Degale's signing with Haymon to make more money, as is his right, it also suggests that Hearn is none too happy with the move. In recent interviews both Hearn and DeGale have suggested that their relationship is as it ever was. That may just be the problem. 
The two have never appeared to be the best of friends, but the fact remains that DeGale is as legitimate and talented a world champion as Britain has and should be marketed as such. From the outside looking in it appears as though Hearn admires DeGale as a fighter but is perhaps not too fond of him as a man. Thus he seems reluctant to give DeGale the push and dare I say it, the cash that he is more than willing to offer to Anthony Joshua and even Callum Smith , relationships that seem to be founded in friendhsip almost as much as business. Degale has hinted as much now that he is advised by Haymon. "I'm Just happy I'm not getting screwed under".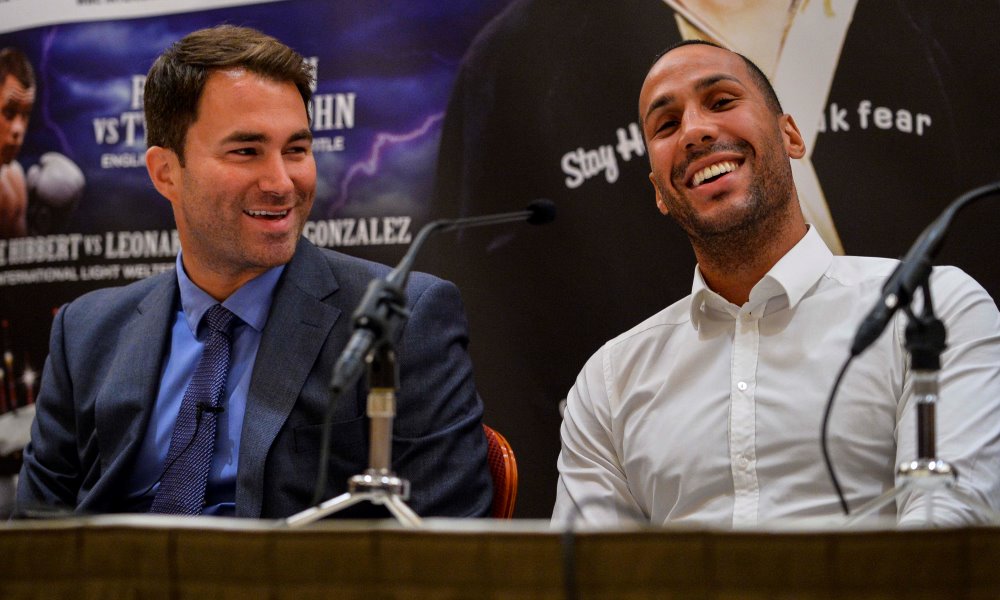 While fighters and promoters are not expected to be the best of friends, the coldness of the relationship between DeGale and Hearn has certainly resulted in a distinct lack of backing by the Matchroom hype machine. A mended relationship between the pair would certainly prove to be mutually beneficial. 
DeGale himself believes he is not afforded the respect he deserves, saying: " I feel I don't really get the kudos and credit from people."
However , despite his position as one of the most polarising figures in the British boxing community, it would be criminal to deny his status as a top level fighter. While his tendency to bruise easily makes it look as though he gets hit more often than he actually does, the fact remains that he is a slick southpaw, with excellent hand speed, while also being an underrated judge of distance and timing. In short, a stylistic nightmare for near enough any fighter in the 168lb division.
Should this prove to be the case against Badou Jack, it's about time we eased up on James DeGale.