IBF super-middleweight champion James DeGale (23-1) takes on WBC champion Badou Jack (20-1-2) in a unification showdown on Sunday morning at the Barclays Centre in New York and believes he is destined to become the unified No 1 super-middleweight and regarded as one of the best fighters in the world.
Speaking about the biggest fight of his career DeGale respects his opponent, expects a great fight and feels this is his time to become a star and make a big name on the other side of the pond.
"Badou doesn't do anything spectacularly, but he does everything well. I've got to be on top of my game to get the victory." said DeGale
"I'm prepared if the fight goes 12-rounds or one round. My training has been perfect and it's all going to come together on fight night.
[sam id="1″ codes="true"]
"It's a dream come true to fight at Barclays Center. A lot of U.K. fighters have fought in New York and I'm excited to be another. It's going to be a special atmosphere on fight night.
"I'm expecting to have a lot of support on Saturday night. My profile in America has been growing and I think there will be support in the building. As a young kid you always wanted to come to America and become a star.
"Camp is done. It's been a wicked camp. Everything has gone well. On Saturday night you're going to see two world class fighters go to war. I have no doubt that I will be victorious and become the super middleweight unified world champion.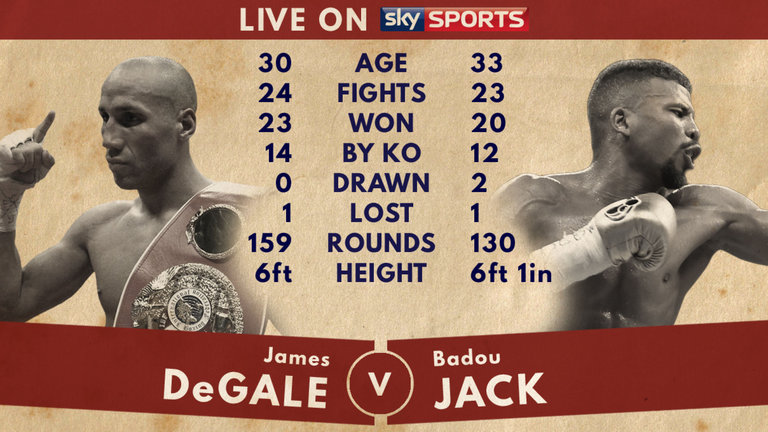 "This is the moment. The time is now and we're ready. My whole team is primed for a great performance. I'm ready to prove that I'm one of the best fighters in the world.
"I can't wait to return to the U.K. as a unified world champion. This is a great fight for boxing and it's going to raise my appeal all over the world.
"I think our styles are going to gel to make a great fight. But don't be surprised about anything you see in the ring. Enjoy the fight on Saturday night."
Prediction? Expect DeGale to fulfil his ambition and cruise to a unanimous points decision.
Badou Jack- James DeGale Weigh-in and Face off video