We are at the Olympia in Kensington London for tonight's boxing.
In the main event on Saturday night Chris Eubank Jr stopped Australia's Renold Quinlan in 10 rounds, to claim the visitors IBO super-middleweight belt. Read more on the main event here.
Undercard Results
David Price vs Christian Hammer
David Price (21-3-0 19st 9lbs) faced his first real test since his fight with Erkan Teper but was stopped when he went in with Christian Hammer (20-4-0 18st 12lbs) for the WBO European Heavyweight title in the chief support to Eubank Jnr v Quinlan.
The first few rounds followed a pattern, with both men trading leather and then following it with some ugly clinch work inside. The 5th round looked like it was starting to go against Price as he was pressed up against the ropes and looked hurt, before he launched a combination and a big uppercut off the ropes caught and floored Hammer. The Romanian based Hammer rose at the count of 8 and the round ended shortly after.
Price was unable to capitalise on his previous success and Hammer landed a big uppercut after the bell to end the session and then began the 7th on the front foot. A flurry of hooks had Price realing and Hammer continued unloading big shots on Price as he was propped against the ropes and as the ref went in to separate the pair, it became evident that Price was in no fit state to continue and he waved it off. 
Result: Christian Hammer wins by stoppage after 1:22 of round 7 
_______________________________________________
Chris Kongo vs Edvinas Puplauskas 
Chris Kongo (3-0-0) stayed true to his nickname and proved to be '2Slick' for Edvinas Puplauskas (4-5-0). Puplauskas came into the bout on the back of a knockout victory away from home in Estonia, but the difference in class shone through on this occasion as Kongo proved too much and remained unbeaten in this early part of his professional career. It took less than a round for Kongo to blast his man out of there with some hellacious shots to the body.
Result: Chris Kongo wins by way of knockout 1:28 into round 1
_______________________________________________ 
John Ryder vs adam Etches 
Adam Etches (20-1-0 11st 13lbs 9oz) went up against John Ryder (23-3-0 11st 12lbs 7oz) for the vacant IBF International Super Middleweight title. Through 3 rounds, neither man gave the other an inch in the ring, with both trying to establish the jab and somewhat surprisingly Ryder was landing the more telling shots in the exchanges.
The fight continued in a similar vein until round 6 when Ryder started to land some very hurtful shots on Etches and looked as if he may stop his man. Etches looked to have regained some composure in the seventh round as he was able to back Ryder up against the ropes and look to land some hurtful shots, it was an improvement from the previous stanza, but he was unable to land anything that looked like troubling 'The Gorilla'.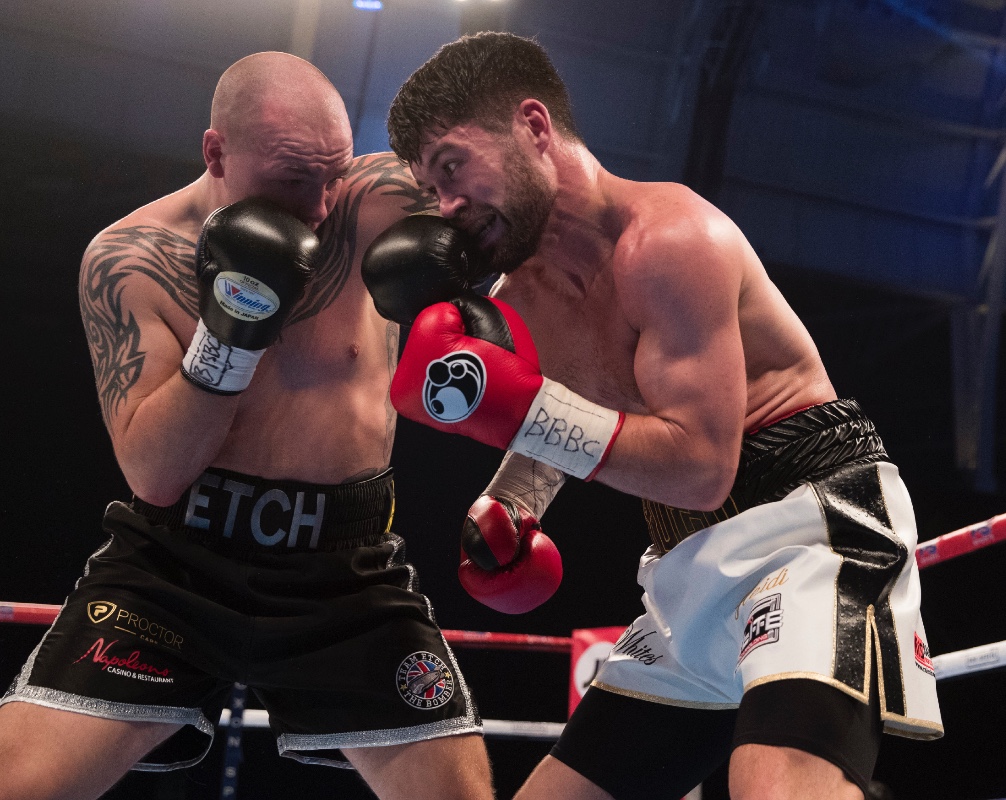 After 9 rounds the action seemed to have settled slightly, both men were likely feeling the pace and Etches was coming back into the fight as he was able to land his jab far more, Ryder now was opting to move more and pick his shots more delicately than in the earlier rounds.
Round 10 was another great round for Ryder, he seemed to up the tempo from nowhere and was catching Etches clean with plenty of powerful shots, forcing Kell Brook to jump from his seat and scream encouragement at fellow Sheffield man 'The Bomber'. Going into the final round, Etches had taken more punishment and the swelling on his eye had worsened significantly; there was certainly an argument for pulling the man out of the fight. Credit to him, Etches stuck it through to hear the final bell, though it looked a convincing and impressive win for John Ryder.
Result: UD 117-111 116-112 118-109 in favour of John 'The Gorilla' Ryder (New IBF international super middleweight champion)
_______________________________________________
Kid Galahad vs Leonel Hernandez
Originally booked as an opponent for Jordan Gill, Nicaraguan Leonel Hernandez (10-19-2) stepped into face Sheffield's Kid Galahad (22-0-0 8st 13lbs 7oz) at short notice. Galahad was completely dominant from start to finish with Hernandez just doing his best to survive as the rounds went on. After 3 rounds the corner retired their man due to an injury. Not the opponent Galahad had trained for, but a win nonetheless.
Result: Kid Galahad Wins via Retirement Rnd 3  
_______________________________________________
Andrew Selby vs Ardin Diale
Andrew Selby (8-0-0 7st 13lbs 4oz) continued the impressive start to his young career as he beat Ardin Diale (32-11-4 7st 13lbs 2oz) for the WBC International Flyweight title. Selby was his usual self, he implemented intelligent pressure expertly and took little more than cuffing shots, or shots on the gloves.
Diale was very game and extremely tough but the difference in class was evident. During the later rounds, Diale did his best to press forward and put the pressure on Selby but he never really managed to get anything significant going.
During the ninth round, Selby launched his best assault of the evening, he managed to pin Diale up against the ropes and reel off a hurtful combination, only for him to shake it off and throw a shot back. All in all, business as planned for the Welshman.
Result: UD 100-90 in favour of Andrew Selby (New WBC International Flyweight Champion)
_______________________________________________
Lucas Balingall vs Harvey Helmsley
20 year old Lucas Balingall (6-0-0) made the trip down from Plymouth to record the 6th win of his career and continue his development as a prospect. Balingall looked comfortable as he boxed well and landed power shots throughout to score a shutout victory against Harvey Helmsley (3-33-1)
Result – Lucas Balingall wins on points
_______________________________________________
Jordan Dennis vs Kieron Gray
Steve Goodwin managed prospect Jordan Dennis (2-0-0) continued the winning start to his career against Kieron Gray (8-58-2) in a 4 round contest. The 25 year old Middleweight looked impressive as he got his own work off nicely, and restricted Gray to little more than wild haymakers.
Result – 40-36 in favour of Jordan 'The Menace' Dennis
_______________________________________________
Joe Jackson Brown vs Vaidas Balciauskas
Joe Jackson Brown (4-0-0) kick started the evening with a victory against Vaidas Balciauskas (3-10-0) in a 4 round Super Middleweight contest. The Lithuanian was making his 10th visit to England and unfortunately for him this ended in a loss, just as the others did. Brown was able to echo the result of former George Groves opponent – David Brophy as he went the distance with Balciauskas and remained unbeaten in the fourth professional bout of his career.
Result: 40-36 in favour of Joe Jackson Brown
_______________________________________________
All in all a good show with decent fights throughout the night, well done to all the boxers who entertained a good crowd on a rainy night in Kensington, until next time…