It's hard to explain why David Haye vs Tony Bellew temporarly put me off boxing. Perhaps it was because the heated build up was mostly a badly needed marketing tool, used to promote a fight that most fans were, at best, skeptical of. Perhaps the over-reliance on selling their mutual hatred made me suspicious of the contest's legitimacy – after all, both men were on vastly different career paths, in different weight classes, until it dawned on them that they were one-another's most lucrative opponent. Maybe I was just disappointed with the contest itself – with most observers predicting an explosive scrap, we were treated instead to David Haye, initially up on the cards, being cruelly rendered limp from a ruptured achilles, and then forced to labour around the ring until the 11th round when he was knocked, tired and hurt, through the ropes by a fatigued Tony Bellew.
[sam id="1″ codes="true"]
However, the final nail in the coffin for me was hammered in the moment the fight was waved off, and the bad blood that was so key to the legitimacy of this fight suddenly evaporated, to be replaced by sickly-sweet praise and commendation, as neither man seemed able to applaud the other enough for his respective efforts. Now even the mutual disdain, the only real reason to invest in this event at all, was called into question. While I sat there non-plussed, Haye slinked off looking sad, and Tony Bellew was paraded around by Eddie Hearn as the UK's newest heavyweight hope. I begrudgingly came to terms with the fact that I was sold, and had bought, their dislike of one another, not a boxing match worthy of my pay-per-view money.
After this blatantly forged sporting spectacle, I couldn't escape the feeling that boxing had grossly let itself down, and truth be told I have felt indifferent to the sport ever since. Big domestic fights have come and gone between then and now, for which I simply couldn't arouse any interest. Liam Williams vs Liam Smith, Martin Murray vs Gabriel Rosado, Ricky Burns vs Julius Indongo… all failed to capture my imagination, and all remain on my Sky Box, unwatched. It has taken the seismic event of Anthony Joshua – Wladimir Klitschko, a contest of immense proportions, to re-ignite my love for the game. A fight in direct and worthy contrast to Haye – Bellew, anticipation for this weekend's bout reached nothing short of fever pitch, but the fighters weren't only subdued, they were damn-near quiet, with each man electing to keep things classy in front of the media circus and respectful in front of one another.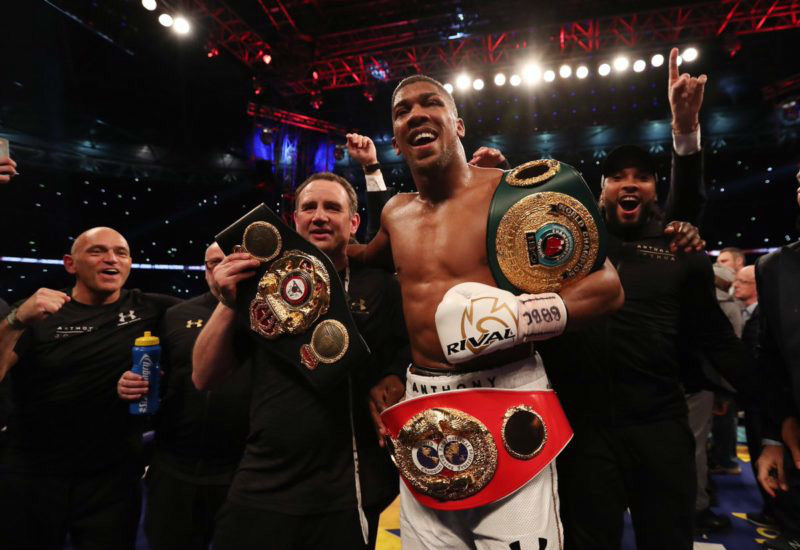 [sam id="1″ codes="true"]
A refreshing and welcome approach, and just look at the fight it produced. A wonderful, back-and-forth, exciting affair that saw both men dropped in the middle rounds, before being ended in the 11th by a thunderous, unanswered Joshua volley. Joshua was dignity personified in victory, Klitschko magnanimous in defeat, the latter being greeted with cheers nearly as loud as those for the Londoner, having won the crowd with his valiant efforts.
The now-obvious point here is; hatred between boxers is likely, relatively commonplace, and is widely used to help promote a fight. But it is not a replacement for good execution of the sport, and in all honesty, rarely produces a fight like the one witnessed at the weekend. And nearly all pre-fight exchanges end up being really distasteful at some point. Bellew – Haye was not a good contest. Dereck Chisora – Dillian Whyte, in December of last year, was phenomenal, but both were marred because tempers overflowed and certain individuals lost control; tables, water bottles, glasses and punches were thrown in debacles that saw several people given fines and boxers (rightly) stripped of their titles. If you can keep your head and still offer performances like those we saw from Anthony Joshua and Wladimir Klitschko, is there really any need for the unsightly antics that sour the sport and at the end of it all, fail to deliver when it comes to fight time anyway?
Elliot Worsell, in a brilliant column for Boxing News, acutely observed that "…there is now a clear correlation between the extent to which a fight is hyped via trash talk and the overall value and importance of said fight. Furniture is upended to make people care about fights that would otherwise go unnoticed, death threats are made in lieu of titles being on the line, and hate of the plainly manufactured variety has become the default setting for two men keep to make a profit on an otherwise bland product."
It is precisely this that we need to be careful of, and openly identify. Bad tempers are just part of the game, but we must be vocal when they are used to sell a fight for an extra cost. Bitter rivalry is natural, but hype-generating quarrels are now being presented as evidence of a meaningful fight-to-come, only to all too often fail to live up to expectations, and it is only you and I, the fans who pay money to see the events, who are losing out. Fights like Joshua – Klitschko are proof that the good stuff, the real stuff, is far more deserving of our attention and our money, and happily, that they don't always have to come about thanks to a bar room brawl. Now if you'll excuse me… I've got my mojo back, I have a day off, and I have a lot of fights to watch.
[sam id="1″ codes="true"]