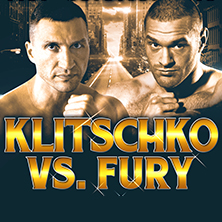 Wladimir Klitschko has been given the all clear by doctors to fight Tyson Fury on November 28 after tests on his calf injury came back all positive.
The WBA Super, WBO and IBF world heavyweight champion (64-3-KO53) pulled out of their scheduled October 24 meeting last week just days after challenger Fury made a dramatic entrance into a press conference by arriving in a Lamborghini dressed as Batman.
But Klitschko, 39, has overcome the problem and will be able to defend his titles in Dusseldorf in eight weeks' time.
The Ukrainian has been quoted as saying "My injury will heal quickly enough for me to enter the ring on November 28. I will promptly continue my training camp preparations and, of course, I am very happy to still be fighting this year, especially for my fans who have already bought their tickets."
Klitschko's manager, Bernd Boente went onto say "We're all happy we could reschedule in the same arena. We have to go with the examination of the doctor and he's very confident it's healing quickly and as expected. It's his prognosis that he'll be completely cured and ready to participate in the big fight.
"I think in this individual sport, you have to live with injuries. It will not affect the preparation. We're already prepared to a certain degree and they will live with it, train with it and be 100 per cent ready, I'm sure.
"We know that Tyson is talking a lot and works in a second profession as an actor – this time as Batman. Wladimir is focused on himself and has had 28 world title opponents. They've all talked so let's see what Tyson shows on November 28.
"The sports journalists who were covering the press conference in the UK know he's a funny guy but know he's a dangerous opponent. He's taller and younger with a good amateur background but Wladimir will be prepared. For me, it's Wladimir 100 per cent."
Fury showed his excitement on twitter saying "GREAT NEWS! Just heard from my team @HennessySports @peterfury that @Klitschko has had the all clear to box nov 28 Düsseldorf. #LETSGETITONNNN."
Fury is no stranger to disappointment, with past opponents pulling out with the likes of former world champion David Haye doing so twice and then once with Derek Chisora who he then went onto beat for the second time in his career.