When announced, every fight will always have its detractors. No matter who is involved in any given match up, someone somewhere in a dark corner of a distant internet forum will be howling at the moon in disgust over such an apparent farce. So it goes without saying, you will never please everybody in boxing anymore.
When it was announced that Eubank Jnr would take on former WBO super-middleweight champion, the reaction from the public and press was generally a positive one. But although this fight clearly has its merits, there are some things that need to be called further into question. I go through both sides of the argument below.
The Good
Well, it's certainly a step up for the young Eubank. Since losing to Billy Joe Saunders in 2014, there hasn't been a single name on his CV that approaches world class. His super-middleweight belt was taken from unheard-of Australian Renold Quinlan, and his most recent contests previous to that were at British level. The pomp and the talent he and his father insist are real now need proper qualification, and in Arthur Abraham, they may finally have found an opponent who will provide their claims with a thorough examining.
The tale of the tape makes this fight hard to predict. Eubank Jnr has a good KO ratio, and aside from losing to Saunders is most famous for putting middleweight Nick Blackwell in a serious coma, ending his career and nearly his life. But some have cast doubts over the power he possesses at super-middle, after needing longer than anticipated to dismiss the aforementioned Quinlan in the 10th round of their IBO contest. Abraham, at times appearing half man, half cyborg, can win fights through sheer ruggedness alone, grimly walking forward and taking all incoming punches before throwing his own. Eubank boxes and moves sleekly, but he does so knowing that his power can usually get him out of trouble if he needs it. It will be interesting to see how he responds if he can't shake the German, who has been in with many hard hitting super-middleweights before.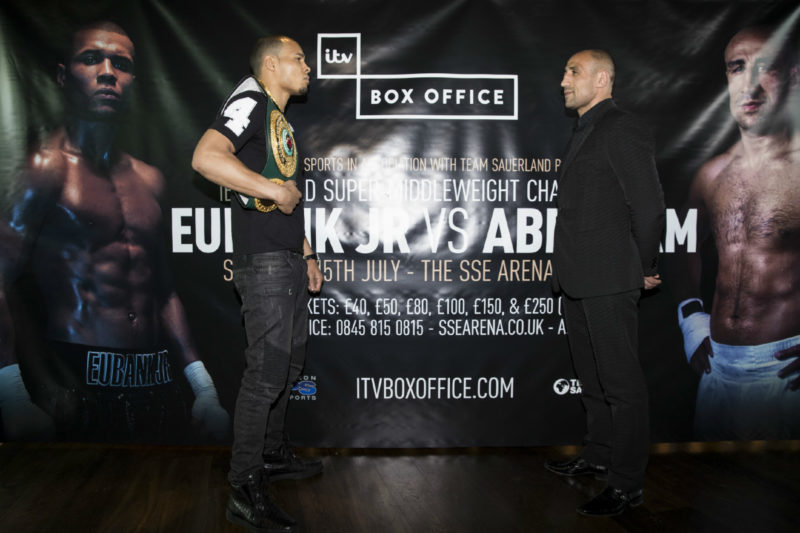 Whoever is able to implement their skill set and take the win will certainly see their stock rise by some degree. Granted, neither will be seen as the division's best, but Eubank's detractors will certainly be less vociferous, and Abraham will reclaim his status as one of the top names at super-middleweight, after a loss to Gilberto Ramirez raised concerns that a long career and Father Time were beginning to catch up with the 37-year-old. The winner may still have to fight again before facing another world champion, but nevertheless, each man is a worthy scalp. The loser will have some serious ground to make up, which Abraham hasn't the time for and Eubank hasn't the patience for. In that sense, it's a must win fight for both, and could produce something good as a result.
The Bad
The baubles hanging around this contest are still somewhat cheap. Although not exactly an anonymous alphabet title, the IBO belt is not a top-tier belt either, as those who invest in Eubank have insisted. Despite once being in the possession of Vinny Pazienza and Jeff Lacy (as well as the heavyweight version being one of the straps belonging to Wladimir Klitschko during his lengthy title reign), it is nevertheless a title unrecognised by the International Boxing Hall of Fame, making it a much cheaper bargaining chip when it comes to the negotiating table, and when it comes to the champion's reputation.
Worse is the showcasing of the fight on ITV Box Office, a platform far beyond what this match deserves. The 'world title main event' is at best a dubious twisting of words, and the undercard has some interesting match ups, but none that collectively elevate the event to Pay Per View status. ITV are clearly trying to grow their boxing reputation by riding on the back of Eubank's successes, but the critics would say that all they have done is price themselves out of an audience and draw attention to the many fallacies in their relationship with Eubank, and in the Brighton man's boxing career.
Speaking of which, it may be true that it is hard to take this fight seriously because it's hard to take Eubank entirely seriously. A talented boxer no doubt, but look at the wildly expansive list of people he has called out; Gennady Golovkin, James DeGale, Billy Joe Saunders, Kell Brook, Andre Ward and Tony Bellew have all been named as targets in a roll-call of fighters covering pretty much every weight class between welterweight and heavyweight. In calling out such names, yet facing others like Tony Jeter and Gary O'Sullivan, Eubank is showing signs of embracing a reality that he has yet to prove truly exists, which is undoubtedly exacerbated by his eccentric father, who is as much a hindrance to his son's profile as he is an asset.
All told, this is a good match up with an interesting mix of styles. But it is worth pointing out that there is needless hype attached to this fight that shouldn't be believed, and it would be worth remembering that when we decide whether or not we should hand over pay-per-view money for it. 
Britain's Chris Eubank Jnr faces Germany's Arthur Abraham on the 15th July at Wembley Stadium for the IBO Super-Middleweight title.
LATEST BBTV VIDEOS