On a night when school was also in session down the road in the Manchester Arena, with Anthony Crolla taking on Ricky Burns, this small hall show, under the moniker of 'Manchester Old School' provided plenty in the way of lessons learned for several of the region's prospects.
Topping the bill was unbeaten cruiserweight prospect Jordan Thompson who picked up his first piece of professional silver wear with an early win. The show promoted by Jason McClory for Longshots Sports, with Haroon Hedley of Hard Hitters Manchester and Steve Furness, Manco Boxing put on a good card and the crowd in attendance at the famous Mancunian rave venue Bowlers, went home happy.
First up on the card… Buxton-based light-weight Irvin Magno took on seasoned fighter Ibrar Riyaz. Throwing a good selection of hooks, especially to the body, but Magno seemed to, at times, undo his good offensive work by losing focus and getting caught out- especially at the end of the second round, with Riyaz landing some big shots. Magno's work-rate was enough in the end to add to his three wins, but this fight was closer than I'm sure his team would have liked. (39-38). He is now 4-2-1.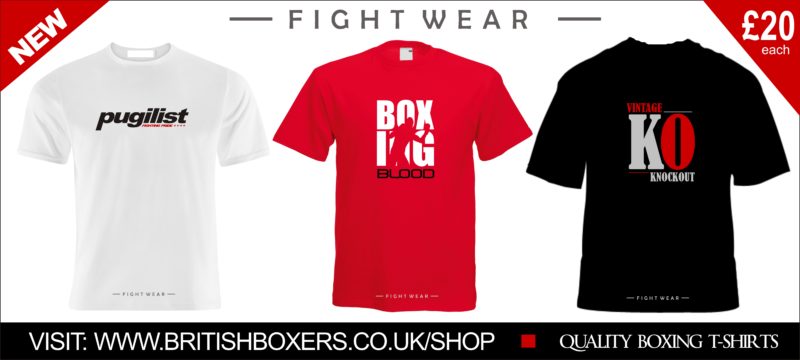 Next up was Sheffield's Muheed Fazilden, taking on 'Mr. Reliable', in journeyman Kristian Laight. With the nick-name 'Flashy', Fazilden took a round to find a way through Laight's long reach, to then showcase some crowd-pleasing antics to easily win the fight, as would be expected of him. His record now stands at 10-0-1.
If that fight had not offered much in the way of competitiveness, that was nothing compared to the gulf in class between Raza Hamza and his opponent, who had stepped in as a last-minute replacement. Hamza, looking physically in top condition, took his man out in a minute or so- not leaving much to be said. Look forward to seeing Hamza against a higher calibre opponent.
Making his debut on the night, Jack Rafferty would have to do it the hard way, against the ludicrously tough Kevin McCauley. Rafferty showcased his ability to punch hard from the get go, with McCauley receiving a beating the likes of which I have rarely seen him take. Still, he remained standing through the duration, and Jack Rafferty's team can only be pleased with the debut, with bigger and better things to come from the young fighter.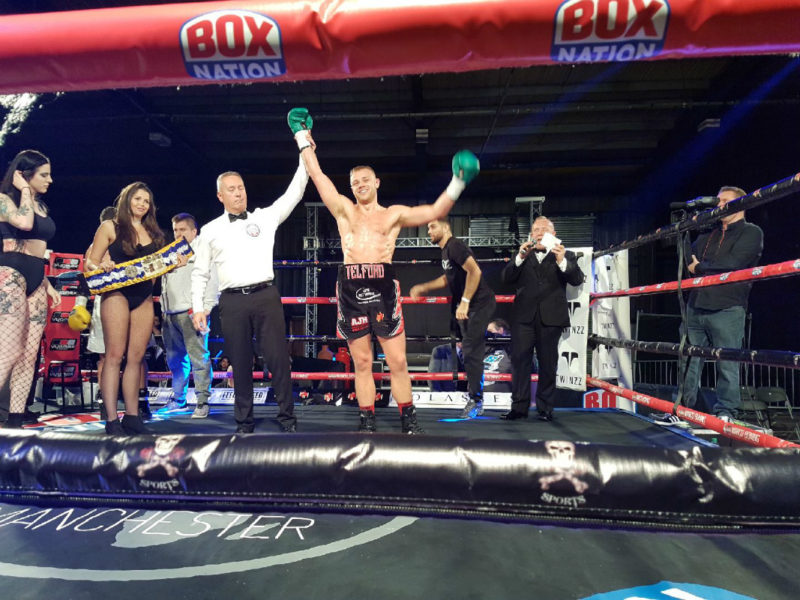 Another debut next, with Matthew Hatton-trained Damien Chambers making the transfer from the amateur game to the pros- and doing so at cruiser-weight. If Jack Rafferty's debut had been one of exuberance, Chambers showed a greater maturity and patience- boxing well to instruction from his corner- and why wouldn't you when its Matthew Hatton giving the advice… Chambers and his trainer can be happy with that, earning the 40-36 win UD.
Next it was John Telford's turn to return to the ring after a period of absence. His bout against Slovenian fighter Nemeth was scheduled for 8-rounds, for the LHW Challenge Belt. Utilizing his jab well, Telford switched effectively from body-to-head, earning a knock-down right before the bell at the end of the second round. It was a tasty left-hook to the body that ended the fight in the third round, making for a successfully re-entry to the game for John Telford.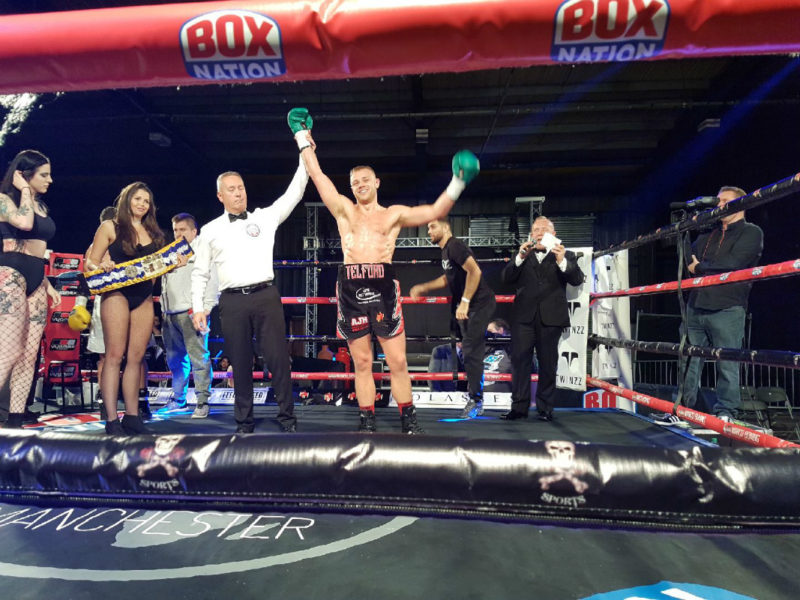 A fighter I always enjoy was up next, with Ellesemere Port's Mason Cartwright taking on Zoltan Turai, also for a challenge belt, but at super-welter weight. His loud band of support didn't get to enjoy the occasion for long, as Cartwright had his man down with a one-two, and shortly after with a devastating body shot. Massive gulf in ability in this fight, and I can't wait to see Mason Cartwright in some real wars to come.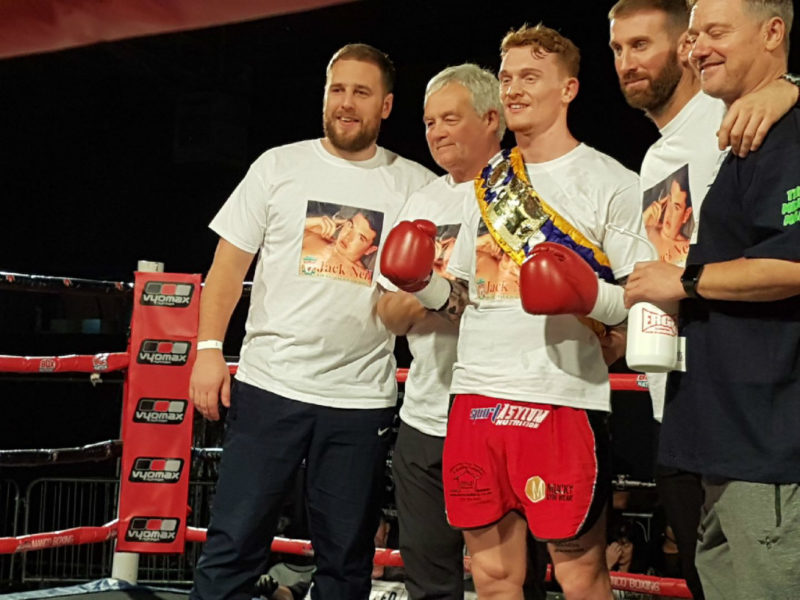 What turned out, perhaps unexpectedly, to be the fight of the night was next- with Leicester's C.J Challenger taking on the seasoned pro, Atherton's Willy Warburton. Folks in boxing around the North-West know that when Warburton is up for it, he can offer any fighter a torrid time. This was to be one of those nights for Challenger.
Roared on by a large support from ringside, Challenger looked slightly anxious and rigid at the start, and was brought down by a beautifully timed right hand by Warburton. A minute later he was floored again by a similar straight right hand.
Showing resilience, Challenger was able to compose himself, throwing caution to the wind as both fighters went toe-to-toe for the next few rounds, with Warburton suffering a nasty looking cut in a clash of heads in the 3rd. By the fourth round in this six-round bout, Challenger had found his rhythm and range more, going on to arguably win the remaining rounds, and eventually the fight itself- with the judges scoring it at 57-56. This would have served as a vital learning fight for C.J, as Willie Warburton can really box and his footwork and general ring IQ is criminally under-rated.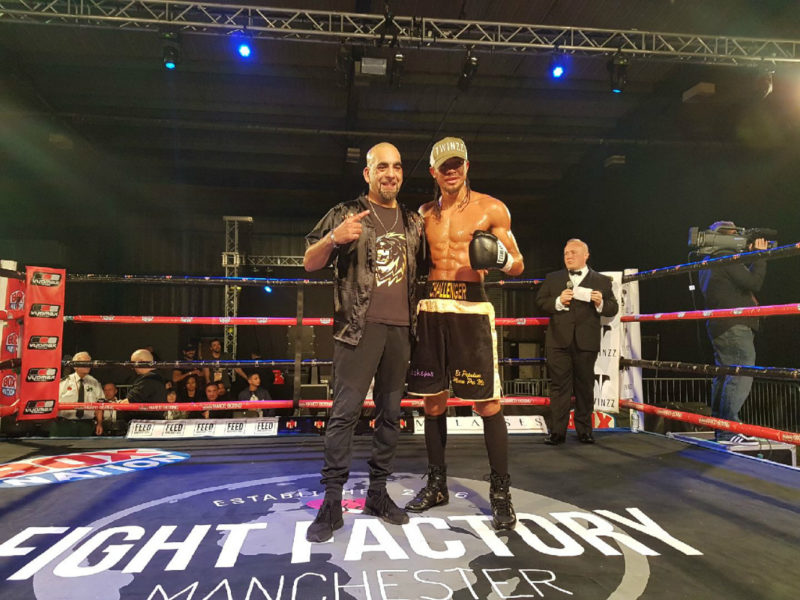 In the evening's headlining fight, much fancied Manchester cruiser-weigh Jordan Thompson took on Belgium's Michael Pareo. In the build up to this fight, Pareo had made it clear that he was not just here to make up the numbers in this affair for the Challenge Belt, but from the bell it was clear that this fight was not going the distance.
Pareo's only hope to hang on was to try and crowd the 6.7 foot Mancunian, throwing an early flurry of body shots, and causing Haroon Headley in the corner to call on his fighter to step of and find some space to throw his own shots. Thompson did just that, flooring Pareo with a right hand once, and again with a left-right-right combination. His opponent beat the count, but was floored again immediately after- and the referee had seen enough at this point to award Thompson with the TKO-stoppage, and with it the Challenge Belt.
Once again, a small hall show like this one, would have gone far to allow emerging talent to acclimatize to the conditions of professional boxing, as well as wetting the apatite of the fan to see the like of Hamza, Cartwright, and Jordan Thomson in more competitive fights in the near future.
Full video fight footage from this show will be available soon here on this website / BBTV.
LATEST BBTV VIDEOS