Black Flash Promotions proudly presents "Fight Night" at the Fusion Nightclub on Fleet Street in the centre of Liverpool. The show takes place tonight (Friday the 17th February) and there are still limited tickes available. 
This show has it all, excitement, quality and talent. There are some hot prospects on this show and it is a great experience in the club, fans are close to the ring and the atmosphere is electric under the disco lights.
Starring on the bill is rising super-bantamweight prospect Marcel Braithwaite who looks to make it 3-0 as his promising career steams ahead. Marcel, 22, has a bright future ahead of him and is already turning heads and getting people talking. The flashy and confident switch hitter, commands a good following and has not disappointed in his fledgling career.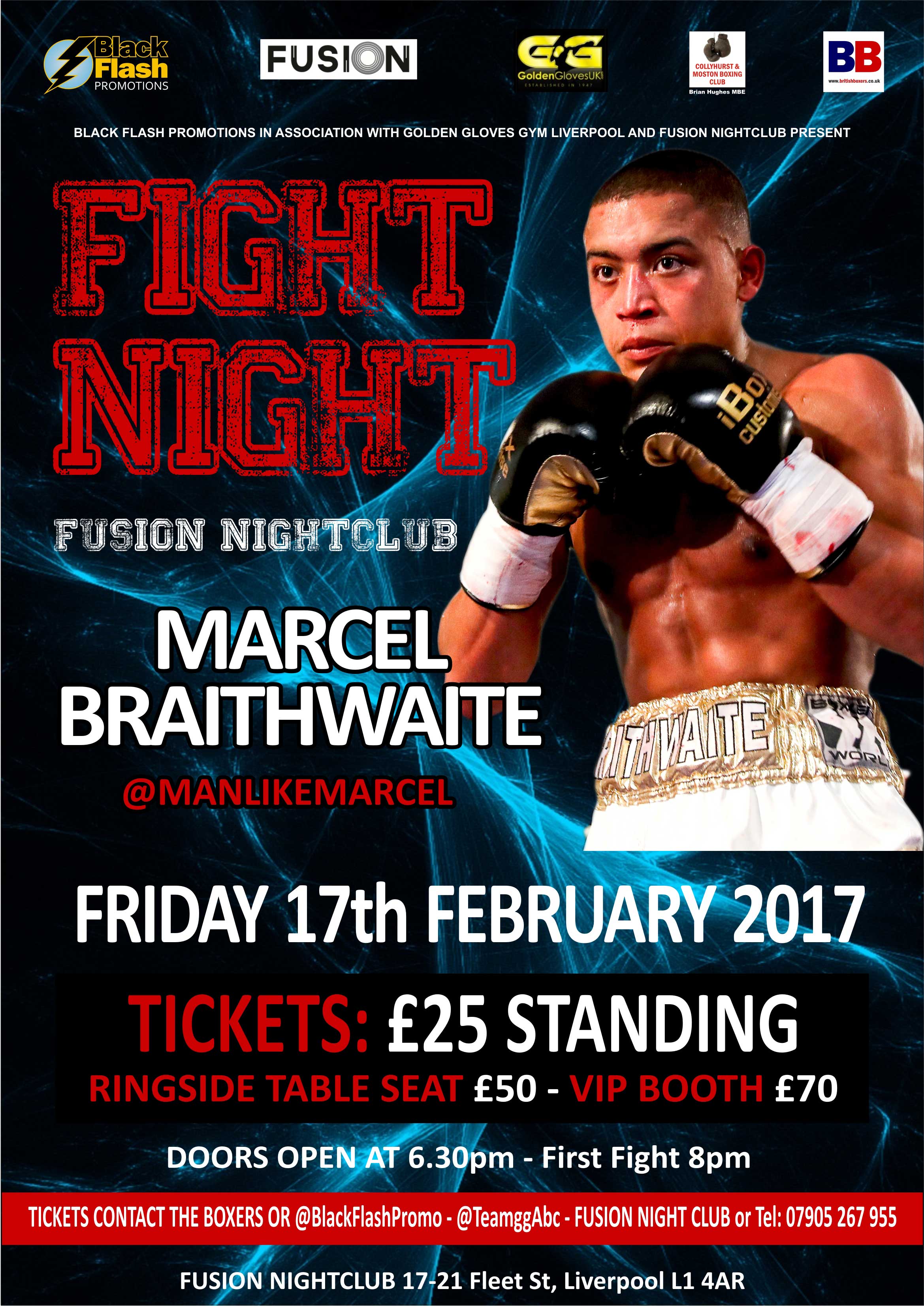 His first professional fight against tricky Anwar Alfadli showed that Marcel had the patience and skill to box a seasoned journeyman and his second bout in Newcastle against Craig Derbyshire was another great learning fight which saw Braithwaite stand and trade at times, showing us his fan friendly style in action.
His trainer Wayne Smith of the Golden Gloves Gym has high hopes for his young charge stating "he can go as far as he wants to". We look forward to Marcels next outing on Friday, we spoke to the Liverpudlian prospect who seemed in buoyant mood, smiling and saying cheekily, "we've got something up or sleeve for this one" 
Bringing the Manchester vibe to the show, Artif "The Sniper" Ali (9- 1 (0) takes his slick counter punching and smooth moving style to Liverpool as he looks to bring his record up to 10-1 and set himself up for an English title fight this year.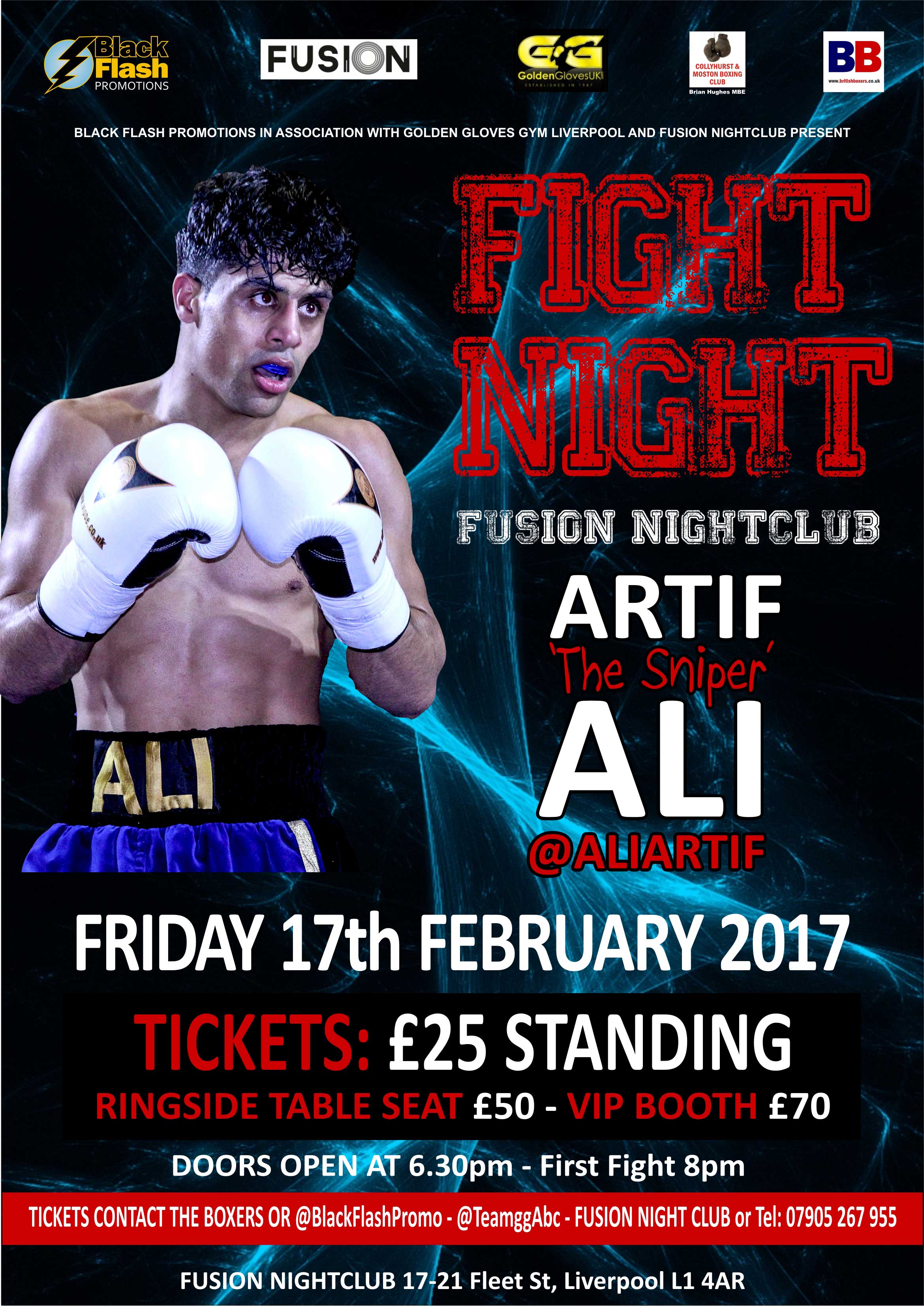 Ali, 28 fights in the lightweight division and looks to push on now at a now or never moment in his career. His trainer Sean Krool has established a good base in North Manchester's "Fight Factory" and has high hopes for his charge. Ali has just become a father and insists that it gives him the "motivation I need" to get his career back on track and bring his hard work to fruition. 
In a much-anticipated professional debut Byron 'The Boom' Abiru also known as "The Boom" hopes to enter the professional fray with a big boom on Friday night. Byron comes from a proud heritage of a fighting family and looks to carry on the Abiru fighting name in style.
Byron has experienced a couple of delays to his professional career and believes that this has made him even more determined. When asked about the event he calmly stated "I'm ready". We eagerly look forward to following this journey, by all accounts he possesses dynamite in his fists, we shall see on the 17th.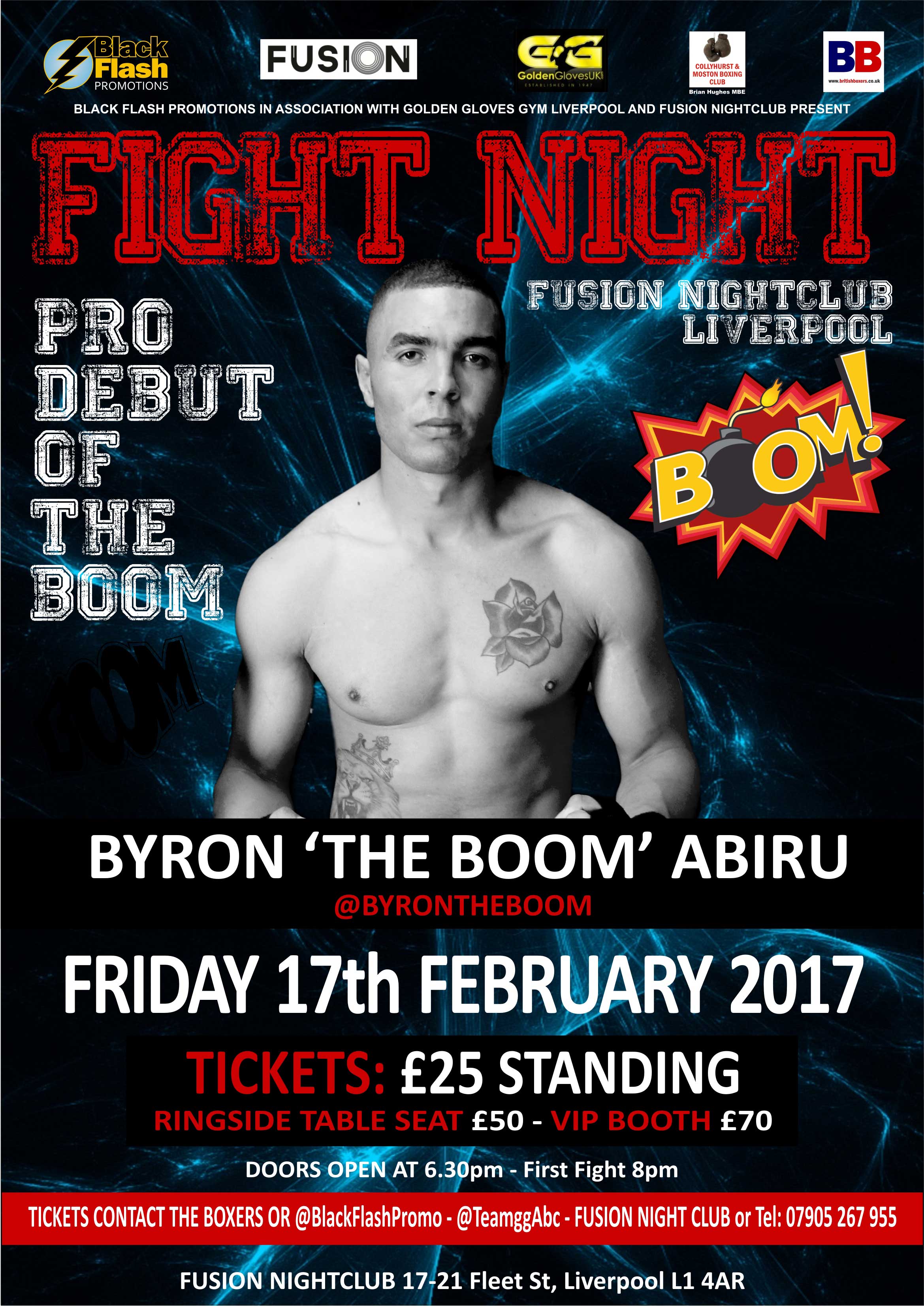 In this talent packed card we also see the popular, unbeaten fighter from Ellsemere Port, Mason "Nutty" Cartwright in action (7 -0 -1, 1KO) in what could be the fight of the night. Cartwright goes in with Middleton's tough Darryl 'Razor' Sharp, a boxer renowned for causing an upset or two against highly regarded prospects. The Ellesmere Port fighter will need to be on top of his game to topple Sharp.
Cartwright is known for bringing an army of fans with him wherever he goes and we look forward to seeing the Fusion Nightclub bouncing on Friday. Mason has been tipped for big things in the super welterweight division and seems to be going from strength to strength.
Cartwright, 24 recently acquired a slot on the massive Frank Warren bill in Manchester on the 8th of April so he will be looking to impress and he cant afford any slip ups. Frrom what we are hearing, this could be the start of something special.
Tickets Available on the door.
Fusion Nightclub, 17-21 Fleet St, Liverpool L1 4AR