With going to the Golden Gloves' monthly shows plus other amateur shows plus other amateur shows I am very impressed with the young talent that is coming through in the North West. I feel that if these youngsters keep at the sport they can have a glittering future.
I also am going to mention two senior boxers who in my opinion are deserving of praise and acknowledgement for their commitment to this wonderful sport.
These men are not household names save in their own yet people who see these boys box will always remember them.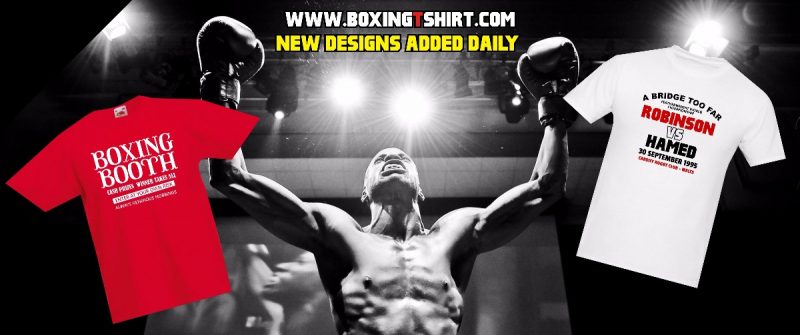 The two boys are Golden Gloves' Gavin Ackah and Birkenhead Venture's Ray Boyer. Over the past couple of seasons I have seen these boys box on many occasions. Never once have I witnessed them in a bout that didn't bring the crowd to its feet.
I was present at the Golden Gloves show when they boxed each other. What a bout that was. Okay, Ray Boyer got the verdict and deservedly so but how he had to work for it.
I have got to know the boys personally and you could not wish to meet two wonderful sportsmen. Ackah enters the ring with a smile on his face and leads it with a smile whatever the result, what a fighter and what a sportsman.
Ray is only too happy to help anyone. I found this out being vice president of the Birkenhead Venture ABC. He and chief coach Sean Trodden have helped a young kick boxer who I was asked to help to improve his punching technique. The help that young Jordan Butler has received off Sean has come to fruition with Jordan winning a gold medal and two silver medals at a big international tournament.
On a training night after the hard work is finished it's nothing for Ray to tae young Jordan and spar with him.
Yes Gavin Ackah and Ray Boyer may not be household names but I salute you for being what you are – wonderful men and great sportsmen that are magnificent for boxing. I am honoured to have you as friends.
Fight Night Report – Golden Gloves Show on 8th March 2018
Fusion nightclub, Liverpool.
Once more the legendary club's monthly show was an excellent feast of boxing. The skills bouts were exceptional, the Golden Gloves' Leevi White, Khalif Ali and young gifted boxer Kleon Williams meeting worthy opponents in Ethan Caine, Vincent Clayton and Germaine Myles.
Minor Bout
In a minor bout Kory Smith (Golden Gloves) got the verdict over Salford's Rico Winston that had the crowd on tenterhooks and amazement of the skill and defensive tactics of both participants. Beautiful boxing by two young stars who have a bright future. Beautiful jabs, combinations – the lot.
School Bouts
Mikey Miello (Transport) gained the win over Golden Gloves' Leo Sewards in another seesaw bout.
Jacob Hankey (Boxfit Academy) was in top form against Golden Gloves' Imran Uddin and he needed to be in a very hard fought contest.
Next up was Golden Gloves' Farris Elsoriemy who got the nod over Salford's Lewis Taylor in another schoolboy bout where talent belied their age. Elsoriemy is a beautiful mover and a switch hitter while Taylor showed a tight defence and good combinations off his jab.
Senior Bouts
Bletchley ABC's Ali Chowdry showed good movemen. Lewis relied t and precise punching against Lowe House ABC's Luke Griffiths. Luke kept to his task but Ali was a step too far and Luke tried to stem the tide but to no avail. Though Luke had his moments he took two standing counts in the last round.
Deva Police's Lewis White got the nod over Golden Gloves' Genadij Krajevski in a barn storming bout. This was a war of attrition with both boys fighting as if theirs depended on the outcome. Lewis relied on his jab and coming off his jab whereas Genadji forced the action and favoured hooks to head and body. The difference was the referee gave Genadji a standing count that many thought was unwarranted but let's take nothing away from two boys and great sports that put in such a great bout.
Next up was Golden Gloves talented southpaw Harry Evans who received the verdict over Love Boxing ABC's James Jaques in a wonderful skillful bout that was a delight for the boxing purist. Evans just had the overall edge over a top class boy who has alot to offer with his brilliant jabbing and combinations, however Harry showed wonderful defensive skills plus a great variety of punches to gain the verdict.
The last bout was also a real cracker with Stockbridge ABC's Jak Corrie gaining the nod over Golden Gloves' Femi Abdul Azeez. Femi was on the attck from the start, trying to bob and weave his way in to get his big shots in. Corrie was up for it too but he chose to use his jab and combinations to offset Femi's assault. This bout had the crowd on its feet when both boys went for broke in the exchanges. It was a fitting end to a great night's boxing.
From what I witness on these monthly Golden Gloves shows, amateur boxing has alot of talent in the area.
Until next time, good luck, God bless,
Tommy Dix