With Rocky Fielding vacating the Commonwealth strap that he ripped from David Brophy in devastating fashion last autumn, Edinburgh's Tommy Philbin senses an opportunity to take his career to the next level. With Fielding preferring to focus on European honours, India's former Olympic medallist Vijender Singh has been mandated by the Commonwealth Boxing Council for the title shot; with his opponent still to be confirmed. 32 year-old Singh, unbeaten in 10 contests, is a superstar in his native India and is the holder of two WBO regional titles.
When I caught up with the Lochend trained man earlier this week, ahead of his Saturday bout vs Anthony Fox at the Paisley Lagoon, he was very clear that Singh would be his dream fight.
 "I would love that fight. I would bite your arm off for it. If Singh wants to fight even over in India that would be fine. I would hope to win that and kick on from there." told British Boxers.

Since turning pro in late 2015 Philbin has notched up 10 straight wins, with three of them coming via the short route. He started initially at light-heavy before opting to drop down to super middleweight last year. A decision that reaped immediate benefits when he outpointed Rhys Pagan for the vacant Celtic super middleweight title in October. The British super middleweight ranks are currently in rude health with the likes of George Groves, Callum Smith, James DeGale, Chris Eubank Jr and Rocky Fielding battling for the big money. A situation that has been helped immeasurably by the World Boxing Super Series bringing the division's top combatants together.
Philbin is committed to staying at super middleweight and sees it as a more natural home than his earlier outings at light heavyweight.
"The guys at British level like Buglioni (British champion) and Callum Johnson (Commonwealth champion) are all huge and I'm not really that big. Lots of guys at super middleweight are bigger than me too but working full-time I don't think I could get any lower. If I was a full-time fighter I would be able to go lower but this is the limit for now."
Currently ranked just outside of the top 10 in the British rankings, the Edinburgh man is determined that 2018 will be his break out year. He currently faces the challenging mission of combining his developing boxing career, with his two young children and his day / night job as a Fishmonger. Something that involves routinely getting up in the early hours of freezing cold mornings and then training into the night. A ritual that is essential with the mundane demands of a mortgage to satisfy in an alternate universe to the prime-time big bucks enjoyed by the likes of Anthony Joshua.
When I suggest, that lacking a nickname, he adopts the old school style moniker of the "Fighting Fishmonger" he seems far from convinced. We explore the potential of "Tommy Gun" from Rocky V vintage and even sink as low as the "Slippery Fish" but he ultimately concedes in his amicable way that he "Doesn't really care for all that, to be honest."
The 27-year old would love to focus full-time on boxing but is insightful enough to realise that this cannot happen without a further raising of his profile, via title honours and a big fight night or two. Currently, Philbin exists in the sports emerging foothills where the day to day struggles of everyday life grind on within touching distance of the golden razzmatazz of the dream factory. One of the strange yet enticing parallels in boxing is that on any given night these two worlds can be thrown together between the noisy hype of the main event and the lonely depths of the undercard. Philbin has first-hand knowledge of this having appeared at the very bottom of the bill on Billy Joe Saunders WBO title defence vs Artur Akavov. He considers the differing fortunes of himself and Saunders with a rueful chuckle.
"I'm fighting for 500 quid and he's fighting for however many millions. I was on first at 5:15 and the hall was empty except for my supporters. But it was only my sixth fight and I picked up my first stoppage win against Kelvin Young who had already had 25 pro fights. It was a decent experience."
The Celtic super middleweight title, despite only being in sporadic usage, has done a little to raise the Edinburgh fighter's profile. It has also helped that the title fight went out live on Box Nation TV and was a hard-fought, standout encounter. That, his beaten opponent, Rhys Pagan then got the call the following month to unsuccessfully challenge Lerrone Richards for the WBO European belt is a source of disappointment to Philbin. He goes as far as to use the word "devastated".
For a while it appeared that he might get his own shot at Richards and his title in the aftermath of the victory over Pagan. However, despite his best efforts, they proved unable to get the fight on. Philbin, describes it in animated fashion.
"I said in an interview in early January that I would 'love to fight him'. I get a call end of January to say 'he has seen your interview' and said 'do you want the fight?' I said 'I would love to take it'. So then about a week and a half later they come back and say 'we don't want the fight over 10 rounds'. So obviously the title wouldn't be on the line. They only wanted it over eight rounds."
"I said 'Whats the deal in that? What is the purse?' and they come back and said that they 'don't want it over eight' either. I don't know if it's him or his team but they obviously don't want the fight."
Following a decent amateur career where he fought the likes of current British light heavyweight champion Frank Buglioni and WBSS finalist Callum Smith, Philbin has made decent strides in the professional ranks. His route into boxing, is a well-trodden one of getting into trouble at school as a cheeky nine year old and being packed off to the local gym by his Dad. Despite losing his father at the age of just 43 he continues to be a key presence in Philbin's life both in and out of the ring. His memory, and the desire to provide the best life possible for his young family, is the spur that drives him on through the combined toughness of his work and training regime.
Tommy Philbin isn't shooting for the stars, but would gladly gather them if they fell into his orbit. To be able to call himself the super middleweight champion of Great Britain and use that as a catalyst for a big pay day or two would be sufficient reward for his talent and effort.
"If I was able to win the British title and for whatever reason was unable to box again I could retire happy. To be able to walk into my house every day and just have that title sitting on my mantelpiece would be great."
A shot at Vijender Singh and the commonwealth belt in his locker would be a great opportunity to move the journey into its next phase. If it doesn't come to fruition then Philbin declares his desire to "fight anyone, anywhere."
But, before any of these hopes can be fulfilled he must first take on Wiltshire's Anthony Fox this weekend. The four round contest should prove little more than a tune up and provide an opportunity to shake off six months of inactivity. I ask Philbin if there is any danger of complacency in going In with an opponent carrying a lack-lustre 3-10-4 record.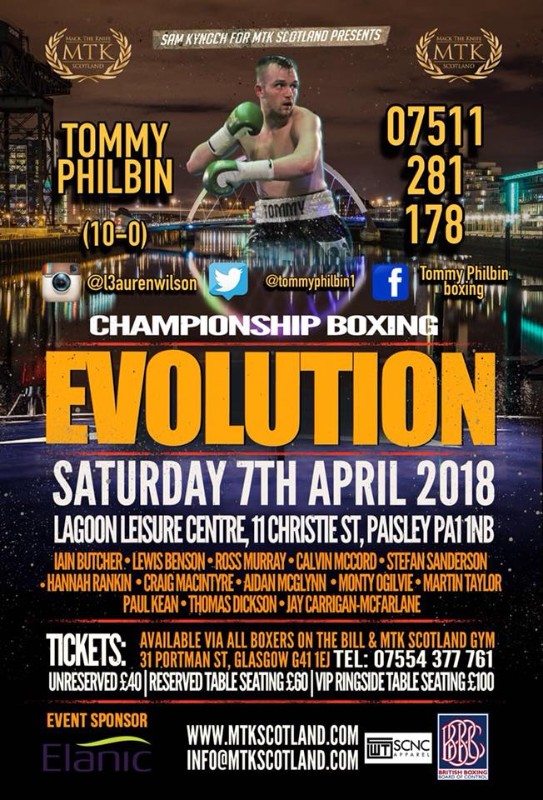 "No chance. I never do. I have seen one fight of his and he looks like he comes to fight; which is good. Not just a journeyman that turns up to defend and not take any chances."
He steers clear of providing a prediction and only confirms that "I am just predicting a win. I never say I am going to do this or do that." This is essentially the essence of Tommy Philbin. He eschews the showboating and catcalls and does his talking in the ring. With his work ethic and eye-catching style pretty soon people are going to start listening to him.