Jimmy 'Kilraine' Kelly (23-1, 9KOs) knows a win against Dennis 'Hurricane' Hogan (26-1-1, 7KOs) at the Brisbane Convention Centre in Australia on Saturday night (7th April) will almost certainly secure him a second shot at a world title and it is a fight he can ill afford to lose if his ambitions are to be realised.
On paper he is up against it, away from home, in his opponents back yard on the other side of the world, but Jimmy has dreamed of these types of scenarios as a professional boxer, travelling abroad, fighting the best and he is living the dream, confident he will return to his Wythenshawe home victorious.
Mancunian Kelly, 25, is ranked No5 by the WBO in the junior middleweight division and his his opponent the Australian based Irishman Hogan is one place above him at No4, the winner will be placed nicely for the next big push.

We spoke to Jimmy yesterday as he was preparing to travel to Brisbane for the weigh-in, (weigh-in video above) to find out how he has settled in camp over there and his thoughts on the fight.
"We got here about two weeks or so before the fight." Kelly told British Boxers.
"We made a point of getting here early but not too early so we get bored, we just planned it perfect I think."
Other than the disadvantages of fighting away from home, there is also the issue of jet lag and acclimatising to the 11 hour time difference, but Jimmy says he has adjusted well to the changes and has been enjoying his time on the Gold Coast.
"I'm really looking forward to the fight now, we have done everything perfect for this, making sure everything is covered, we are in a great place and very well prepared.
"My body is over the jet lag, I'm getting used to the heat, although it's rainy season here at the moment, so it's not like it's massively hot so it aint too bad. To be fair I've fell in love with the place, we've met so many nice people, I'm almost thinking about talking to my missus about us coming and staying over here.
Jimmy's team led by respected coach Lee Beard, have made sure their boxer has had everything in place for him to prepare and relax, they have had good training facilities and sparring in Brisbane but have spent fight week on the Gold Coast.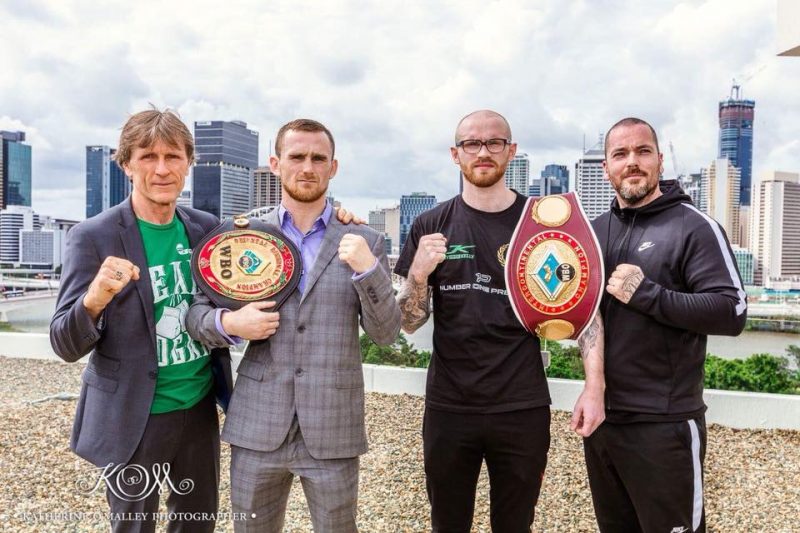 "We have basically stuck to the same program. When we first arrived from Manchester, we took a few days to acclimatise, get the bad toxins out and keep hydrated and just focused on that really. Had my last hard week got some good spars in with Ben Kite at Steve Deller's Fortitude Gym in Brisbane." said Kelly.
"After our last spar. We based ourselves about 40-minutes away on the Gold Coast. We are staying at a private facility there, private gym, everything to help me relax, focus and prepare. It's my last night on the Gold Coast now and then after the weigh-in we will just stay in Brisbane until we come home."
Both boxers attended the official presser on Thursday and swapped the usual verbals and pre fight talk for the cameras. We asked Jimmy about Hogan, the task ahead and if he feels he is now reaching the peak of his strengths and powers as a pro boxer.
"Yeah Hogan seems confident at the press conference and had a bit to say about himself but I'm massively confident in the game plan we have put together with my team and I am 100% confident I will come out on top on the night.
"Yes It feels like I've got the experience now, I'm a young man, fresh and coming into my peak and I've got what it takes to go abroad and get the win against an home fighter in a tough 50-50 fight and I'm ready to do that and maybe get that world title fight next or in the not too distant future." added Kelly.
TODAY'S WEIGH-N HOGAN VS KELLY
There hasn't been a lot of main stream coverage of this fight in the UK but Jimmy has gone about his preparations and just focused on the job. He says he has missed his young son and wife Jehan, who is expecting their second child immensely. But says he was given a massive boast to moral when yesterday morning he received a video with good luck messages from home and promises to make everyone proud.
"Getting the video message sent to me by all the well wishers was great. We all saw it first thing in the morning, it was about 25 minutes long, of our family, friends, loved ones and supporters all recorded messages wishing me good luck. It was really emotional for a few of us here and a lovely thing to wake up to. We have been working hard, missing our families and to see that really gave us all a good push. I just want to thank everyone who contributed to it and for organising it, I will do you all proud and win this fight."
We all wish Jimmy the very best of luck on Saturday.
The fight will be broadcast on Saturday morning from 9am UK time
To watch the fight LIVE and FREE go to: www.epicentre.tv/events/hogan-v-kelly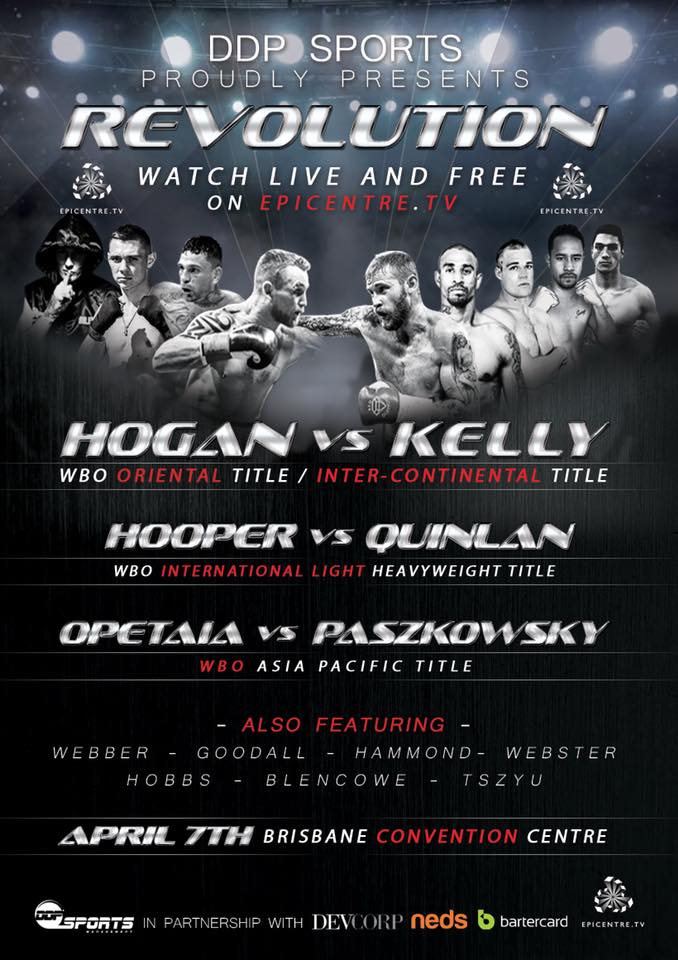 FIGHT CARD
WBO Intercontinental Super Welterweight WBO Oriental Title
Dennis Hogan v Jimmy Kelly
WBO International Light Heavyweight Title
Damien Hooper v Renold Quinlan
WBO Asia Pacific Cruiserweight Title
Jai Opetaia v Lukas Paszkowsky
Tim Tszyu v Ruben Webster
Joe Goodall v Lui Te'o
Nathan Webber v Natalius Cipong
Deanha Hobbs v Arlene Blencowe