Ask any boxer, what is the worse part of being a pugilist and 9 times out of 10 they will say, making weight! It is the burdan bestowed not only on boxers but on many other combat sport competitors who look to gain an advantage on fight night, but is it an advantage?
On 10 November 2017, 18-year-old Australian fighter Jessica Lindsay wrote "weight cutting is sick" on her Instagram page while preparing for a Muay Thai fight.
Six days later, she died of extreme dehydration, having collapsed while out running, 30 minutes before she was due to weigh in. Her organs, her sister said, had shut down "one by one".
Acute weight loss is a growing concern in combat sports.
The practice of sweating out vast amounts of water to reach the required weight limit for a fight started in wrestling and has become hugely common in MMA and boxing.
It's not unusual for a UFC fighter to lose 20lbs – often more than 10 per cent of their body weight – in the 48 hours before a weigh in.
They will stop eating and drinking, and then use a combination of saunas, hot baths and cardiovascular exercise to force their bodies to excrete as much fluid as possible.
While extreme dehydration is less prevalent in boxing, it is still an option that boxers sometimes take in order to meet limits that are far below their natural weight.
The thinking is that by shedding water weight quickly, only to pile the pounds back on after weighing in, they can gain a size and weight advantage over their opponent.
Being the bigger and heavier fighter clearly has its benefits.
In May 2016, Amir Khan was knocked out cold with one punch by Canelo Alvarez, who is said to have weighed as much as 30lbs more than the 155lb limit on fight night.
Speaking with Jack Green of Betway Insider, Dr Mike Loosemore MBE, chief medical officer for GB Boxing, warns that fighters are playing a game of "Russian roulette" with their health by playing the weighting game.
"First, there's the danger of actually losing the weight," says Dr Loosemore. "Sweat isn't pure water – the salts that are in your blood are required for running your heart nice and smoothly.
"When you get very dry, you lose a lot of electrolytes.
"Those electrolytes are very important for the nerves that make your heart beat regularly. If they start misfiring you put yourself at risk of heart arrhythmia, heart attacks and death."
GB Boxing have strict guidelines when it comes to weight cutting, with "a dehydration of two per cent of their weight considered safe".
"Greater percentages than that, we wouldn't recommend," says Dr Loosemore, "because it's just dangerous. It's Russian roulette."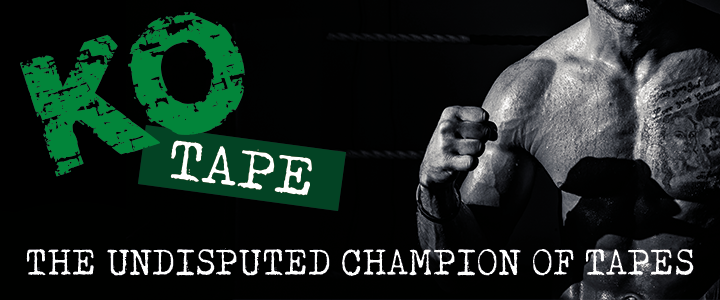 In the past year alone there have been several scary accounts of fighters trying – and usually failing – to drop below weight limits.
Liverpool's Darren Till briefly lost his sight while cutting weight before headlining UFC Fight Night 130 in his home town in May. A video of Till struggling to make the weight surfaced shortly afterwards, sparking debate over how weight cutting is regulated in MMA.
And in January, Jamaican middleweight Uriah Hall was rushed to hospital having suffered a seizure and "slight heart attack" after failing to make it to the scales for UFC Fight Night 124.
The dangers of weight cutting don't end at the weigh in, though.
Draining themselves ahead of a bout, Dr Loosemore says that fighters risk damaging their chances of victory and increasing the risk of suffering a serious injury in the ring.
"Often when you rehydrate the fluid doesn't distribute itself normally within the body, and it can go in the wrong places," he says.
"When you're dry your body secretes anti-diuretic hormone, so you retain the fluids you take in when you rehydrate because you don't pee them out.
"You have a rebound where you end up heavier than before.
"People may think that's great. But it's just fluid, it's not muscle. What actually happens is the fighter feels really poor because they're over-hydrated.
"It means you are almost certainly going to under-perform, so you've also got the danger of being hit hard and losing the fight.
"So while it may sound attractive to lose 20lbs before a fight and then put it back on again, it just doesn't make any sense from a safety or performance point of view."
Losing weight over a longer period of time – and shedding just a small amount of fluid prior to weighing in – is a better, healthier alternative.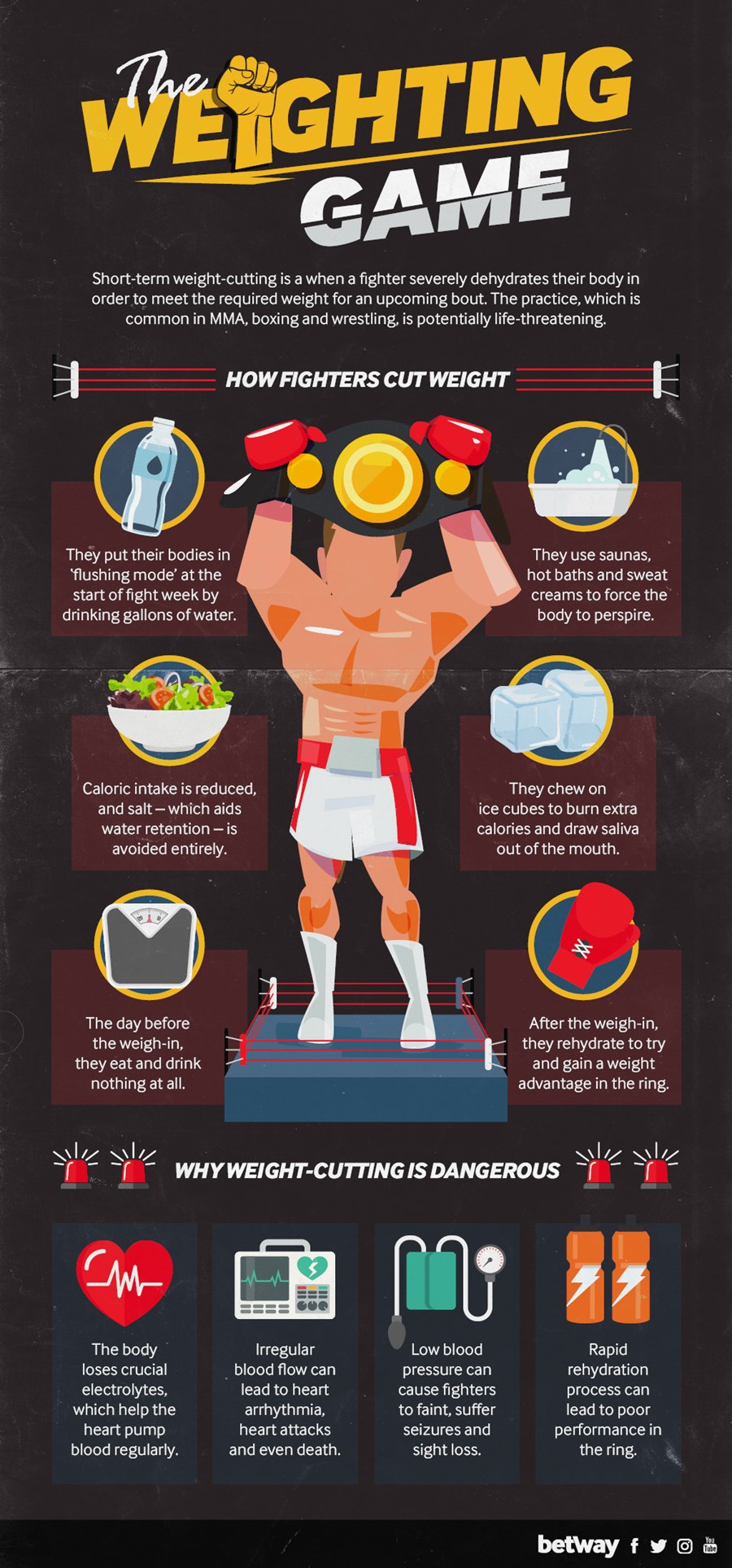 It takes away the risks that come with drying out the body, while not having to re-hydrate on the morning of a bout can also help a fighter feel fitter and stronger, and improves their ability to take a punch.
Despite the dangers, though, extreme dehydration remains an option for those who have been poorly advised, or who need a quick fix having struggled to lose weight during a difficult camp.
While there are no regulations in MMA to stop the practice, in boxing a rule has been passed that will bring in second-day weigh ins for championship fights, which will require fighters to get on the scales again on fight day and be no more than 10 per cent above the weight limit.
The new regulations will not, however, prevent fighters from fighting altogether if they are over the limit. 
Champions will be stripped of their titles and challengers will forfeit their chance to win the belt, but fights will invariably still go ahead, albeit for reduced purses.
It is a step in the right direction, but Dr Loosemore believes that more must be done to protect the fighters, who will always want to step into the ring even when their opponents come in heavy, usually because of the prize money on offer and the chance to secure more lucrative opportunities down the line.
"I understand that people want to get their fights on," he says. "But you have got to think about the fighters at the end of the day. They'll do anything to fight.
"You've got to protect them from themselves. You can't just allow anything to go, otherwise we will start seeing terrible injuries and deaths in the ring, and the sport will get banned because the public will be revolted by it.
"The rule should be that if you miss the weight you don't fight, and you get a fine.
"As a doctor who cares about the fight game passionately and cares about the fighters, I don't want to see these brave, talented young men dying because of a mad strategy to make weight."
This interview was originally conducted by the Betway Insider Team, for more information check out their original post.
LATEST BBTV VIDEOS