Norwich's lightweight contender Rylan Charlton is determined to emerge as victor in Saturday's lightweight tournament put on by BOXXER at Coventry's Skydome Arena.
Charlton got back to winning ways in March after suffering back-to-back defeats to Florian Marku and Luke Willis respectively, the first two of his career. Reflecting on the two losses, Charlton was positive in his remarks, choosing to focus on the positives and what he gained from the difficult experience. 'I still want to go again with him [Marku, who Charlton knocked down before his corner threw in the towel eight rounds in]. Obviously with the difference in weight [the fight was at welterweight, two divisions above Charlton's natural division], he's far too big for me. I think he boxed his best against me. He still likes to have a tear-up and fight but he's actually a very good boxer if he wants to be. But when I watch him keep knocking everyone out, I do think maybe I did alright in that fight'. The Willis defeat was different, the Liverpudlian offering a more technical approach, a style Charlton was honest when admitting the difficulty he faced that night. 'That style gives me absolute nightmares. A southpaw, someone fast on their feet, he's a good boxer. I tried to outbox him in a way but I needed to outfight him. I'm not the prettiest boxer in the world, I'm a flat-footed power puncher, I should have got on top of him quicker. It was a close fight, but I've learned a lot from these losses. I wouldn't change anything, you need them in life to progress'.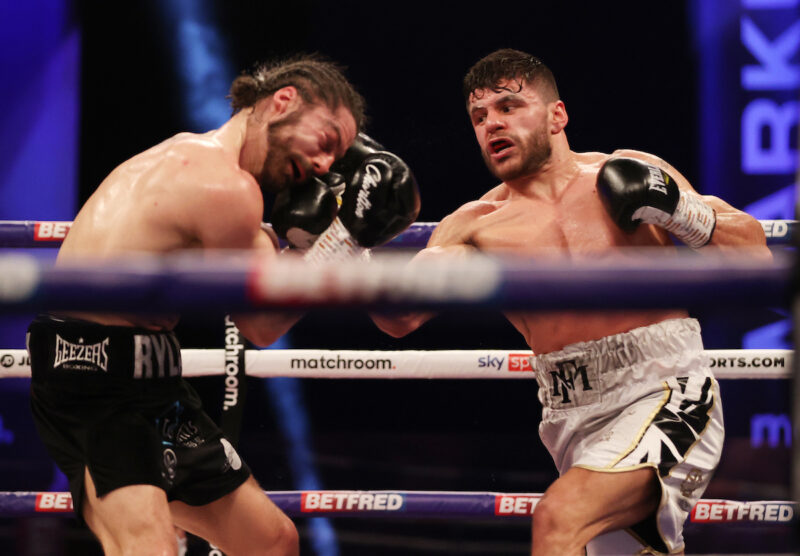 A common theme in the sport is the unnecessary pressure on a fighter remaining undefeated and the reluctance from promoters to throw them in competitive fights as a result. Charlton however showed a refreshing attitude to the sport that can only be admired, open to taking risks to help him progress in his career. 'Too many people in boxing focus on keeping the nought but I've never been too bothered about that. I feel like you learn more from losing fights, and then you don't have the pressure [of staying undefeated]. I gained a lot from the losses, I didn't lose fans, I'm still exciting to watch. I'm happy with what I've gained [from the losses].
The fight in Norfolk against Ezequiel Gregores, which Charlton won via a comfortable points decision over six rounds, was a necessary bridging fight to return the twenty-nine-year-old to winning ways, but Charlton is glad to be back in front of the Sky cameras on Saturday night, a stage he feels he has done enough to fight on regularly going forward. 'It was hard to get up for [the small hall fight] now, but I'm glad I did it. It's the first time I've fought in my home city of Norwich. I don't want to sound big-headed but I think I belong on the big stage, I thrive from the pressure, I enjoy it. I want to be back there which I am on the 16th'.
The BOXXER tournament format, while no doubt entertaining for those spectating, is a risky one. Fights only last for three, three-minute rounds and so one bad round could leave a fighter in real danger of exiting early on. Charlton is relishing the experience however, believing the frantic nature of potentially fighting three times in one night to be the perfect storm where he can shine. 'Most of my stoppages have come in the first three rounds, so I think I can go a lot harder than I've done before where in six and ten rounders you have to pace yourself. I thought this might suit me really well, getting in there and going all out for three, three-minute rounds. I wanna feel the adrenalin after having the first fight, chilling out and then going again. I'm really excited to give this a go'.
The Norfolk man was of course confident, backing himself to go all the way and emerge as winner, but when asked who he fancies to join him in the final, Charlton admitted he's rarely spent time looking at the men who will be opposite him on fight night. 'I haven't actually looked into the boxers that are in it [the tournament]. I've seen who's in it but I haven't watched any of them, I don't know what any of them are like, but whoever it is hopefully they will be tough and ready for a proper war at the end'. Charlton told BBTV of his desire to put pen to paper with Sky Sports after Saturday night where he hopes he will be guided to a shot at a title in the near future. 'For sure, I want to win this and then get signed by Sky. Hopefully after winning this, I can call for my contract [with Sky] and then go into some title fights. It's about time I went for a title of some sort'.
The drive and determination is clear for all to see, not only in this interview but in all of the 'pint-sized powerhouse's' fights to date. Saturday will be no different, the Norfolk man resolute as he looks to secure more big fights with a good showing in Coventry. 'I want [the win] very badly. I know you can't rely on thinking about the money side of it, but I want the money. I want this more than anything, someone will need a shotgun to get me out of there 'cos I'm coming for the whole lot'.