You get to it via twisting, winding country lanes. The sort of narrow unmarked roads where you risk losing your wing mirror if another vehicle comes speeding by in the other direction. Surrounded by fields and silence it is the antidote to every lazy, generalisation about boxing's close accompaniment with urban decay.
Its address, overlooking the Gaza Trading Estate, suggests a hint of industrialisation; but here on the outskirts of Sevenoaks, you are unmistakeably in the Garden of England. Fighting Mecca's like the Peacock Gym in London's Canning Town are probably less than 25 miles away as the crow flies, but exist a solar system away from the leafy commuter land that is Sevenoaks.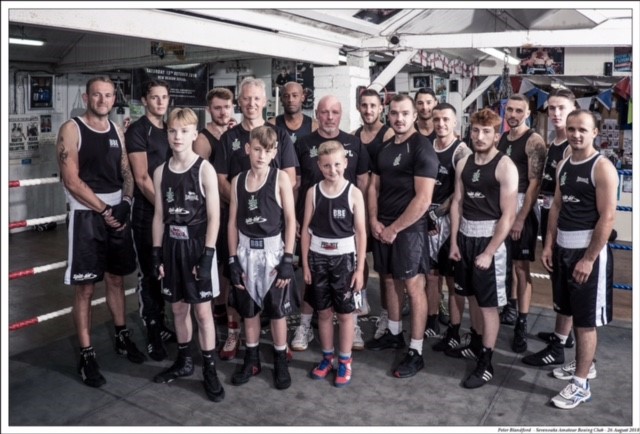 From the outside the wooden creosoted structure has the comfortable appearance of a 1940s village hall . Inside the high wooden beams create an A-frame that looks like it could have been thrown up by a team of bearded Amish in their lunch break. But, above all it is the inside that gets you. The exterior 40s appeal is not an aberration but instead something that is entirely mirrored within.
Above the little counter, directly in front of where you push open the thin wooden door, resides a picture of The Queen. It is from this vantage point that Head Coach Paul Lynch scribbles names of new arrivals in his book and collects the subs. Amidst, piles of gloves, he trades the odd drink and unleashes a permanent stream of good natured, welcoming banter.
Coaches Paul Lynch and Andrew Knight
The walls are adorned with black and white pictures of the heavyweight greats from the past: Jack Johnson, Rocky Marciano and Joe Louis; all peer down, undaunted and still in their prime. Next to them a picture of Henry Cooper resplendent in all his Lonsdale belts: his hair thinning and his cheekbones still razor-sharp. On the far wall is a big fight poster of the Kray Brothers jointly topping the bill at South London's Manor Place Baths – I have seen it before but have never been sure how genuine it is.
If Los Angeles Main Street Gym is synonymous with the 70s world evoked in the original 'Rocky' film, via its reincarnation as 'Mighty Mick's Gym' then the home of Sevenoaks ABC is capable of something similar. If anyone ever wished to compose a British boxing film set around the immediate post-war Coronation era, then they could do worse than film it there. To such an extent that you expect to see 'Fearless' Freddie Mills unwinding howitzer's in the ring, big Don Cockell leaning on a heavy bag and Jack Solomons having a quiet smoke and counting his fivers in the corner.
But, Sevenoaks ABC, is not a museum, it is a thoroughly vibrant community asset that exists due to the hard work and diligence of a core group of committed helpers. It maintains a welcoming old world charm, but one mixed with modern equipment and attitudes. On any given Monday or Wednesday night you will see local juniors and senior's being put through their paces by co-owners Paul Lynch and Andrew Knight, as well as other volunteers. Both men previously achieving success in their own right in the amateur ranks via their capturing of the Kent ABA middleweight title 28 years apart.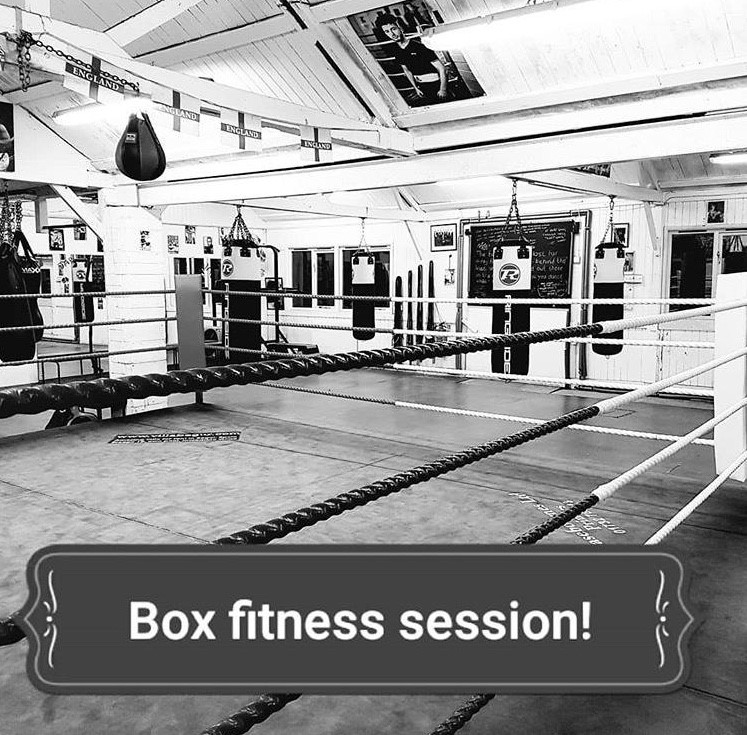 The club has been at its current site since 2005, following earlier incarnations at locations in the wider West Kent area. It exists as a direct result of its management committee, volunteers and members and does so without external funding. That such a worthy community based enterprise has not benefited from any charitable support probably has a lot to do with the mentality of everyone involved. The ethos is an old school one of self-sufficiency with an emphasis on 'giving' and not 'taking.'
The club supplements its core boxing activities with Boxercise fitness sessions and a Sunday morning club equipped with the brilliant title of "Fat Dads Club." A scheme aimed at the local concentration of belt busting city workers wrestling with the cumulative impact of too many liquid lunches. Sevenoaks ABC takes an obvious satisfaction in the number of attendees, of both genders, that have started with boxing related fitness sessions, and found they have enjoyed the disciplines so much that they have graduated onto the real thing.
This in many respects is the ethos of the club. Juniors of all ages training in the fundamentals and learning the core disciplines in a fun and structured environment. The more advanced ones sparring in the ring that forms the centrepiece of the gym. The senior's sessions feature an engaging mixture of carded amateurs, those looking to make the step up to competition, and others there predominantly for the two hours of high intensity fitness.
Some will stick with it, and others will fall away. Whatever the outcome, everyone that walks through the door will learn something about themselves and what they are capable of. This is really the essence of boxing: a physical battle played out according to the self-imposed limitations of the mind.
The positive message that should accompany boxing is one that is far too often missed, by those with only superficial exposure to it. The fight selling trash-talk shenanigans that are routinely played out on television and social media by the fight games leading exponents, do not to dispel this misinterpretation either. They throw up a hard to diminish myth of a threatening, violent and unwelcoming sport. One could imagine that this view could be doubly prevalent in a town clad with Sevenoaks middle class and genteel reputation.
However, anyone that has ever walked into a boxing gym will know that it is populated by the some of the warmest, humblest people you could ever wish to meet. With its requirements for selfless dedication to training and nutrition coupled with the continuous leveller of the opponent in the other corner, it couldn't really manifest into anything else. And, in this respect the Sevenoaks club is no different.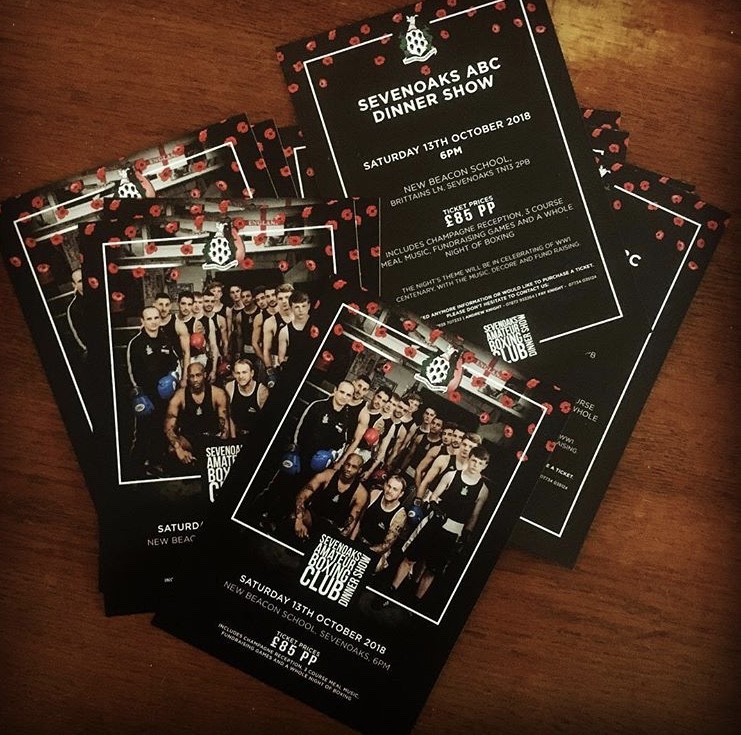 The fact that Sevenoaks ABC is located in a largely rural area, miles away from any direct footfall, yet still has a burgeoning membership is testament to the ethos and atmosphere that has been created and nurtured. The club has its 4th annual Dinner Show* on Saturday 13th October at the local New Beacon School. It will feature a stacked card of juniors and seniors at various stages of their boxing journey, along with food, drink and entertainment. Tickets are still available and if you are in the West Kent area it presents an outstanding opportunity to witness some quality live boxing action.
Alternatively, stop by the club on any Monday or Wednesday evening* and give it a try. At a minimum your fitness will improve, which in today's sedentary era of junk food and obesity is surely no bad thing. But, you never know, you may go on to follow in the footsteps of club member Lewis Syrett. The man known as 'Lion Heart' is signed with the prominent Steve Goodwin and is thus far unbeaten in four professional contests.
*For more information on joining the club, attending a session or to purchase a ticket for the Sevenoaks ABC Dinner Show please contact: Paul Lynch – 07939 707333 / Andrew Knight – 07872 933264 / Facebook: Sevenoaks ABC / Instagram Sevenoaks ABC
LATEST BBTV VIDEOS