This is a land of Kings and Queens, of magic and legends, where heroes slay dragons and set everyone free. Both the rich and the poor rejoice of their triumphs and feel them as their own.
The shadows disappear and for a glorious moment all differences in class, race or gender are forgotten and people feel like one, the light reminding that in truth we all are part of the same thing. Few things bring a nation together the way sport does…
Way before Anthony Joshua arrived on the scene, the UK already had a boxing champion with a cross-over appeal that reached far beyond the fight fans. You don't need to be an expert to know her name as her resume goes further than the sport. If you haven't guessed it yet, we are talking about 2 times Olympic Champion Nicola Adams OBE. Ambitious, multitalented, ground and record breaker Nicola tells us ahead of her first word title challenge that even after all her achievements she is as hungry as ever…
BRITISH BOXERS: You took up boxing casually with the only objective to get fit. What triggered you to start competing?
NICOLA ADAMS: My coach at the time sensed there was talent in me and urged me to try and compete. I decided to give it a go but without any idea or expectation of what was ahead of me. Then it all just happened.
BB: You set several records in your career among which being the first female boxer to represent England and the first one ever to win an Olympic gold medal, not to mention the Joe Bromley Award for outstanding services to boxing from the Boxing Writers' Club of Great Britain and an honorary Doctor of Laws degree by the University of Leeds. The list goes on. What do you consider your greatest achievement so far?
NA: Winning 2 gold medals at the Olympics still stands out for me, definitely. A professional world title might just be on the same level.
BB: Did you have any offers to turn pro after winning your first gold? If yes, why did you decide to stay Amateur?
NA: Plenty of them but becoming a 2 times Olympic champion was my objective from the beginning so I decided to stay Amateur.
BB: Why the decision to turn pro after the second medal?
NA: At that point I had won anything you possibly can as an Amateur, from European to World and Commonwealth titles. Being ambitious as I am, I felt the need for new challenges and it made sense to turn pro and conquer new grounds.
BB: Was the transition from Amateur to Pro hard?
NA: Not at all, the length of the rounds is the same, only there are more of them, which I prefer. It provides a better platform to showcase my skills.
BB: From your own experience, do female fighters get equal opportunities and paydays as their male peers in the pro game?
NA: I know I am and some others are, but not all of us. It would be nice to see the kind of respect I get extend to all female fighters in the world. Still things are better than what they used to be and I am confident that in time we will reach full equality.
BB: Who do you consider the real champion in your division between Linda Laura Lecca (WBA), Guadalupe Martínez Guzmán (WBC), Débora Anahí Dionicius (IBF) and Raja Amasheh (WBO)?
NA: It does not matter, as long as they have belts I am going after all of them until I unify the division. I don't mind who comes first.
BB: About your next opponent Isabel Millan, as Clint Eastwood said to Hilary Swank in "Million dollar baby": "She's younger, she's stronger and she's more experienced… Now, what you're gonna do about it?"
NA: Knock her out. Simple.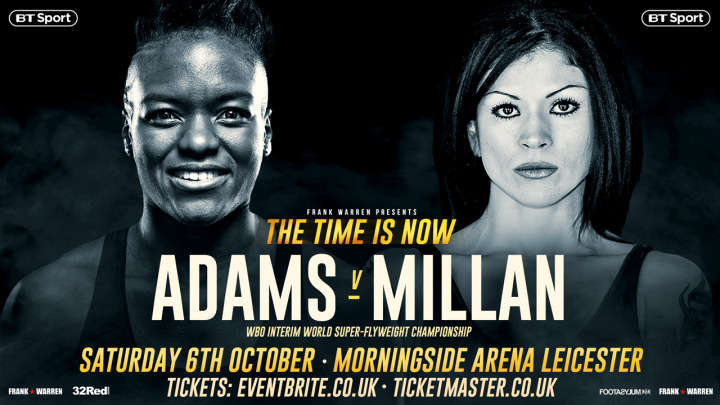 BB: When unable to box due to lack of funds, you worked as an extra on soap operas such as Coronation Street, Emmerdale and East Enders. Is acting something you would consider again in the future when you retire from boxing?
NA: I would love to be still involved in boxing to some degree even after I retire but I am definitely crossing over into the acting side.
BB: In November 2012, you topped the list of The Independent's 101 most influential LGBT personalities in Britain for 2012 and in 2016 were named Number One in the DIVA Power List of the UK's most eminent lesbian and bisexual women. Do you feel that discrimination against homosexuality is still an issue in the UK at this time? If yes, what is your advice to anyone who might be a victim of it in his professional or personal life?
NA: Not so much now, everything is getting better and better. The main trend in society is one of improvement. But, if you happen to run into racism and ignorance, do not let it get you down. Keep your head held high and strive for your dreams.
LATEST BBTV VIDEOS