After a routine win, a rumoured bout against Josh Kelly might just be the ticket for Benn!
It was loud all the way through and looking from the centre of the floor at the rabid crowd screaming all around made York Hall look and feel like an ancient arena for gladiators. Two wars of attrition that went the distance were framed by knock-outs in the televised portion of the JD NXTGEN show promoted by Matchroom Sport at the famous Bethnall Green venue last night.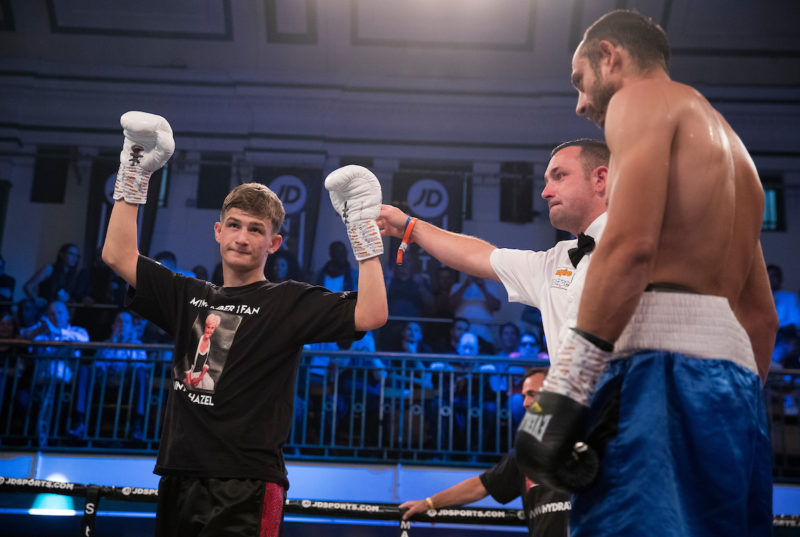 The action started with a scheduled 4 rounder at Super Featherweight. Being Friday night, prospect Charles Frankham (2-0, 1 KO) probably had other plans for the evening as he got rid of opponent Ilgars Krauklis (1-5, 1 KO) from Latvia at 1:43 of the first round with a single right hand shot. Hard to read much into it as Krauklis has been stopped twice before but on the basis of this performance "Boom Boom" does not look like a bad nickname for the 19 years old from Berkshire.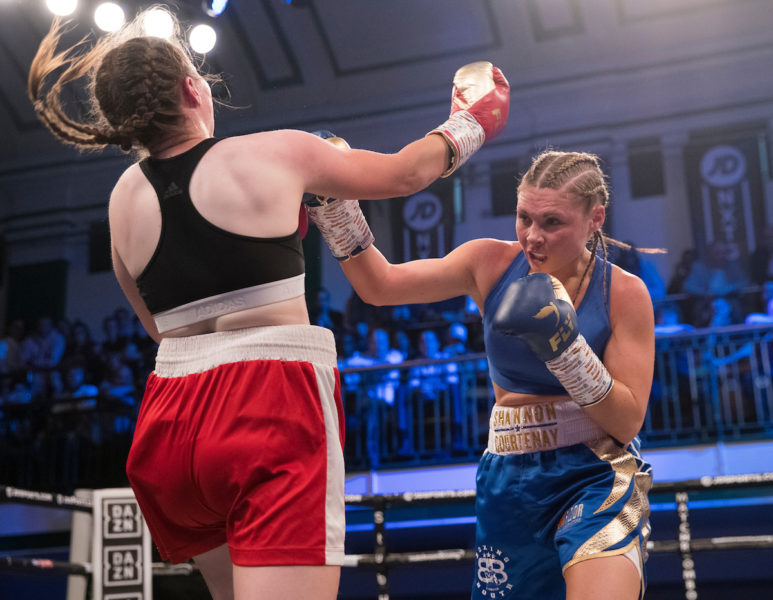 Not a good night for the Latvian fighters on the bill. Valerija Sepetovska (0-2) was aggressive early in the first round but one right hand from Shannon Courtenay (3-0, 1 KO) changed the course of the fight immediately and irreversibly as the opening stanza ended with her opponent down from a left hook. Instead of rushing in to finish it, Shannon was patient in the second, scoring painfully accurate right crosses at will with nothing coming back until the referee mercifully rescued Valerija at 1:17. This was supposed to be Courtenay first 6 rounder but she opted to have her first stoppage win instead. The future looks bright for this talented young lady.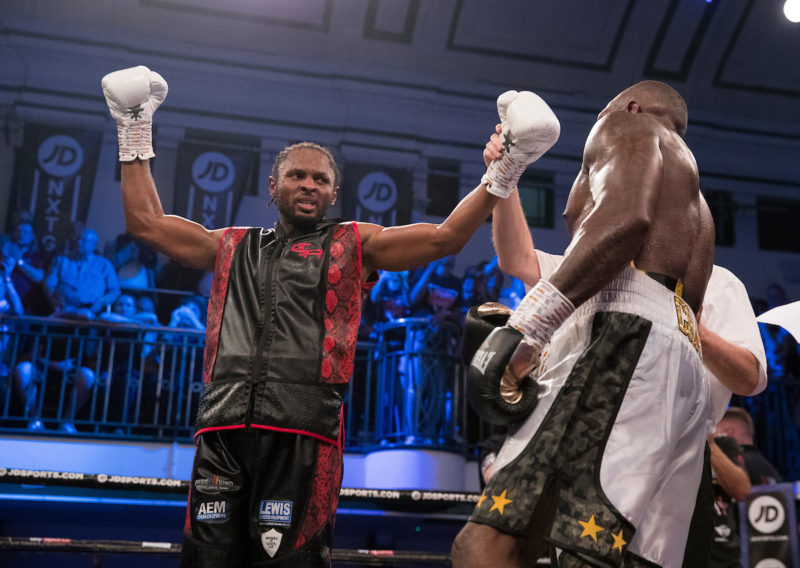 After these two appetizers, it was time for one of the main courses as Light Heavyweights Craig Richards (15-1, 8 KOs) and Andre Sterling (10-1, 4 KOs) entered the ring to settle their differences after a sour build up to this British title eliminator. You can tell when two people cannot wait to put their hands on each other, you can read it in their eyes and this was one of those situations.
Nevertheless, Sterling blanked it all out and won the first two rounds applying a surgical level of concentration, opening most exchanges with a jab to the body, then doubling it to the head and finally adding body shots to the mix. Richards started landing his own jab in the third.
It was evident how mentally tiring and energy consuming was for Sterling to keep that intensity of focus as he gradually started to lose composure from round four onwards, resorting more and more to holding.
Craig finally had his breakthrough in the sixth scoring effectively with spiteful 1-2 combos but could not keep Andre at bay in the next two rounds as he adhered to him like a magnet to restrain him. Action resumed in the ninth and tenth with both having their moments but Sterling output was steadily decreasing while Richards kept at it till the last bell with single but solid shots to win a deserved 117-111, 116-111 and 115-112 unanimous decision.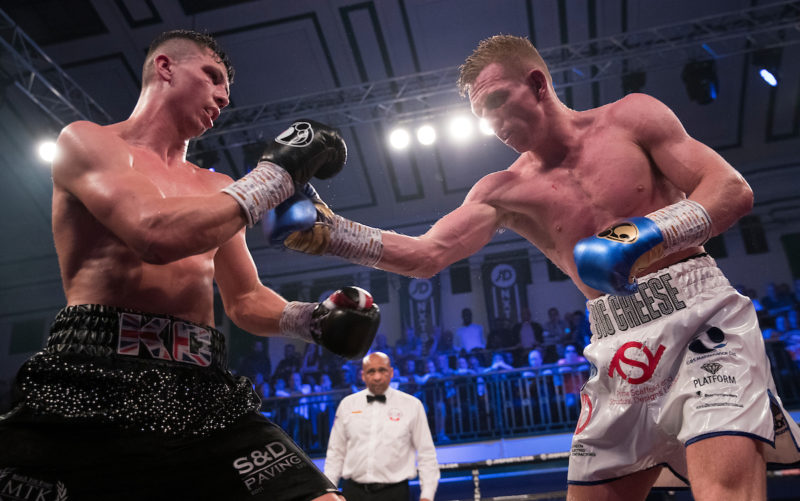 What was supposed to be an easy first defence and come back fight for British Light-Middleweight champion Ted Cheeseman (15-1-1, 9 KOs) degenerated into an absolute war and a thriller. From the second he stepped through the ropes to the first bell, Cheeseman just could not get his eyes off challenger Kieron Conway (12-1-1, 3 KOs), staring at him like he was his first meal after months of fasting.
The bell rang and Ted started pressing in his trademark machine-like relentless style, smothering Conway with hooks, keeping him constantly on the retreat and willing to absorb a few shots in order to land his own. For the first three rounds, the defending champion looked like the stronger man and unfazed by the challenger's fire power. Nevertheless, although not eye catching, Kieron's uppercuts were landing regularly inside.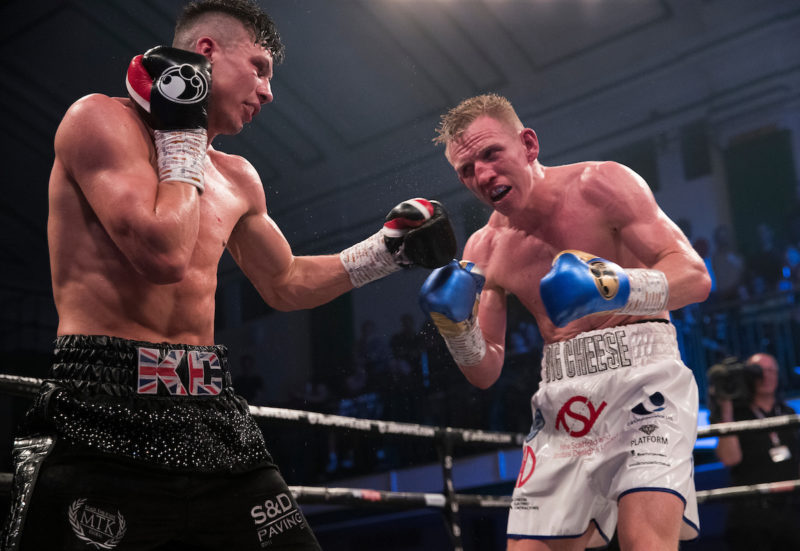 As blood started pouring from Cheeseman's nose in the fourth, it became evident that the man from Northampton was able to stand his ground and that we were in for a long night. Actually, it was Ted to show signs of fatigue in the fifth as the huge effort done so far was not paying off. His work became a bit disorganized from round 6 to 9 as his punches lost sting and missed too often while Conway found more openings for his accurate counters.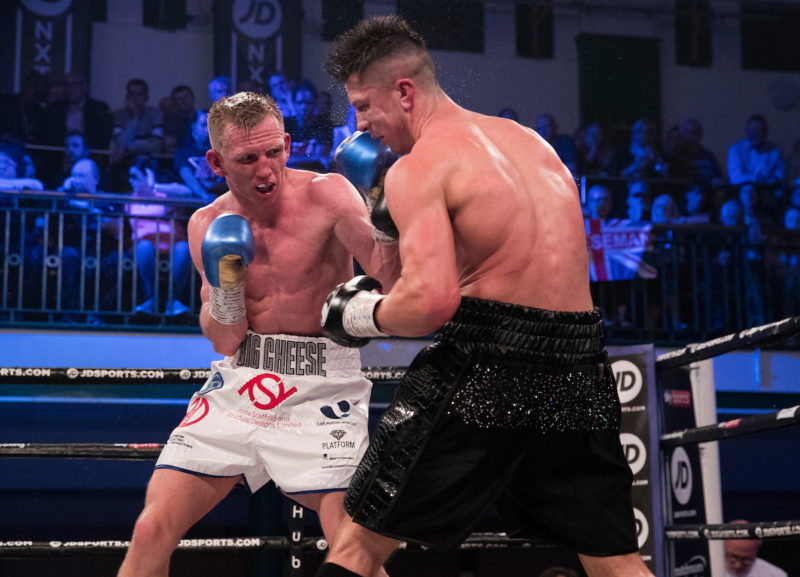 But there is no quit in Ted Cheeseman and he kept coming until he regained his edge in the tenth with Conway now looking tired and slightly uncomfortable. You could not separate them in the last two sessions and could make a case for each man winning the fight according to what you favour between volume and accuracy. As it turned out, the bout ended in a draw with scores of 116-113 for Conway, 115-114 for Cheeseman and 114-114 on the last card.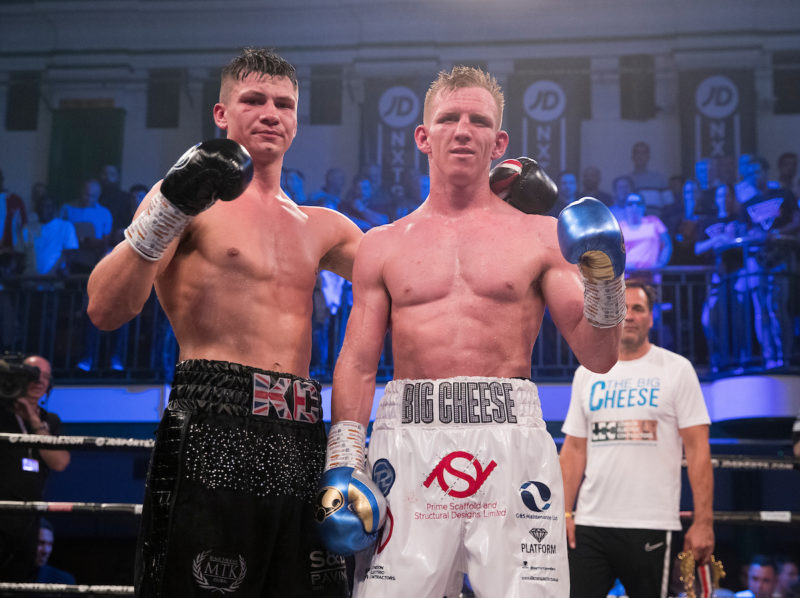 There is no doubt that Kieron Conway is a better fighter than people gave him credit for and has earned his stripes last night, elevating his status from prospect to serious domestic contender. But, the main talking point after the fight is that the champion from Bermondsey made neither the statement or showed the improvements he needed to make and show. Once again he did not have a plan B when plan A, which is basically sheer use of brute force, did not prove effective. This was too gruelling a fight for him to have after the loss to Garcia. The next fight against Fitzgerald will be decisive for his future at domestic level. Any talks or plans to step above that will have to be put on hold until then.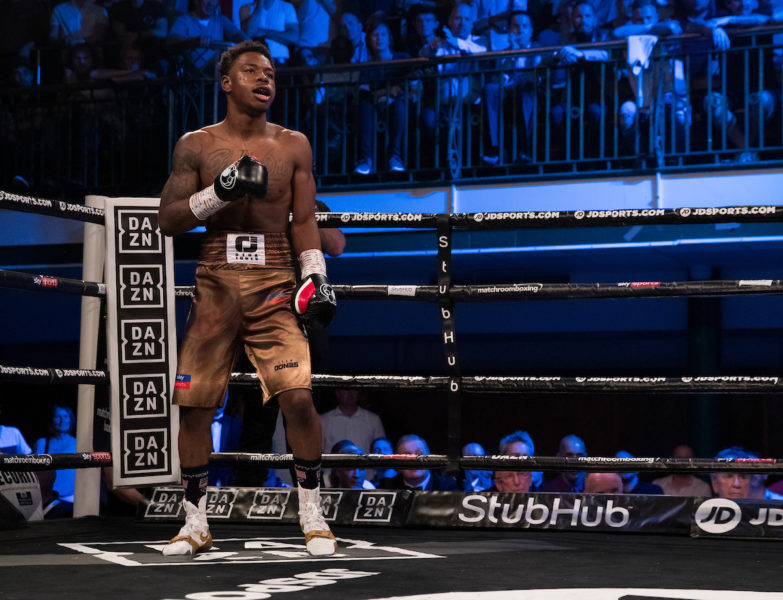 Before the main event, American Lightweight Otha Jones III (2-0, 1 KO) made his UK debut in a floater against overmatched Michael Horabin (2-12). Fast, hard and accurate, Jones III knocked down Horabin with a body shot before halting proceedings with a right hand at 1:40 of the first round. The time allowed Michael to recover from a low blow in between was not enough to save him. Great sportsmanship and showmanship from Othar all the way throughout. Definitely one to watch.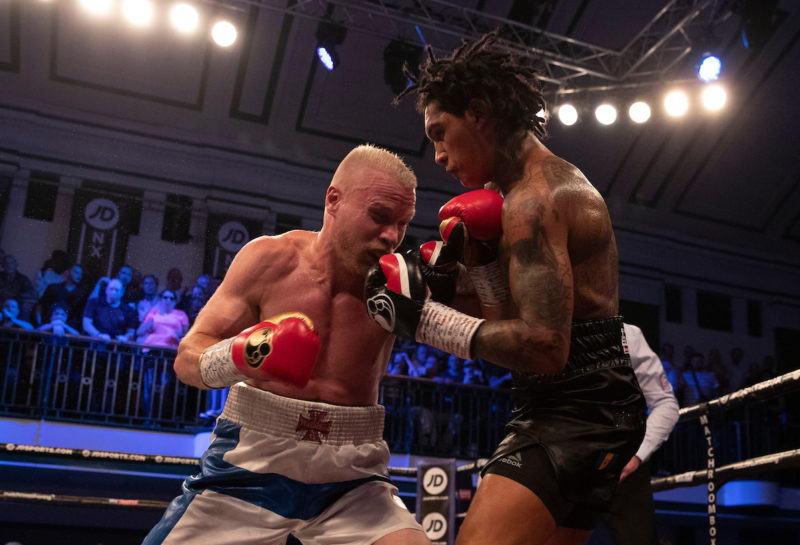 In the main event of the evening, Welterweight star Conor Benn (15-0, 10 KOs) did exactly what expected from him in blasting away 35 years old Jussi Koivula (24-7, 9 KOs) in two rounds. Koivula might have looked dangerous on paper but, dirty tricks aside, posed little threat to Benn. He managed to land some clean head shots in the first but without any damage.
They jumped at each other in the second with Benn having the better of the exchanges and knocking him down twice before the referee rightly stopped the bout at 2:00 with Jussi helpless on the ropes.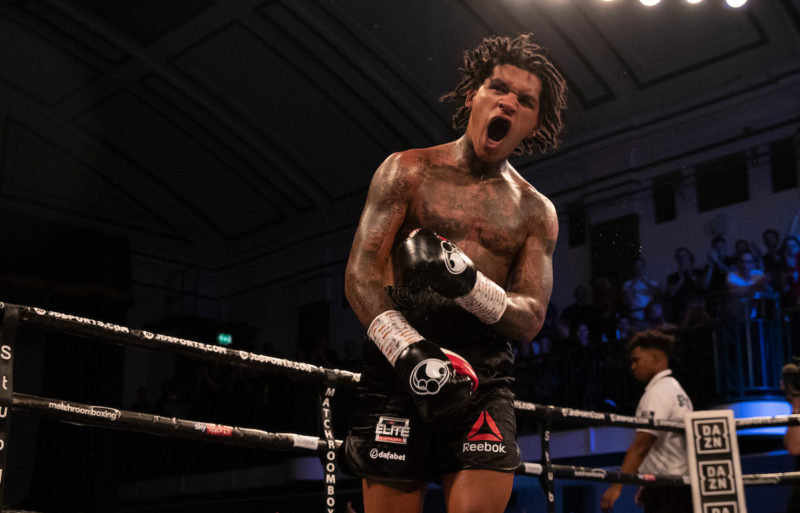 An exciting performance by all means and the right fashion to dispose of that level of opponent but the chinks in Benn's defence appeared to be still there and he was reckless at times. He looked the part last night but there is only one way to find out the actual level he is at. It's time to step up the opposition and put him in with some good domestic name. A rumoured bout against Josh Kelly might just be the ticket.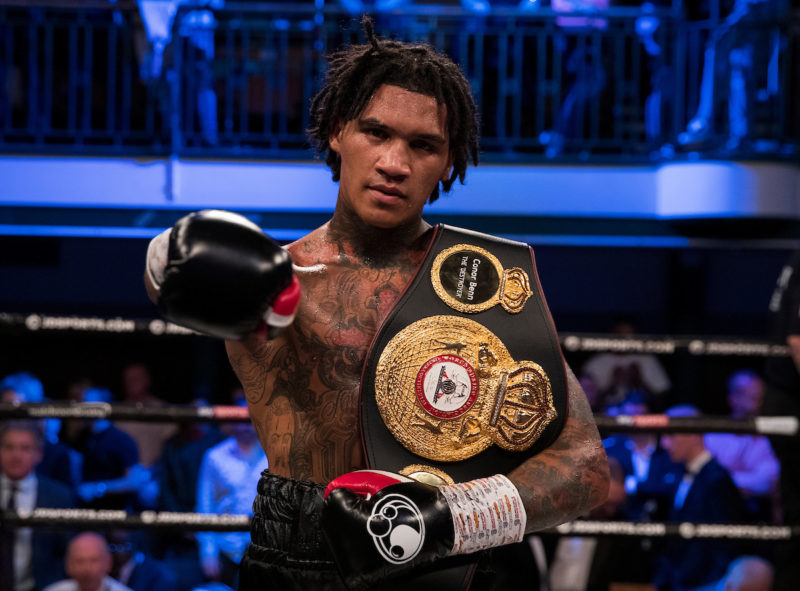 There was no booing for Eddie Hearn last night and rightly so. The man does not deserve any of the heckling he sometime gets as Matchroom offers to the public a consistent level of quality, regardless of whether they are filling up Wembley Stadium and Madison Square Garden or putting on small hall shows. If last night is an example to go by, we actually look forward to more of the latter and the deserved exposure they bring to UK domestic champions and prospects.