According to Sky Sports, the rematch between Anthony Joshua and Andy Ruiz Jr. Joshua will be held either in Britain or New York. Hearn said the match would be taking place between November 14 and December 14 this year. He has already received multiple offers from venues to stage the match and is in the process of finalising the deal. Even though there are plenty of online and offline pundits of Joshua's performance, including the inevitable Tyson Fury, Joshua seems confident to get back on the horse and has already begun training.
The first fight
At the beginning of this month, the online bookies had Joshua at 1/25 to win, while Ruiz was a 10/1 underdog. It did not take too many rounds for Joshua to get a reality check. After knocking down Ruiz in round three, he was knocked down twice in the same round and later twice again in seventh round before the fight was called off.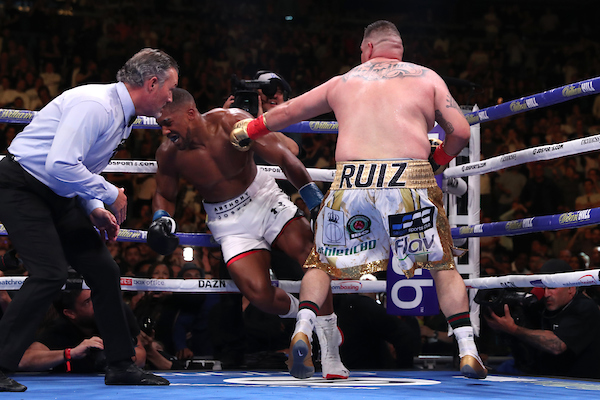 Joshua Ruiz ll Odds
Even though the location and date have not been finalised, the bookies are already set odds. It seems that Joshua, despite his disappointing performance in the first fight, is still heavily favoured. Even though the odds are not as lopsided as the first fight, Joshua still comes in at a 3/10 or 3/11 favourite. Meanwhile Ruiz is still a 27/10 or 12/5 favourite on most sites.
Our pick?
The fight has a lot of intrigue and the fight later this year will answer many questions. Which Joshua will we see? Which Ruiz will we see? Will we see the Joshua of old? Is Joshua, with all his obvious talent, coming back too soon? Many have compared Ruiz' victory to when Buster Douglas beat Mike Tyson for the heavyweight belt. It was an amazing performance by Douglas, but also one he was never able to repeat. With so many unknowns and variables, this fight shows why live betting on boxing can sometimes be the best choice. If you had placed a live bet on Ruiz the moment he knocked down Joshua, he would still have been a huge underdog. Our advice: watch a few rounds before picking which fighter to bet on. Remember, anything can happen in boxing.
Joshua-Ruiz Jr Full Fight