Over the next six weeks, I will be writing articles about boxing's lost chapters including tragedy, heartbreak and the outright bizarre. This week, I'll be looking back over the career, and heartbreak, of the Merthyr Matchstick, Johnny Owen. Articles will be out every Friday.

On the 07th January, 1956 in Merthyr Tydfil, Wales, Johnny Owen was born. Although Johnny Owen isn't a household name in boxing, he really should be. Not only for his long and decorated amateur career, his achievements in the professional ranks and the love and adoration of him from his hometown fans, but for his courage, heart and sheer will. This is the story of Johnny Owen; the Merthyr Matchstick.

Born into a large Merthyr family on the Gellideg Estate of Swansea Road, Johnny Owen started to learn to stick up for himself by joining his local boxing gym at the tender age of 8 years old. Johnny, and the people around him in the gym, quickly realised that he had a real talent for the sport, which he also participated in with his brother, Kelvin, who also represented Wales alongside Johnny. Johnny's amateur career spanned 124 fights, of which 106 he won. He also represented Wales on 17 occasions, winning 15 of them. He stayed in the amateur ranks until the age of 20, which at the time was a long time to stay in the amateur ranks. Originally a Flyweight, Johnny Owen matured into a Bantamweight. He really did sharpen his tools and gained as much experience as possible before turning professional.

On 30th September, 1976, Johnny Owen turned professional, fighting at Bantamweight, with his first professional bout being an 8 rounder in Pontypool, Wales. He won his first bout, outpointing George Sutton. In Johnny's first 10 professional fights he fought in England, Ireland, Scotland and Wales amassing 9 Wins (4 KO's) and one draw, winning the Welsh Area Bantamweight Title and the British Bantamweight Title along the way. You don't see many boxers winning the British Title in 10 professional fights nowadays.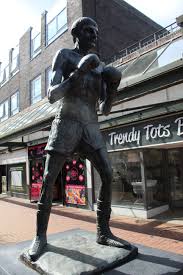 With his slender frame, he earned many nicknames – Bionic Bantam, The Matchstick Man and Merthyr Matchstick. However, regardless of his size, he was known for his fierce and fast accurate punching and his incredible stamina. His training camps saw him running between 9 to 12 miles on most days, and he was incredibly dedicated to the sport. He never drank alcohol, abstained from courting women, did more than was ever asked of him by his trainers in the gym and was a consummate professional. His thinking was that the drink and the courting could wait until he retired from the sport, and completely dedicated his life to boxing.

He retained his British Title in his 13th Professional bout and added the Commonwealth Bantamweight Title to his belt collection in his 17th Professional fight, outpointing Paul Ferreri over 15 rounds on November 02nd, 1978. He also won the Best Boxer of the Year Award in 1978 by the Boxing Writers Club. Johnny Owen really was making a name for himself, and putting Welsh Boxing on the map. In 17 Professional fights he had held the Welsh Area, British & Commonwealth Titles.

However, this was all about to change in his 18th Professional fight, where he faced Juan Francisco Rodríguez for the European Bantamweight Title. Fighting abroad for the first time, Johnny headed over to Almería, Spain, the hometown of Rodríguez, to fight for the European Bantamweight Title. When you fight for the European Title in boxing, you've earned it. They don't just hand those belts out. And this was proven, as Johnny suffered his first Professional defeat. However, many boxing historians believe that Johnny Owen should not have lost this fight, and he was doomed as soon as he landed in Almería. End of part one… tbc