Some time has passed since Luke Campbell announced his retirement from professional boxing and I felt at the time a real sense of sadness and a small sense of 'what if?' I always thought that after the Ryan Garcia fight Luke would step up to Super-Lightweight, get ranked with one of the governing bodies and hold fire for Josh Taylor to move up to Welterweight and allow all of the Super-Lightweight belts to become vacant. I really felt as though he could forge one final attempt at that elusive World Title.
When an amateur medals at the Olympics in boxing, there is always a real buzz around them, especially if they manage to win gold. Prime examples include Amir Khan (Silver, 2004), David Price (Bronze, 2008), Audley Harrison (Gold, 2000) and Anthony Joshua (Gold, 2012). The buzz around all those fighters was exceptional when they turned professional – they became household names.
This was no exception when Luke Campbell won Gold at London 2012. I don't know whether this is a UK thing, or whether this is a feeling amongst all other representing countries, but we really have a knack for feeling that if a fighter wins a medal at the Olympics, that the least they should achieve in the pro ranks is a World Title at the bare minimum, with the maximum being Unifications, Undisputed and multiple weight World Champions.
After some reflection, I looked back at my thought of Luke Campbell moving up to Super-Lightweight and the ramifications that could have come with it. I looked at the talent in that weight class. Now although they may not be as well revered as the 'Four Kings' in the Lightweight Division (Gervonta Davis, Ryan Garcia, Devin Haney & Teofimo Lopez), there are some real heavy hitters in there. Regis Prograis, Jose Ramirez, Ivan Baranchyk, Shakhram Giyasov, Jeremias Ponce and many others; not to mention the Undisputed Champion, Josh Taylor. I assume however he will be moving up in weight in the not so distant future.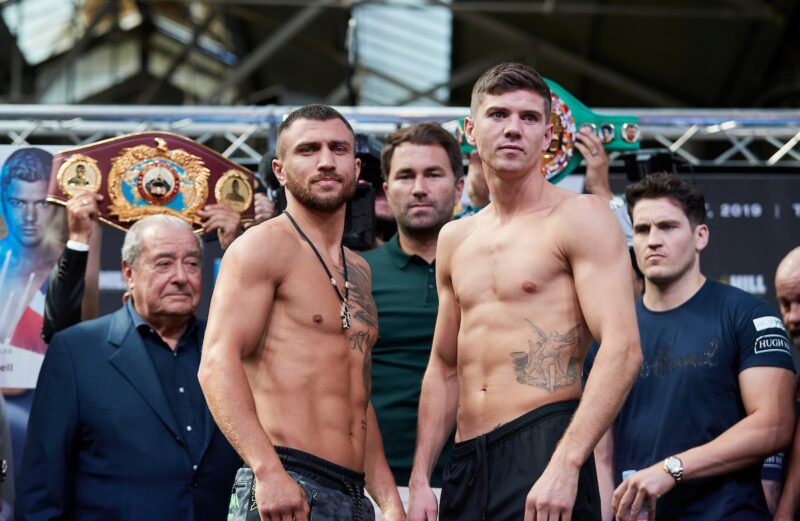 I think I let the fairy-tale of the Cool Hand winning a world title at Super-Lightweight get the better of me. However, I think it is fair to say that, although Luke Campbell never won a world title, it wasn't for the want of trying. He had a damn good go. But I also feel as though his pathway to a world title was set with speed bumps, traps and sanctioning bodies preferences along the way. Take the debacle surrounding the fight with Vasyl Lomachenko…
This happened for the sake of the WBC deciding who they wanted as their World Champion. I agree 100% that we should have more undisputed world champions throughout the weight classes, and much more should be done to ensure that undisputed title fights take place. But the WBC should have been over the moon at having a former Gold Medallist, a consummate professional and all round nice bloke as their Lightweight World Champion. The Lomachenko fight could have been made after the Campbell V Fontura fight. I feel as though they robbed him of an attempt of becoming a World Champion.
Once the dust settles after a fighter retires, you assess the comments again and look into them. Many comments were that Luke Campbell was average, not a world class fighter or completely irrelevant. Luke Campbell fought;
Vasyl Lomachenko (WBA, WBC, WBO & Ring Magazine). Arguably one of the greatest fighters to ever grace the ring, Campbell went 12 rounds with Lomachenko in front of a packed O2 arena. He went the distance with Loma, something which Linares didn't.
Ryan Garcia (WBC Interim) – after putting Garcia down (the only man to do so so far), Campbell was stopped by a sickening body shot. Garcia is regarded by many as the next best fighter at Lightweight by man fans, alongside Gervonta Davis, Teofimo Lopez and Devin Haney (I don't think he beats any of them however).
A fabulous career can be classed by many elements from a career, not necessarily winning a world title. I class winning a gold medal at the Olympics as not fabulous, but perfect. A gold medal evaded Floyd Mayweather, Gennady Golovkin, Deontay Wilder, Miguel Cotto and countless in the Olympic Games.
Boxing is a cruel sport with few lucky breaks, and many bad ones along the way. I'll always feel that this was the case with Luke Campbell.
You got out at the right time Luke. You did the lot. All the very best in your retirement Cool Hand.