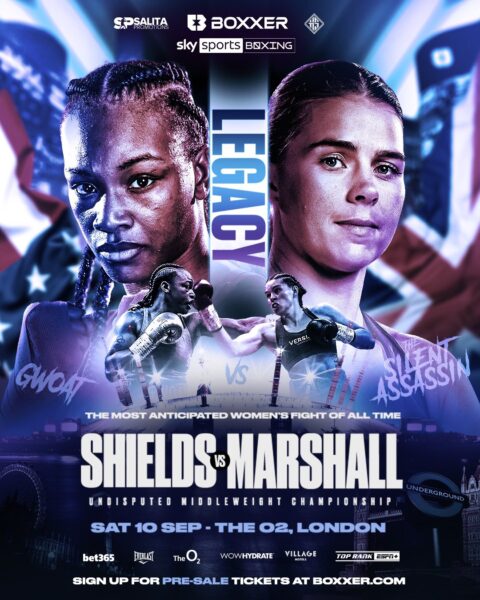 BOXXER and Sky Sports finally announced on Tuesday the hugely anticipated undisputed middleweight clash between America's Claressa Shields and Britain's Savannah Marshall for September 10th at the O2 Arena in London. After years of back and forth between the pair, the bitter rivalry will finally be settled this Autumn in the capital in what will be an historic night for female boxing, culminating in one of if not the most eagerly awaited female fight of all-time.
Marshall carries the mantle of being the only fighter to defeat Shields in both the amateur and professional ranks following her victory over the American in China ten years ago, setting in motion a fierce rivalry between the pair which will come to a head on September 10th. Shields has hardly struggled since, going on to win Olympic Gold in both London and Rio before becoming the first ever fighter, male or female, to become undisputed champion in two separate weight categories, and has held world titles in three separate weight divisions in total as a pro. Marshall picked up her respective WBO strap against Hannah Rankin back in October 2020 by way of seventh-round stoppage.
The pair clashed at Tuesday's press conference when the fight was officially announced, with Shields stating that Marshall simply "got lucky" when she emerged victorious over the American ten years ago, but vowed she won't get lucky in 2022. "I don't hate anybody but I do have a huge dislike for her [Marshall]", Shields said. When asked whether the fight was the most important of her professional career so far, the American responded, "that's what they're making it as. They're saying she's you know a big knockout puncher, she's the only blemish on my record as an amateur and that she has the recipe to beat me, so my job is to show everyone that she doesn't and that I don't reign supreme for no reason in three different weight classes".
Marshall was defiant in her belief that the timing is right for her to overcome Shields again and crown herself as the undisputed middleweight champion. "This fight has been a long time coming. We're here now, and September 10th I will be the new undisputed middleweight champion of the world. I'm a fan of Claressa Shields, what she's done for the sport is amazing. She's a pioneer of the sport, but the reality is she doesn't beat me. She didn't before and she won't again, that's what it is. It kills her". The American was quick to remind Marshall of her Olympic success in 2012 and 2016, drawing a smirk from the Brit. "What else have you done to sell yourself, what else have you done in your career? Besides beating me ten years ago?", asked Shields.
The war of words continued on, with Marshall reminding her arch rival of her stoppage victories over opponents that Shields went the distance with. "We boxed the same people, they didn't go the distance with me but they skipped out the ring with you. You haven't improved since Femke [Hermans, who Shields defeated in 2018]".
A mouthwatering clash also takes place in the chief support of the evening, with unified super-featherweight champion Mikaela Mayer taking on fellow countrywoman Alycia Baumgardner to tie up their respective world titles at 130lbs. The latter tore away the WBC strap from Terri Harper in Sheffield at the end of last year with an astonishing second-round knockout, while Mayer added the IBF strap to the WBO version she already held in a fight of the year contender against Maiva Hamadouche in the same month. Neither woman is shy in saying how they feel about each other as they look to crown themselves as the number one 130-pounder in the sport.