BBTV had the honour of sitting down with Cathy Kinsey recently, the former wife of one of Liverpool's most iconic fighting heroes, Alan Rudkin MBE as she recalled the glittering career of one of the most successful and popular British boxers of his era. Kinsey, formerly Cathy Rudkin, was by the side of Rudkin throughout his glittering ten year professional career which saw him win titles at British, Commonwealth and European level, as well as challenge for world titles on three separate occasions.
The pair met at the start of Rudkin's professional outings in 1963 when Rudkin moved to London to turn over with Bobby Neale. "I was about eighteen when I met Alan. We met on a beano to Southend, a few boxers were going and someone said to come, and so we went. He was very quiet really, a quiet, honest, human man. That's the only way I could describe him, he was a thinker. He'd sit and listen rather than do the talking. I did all the talking, I don't think he could get a word in".
Rudkin suffered the first defeat of his career in his second outing via fourth-round knockout to Richmond's Carl Taylor, but re-grouped and boasted a record of 19-1-0 heading into his clash with Johnny Caldwell on 22nd March 1965, with the British and Commonwealth bantamweight titles on the line. Taking place at the Ice Rink in Nottingham, Rudkin emerged a tenth-round stoppage victor in a bout scheduled under the old fifteen round system. "The first title fight he had he got a thousand pounds, which was a fortune to us. Micky Duff, the promoter and matchmaker, gave him the thousand pounds in his hands and we just sat there and threw it and let it fall down around us. It was magical", recalled Kinsey. "It was absolutely unbelievable, it was amazing. No one could ever be better than the Liverpool supporters. The story is, it was in the Nottingham Ice Rink that all the scousers, he'd bring three or four coach loads of Liverpool supports every time he boxed in London, and they were all in the corner. They were singing 'ee-eye-add-ee-o, Rudkin is the champ!', and that's when that first started, not in the football ground but when Alan fought John Caldwell".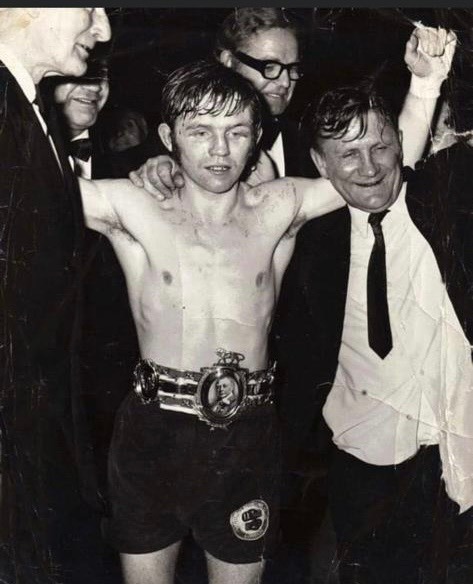 Three successive victories followed before Rudkin travelled to Tokyo to fight Japan legend Masahiko 'Fighting' Harada for the undisputed bantamweight title on 30th November 1965. Harada had also previously held titles down at flyweight before eventually challenging for world honours at 126lbs later in his career, and now sits as the President of the Japanese Boxing Association. The home man was awarded victory by unanimous decision on the night, though Rudkin secretly felt he had done enough to return home with the titles around his waist. "In his heart, he knew that he won that fight, but he never ever complained or made excuses for anything. He just accepted that it was what it was", Kinsey said. "That was his first world title fight and he hadn't been professional that long really, but he always fought great fighters. He fought a lot of Mexicans and they're all great little fighters, but he beat them". Kinsey revealed that Harada himself took note of Rudkin's performance that night. "Harada apparently always said that Alan was the fastest boxer he fought, and that it was like trying to punch a fish in water. They were Harada's words that he said when he appeared on Alan's episode of 'This is Your Life'".
Rudkin returned to a professional ring in early January of the following year and again put together three successive victories before stepping in with Scotland's Walter McGowan on 9th June at the Empire Pool in Wembley. With his British and Commonwealth straps on the line, Rudkin succumbed to a fifteen-round points decision defeat. His fourth defeat came in his next title challenge, this time for the European bantamweight strap versus Mimoun Ben Ali in his home city of Barcelona in April 1967, with Rudkin again outpointed over fifteen rounds. Three of the four defeats so far had come against opponents fighting in their own backyards, revealing the old school willingness of Rudkin to travel on the road to take on the best opposition around.
Fast-forward thirteen months and revenge was in the air when Rudkin won back his British and Commonwealth titles with a fifteen-round points victory over old foe Walter McGowan at the Belle Vue in Manchester, before a second shot at world honours ten months later in Australia. Lionel Rose of Victoria was the champion this time around following his unanimous victor over Harada the previous year. Rudkin again came up short for a second time at world level in yet another bout that many felt he had done more than enough to secure the win. "Lionel could hardly stand up after the fight, they had to carry him out the ring practically, he was absolutely shattered. I think he was having a bit of trouble making the weight as well. Alan said 'I definitely won that fight', he was just unlucky. If he had fought for the world title in this country then he would have won and would have been world champion", Kinsey said.
A defence of his British title followed in his comeback bout, forcing Evan Armstrong to retire between the eleventh and twelfth rounds in Manchester, before his third shot at the world bantamweight championship versus Ruben Olivares on 12th December, 1969. At the Forum in Inglewood, California, there could be little question over the result after the Mexican forced a stoppage against Rudkin in the second round. "It was a bit hairy I think for him being in Los Angeles. He stayed in The Ambassador where Robert Kennedy had been assassinated, so he did say to me 'I feel a bit nervous being here', and then his car got rammed on his way to training. They gave him a bodyguard who used to be a bodyguard for Frank Sinatra, and then on the night of the fight they arrested one Mexican for having a handgun in the stadium. So I think even Alan must've been unnerved that night". Kinsey said, "It shows you the type of person he was [that he travelled abroad three times to fight for world titles]. A very honest human, very laid back".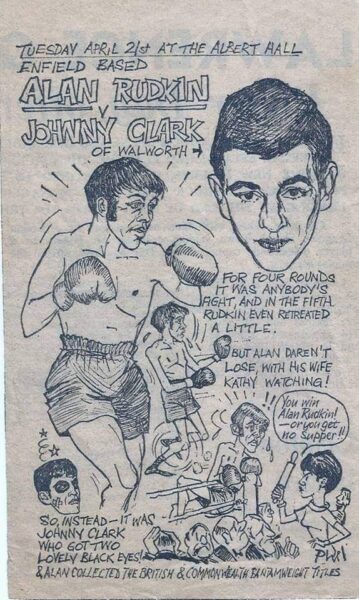 Rudkin stopped Johnny Clark in his return bout with a twelfth-round victory in Kensington in defence of his British title in April 1970, while also re-claiming his Commonwealth strap that he had to vacate earlier on. Five months later, Rudkin stepped up to featherweight to challenge British champion Jimmy Revie. Another fifteen-round points loss came Rudkin's way on that night in Wembley, and a move back down to bantamweight was made five months later. This saw Rudkin claim the European strap after defeating Franco Zurlo of Italy via eleventh round retirement at the Royal Albert Hall on 16th February 1971, enhancing further Rudkin's legendary status among the British boxing scene. Nine years after turning professional, he had secured the British, Commonwealth and European treble, while also putting up mighty challenges against the likes of Harada and Rose on away soil in bouts most felt he should've been awarded victory.
A routine ten-round points victory followed three months later against Hugo Mauricio Bidyeran, before the first scheduled defence of his European belt was made versus Agustin Senin in Bilbao. The Spaniard emerged victorious on the night via unanimous decision after fifteen rounds on the night in what would prove to be the penultimate outing of Rudkin's boxing career.
A rematch with Johnny Clark was made for the following January in 1972 with Rudkin's British and Commonwealth straps on the line, and the Liverpool man's hand was raised following fifteen rounds at the Albert Hall, bringing the curtain down on an outstanding ten-year career which was consistently fought at the highest level in the bantamweight division. Rudkin bowed out with an impressive record of 42-8-0, which included fifteen knockouts. "He was proud of what he achieved, I didn't even know that he'd thought about it [retirement]", revealed Kinsey. "My family are great friends with Howard Winston's sons, Walter McGowan's family, Johnny Clark's family, because they belong to the Ringside Trust for the ex-boxers in London. Alan is an honouree member in the Hall of Fame there which they went and accepted before the lockdown, and he's in the Australian Hall of Fame as well".
"Alan's Lord Lonsdale belt is in the Liverpool Museum along with his MBE that he got off the Queen. We had just found out before we moved to Liverpool to say he'd been nominated and will be receiving it [the MBE] in the New Year's Honours List. We went to Buckingham Palace and he was very proud of that also".
"We wouldn't have dreamed [of what we'd experience together when we met]. I was just an ordinary girl from London who lived a great life, met loads of different celebrities and went to loads of lovely places. We met lots of interesting people and stars". Kinsey fought back the tears as she recalled the funeral of her late ex-husband. "If you could have seen Alan's funeral and the people that turned up…the streets were lined, boxers came from all over the country. I was so proud for Becky and Timmy [Cathy and Alan's two youngest children] because they didn't remember their dad boxing, he was just their dad. It was lovely for them to see how much the Liverpool people still thought of Alan. It was amazing".
Rudkin was no stranger to the celebrity life, mixing with high profile names such as Jerry Marsden, with whom he went to school with, as well as Liverpool FC legend Bill Shankly, Muhammed Ali and Rocky Marciano. "[On Alan's episode of 'This is Your Life'], we had John Caldwell who was an ex-world bantamweight champion, Fighting Harada who spoke on there, Anthony Booth who was a great mate of ours, Henry Cooper, Bill Shankly, just absolutely unbelievable moments. Jerry Marsden also came on and said Alan put him on the road to singing because he gave him a hiding when they boxed".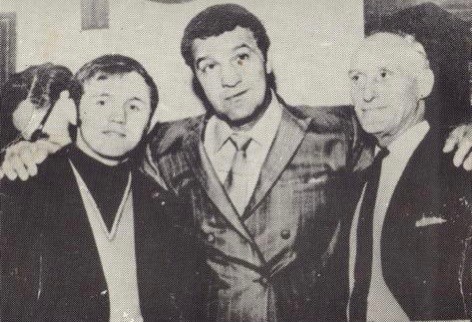 For such a shy and humble person, Rudkin embraced the attention that came with his successes inside the squared circle without ever letting it change the person he was before lacing up the gloves. "Anyone in that era would tell you that Alan was low-profile, he never went out shouting about anything he'd done, I did that for him", chuckled Kinsey.
Kinsey noted the differences between the time of Rudkin compared to the boxers of today, expressing her displeasure at the circuses that often engulf the sport in the modern age as the need to attract eyes and ears to appease broadcasters and promoters is as rampant as ever. "I don't watch the boxing today because to me, it's not the same at all. It's all about money and aggravating each other. Alan would never have dreamt of doing anything like that. In those days they [the boxers] were polite, they weren't in each other's face saying 'I'm gonna do this, I'm gonna do that', which I think is distasteful, I don't like it. I knew them when boxers were boxers, they were gentleman and the world champions were world champions, back when there was one, not half a dozen".
One thing that is for certain is that the refreshing old-school attitude and outlook of Rudkin would be one of great benefit to the modern age of boxing which often sees the best fights sitting on the shelf, marinating until they only make sense on an Excel spreadsheet, regardless of the detriment any delay might have to the sport as a whole. Through the words of Cathy, it is clear that Rudkin was as game as he was grounded, as tough as he was humble, and as brave as he was popular. He is a true British boxing legend and one whose accomplishments shall never be diminished.