Featured image: Mark Robinson/Matchroom Boxing.
Matchroom Boxing have confirmed that undisputed super-featherweight champion Alycia Baumgardner returned an 'adverse analytical finding' in relation to her fight against Christina Linardatou last month.
The statement this evening follows reports from boxing journalist Dan Rafael who says he obtained paperwork confirming the American tested positive for banned steroid Mesterolone three days before her fight with Linardatou on July 15th.
Matchroom have not confirmed the date of the test nor the substance in question but say they received the results on Saturday.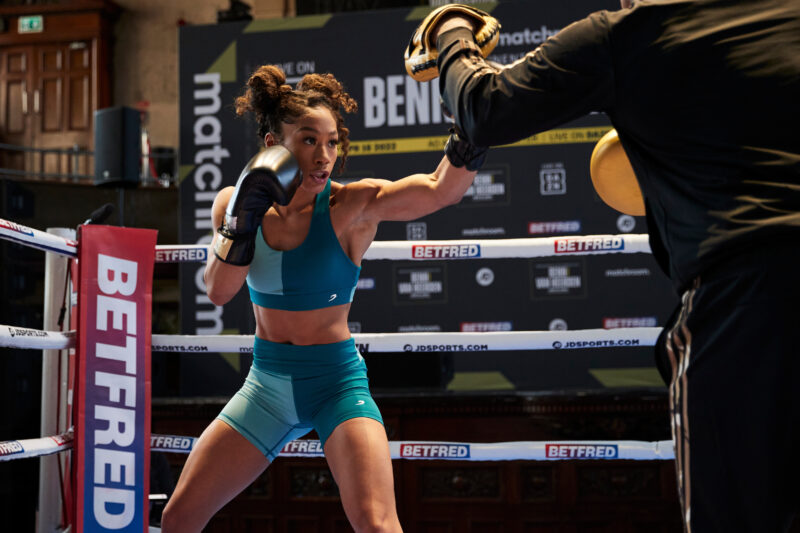 The statement reads in full: "Matchroom can today confirm that Alycia Baumgardner returned an adverse analytical finding as part of a random anti-doping protocol instituted voluntarily for her bout with Christina Linardatou in Detroit on 15 July.
"Matchroom was first informed of this result on 12 August. The applicable regulatory authorities are also aware and we defer to such bodies for further action and guidance as a full investigation is conducted.
"Matchroom is committed to promoting a clean and fair sport for all athletes, and will assist Alycia and her team during this time, affording her the appropriate due process.
"As we wait to receive more information, Matchroom will not be making any further comment."
Baumgardner overturned her only pro defeat against Greece's Linardatou last month, winning a wide unanimous decision at Detroit's Masonic Temple in defence of her undisputed featherweight titles.
What is Mesterolone?
Matchroom, Baumgardner and the Michigan Unarmed Combat Commission (which governed the Lindardatou fight) have not confirmed the substance registered in the test.
Esteemed writer Rafael has however stated that four separate sources, alongside official paperwork he was obtained, confirm that Mesterolone is the substance in question.
Mesterolone is sold under the brand 'Proviron' and is a synthetic anabolic-androgenic steroid which appears on the Prohibited List of the World Anti-Doping Code.
The substance is often used to treat low testosterone levels in males but is also used to increase muscle mass and to speed up metabolism, enabling its user to burn fat at a faster rate.
Proviron is available in tablet form.
Who are 'Drug Free Sport'?
Matchroom's statement did not confirm the testing agency who conducted the test which registered the adverse finding, but Rafael claims it was conducted by Drug Free sport on 12th July – three days before the Linardatou fight took place.
The statement did however confirm that the test was carried out a protocol 'instituted voluntarily'.
Drug Free Sport (DFS) is an international testing agency employed by various leagues and organisations – including the National Football League (NFL), National Basketball Association (NBA) and Major League Baseball (MLB).
It is a voluntary testing agency which, according to DFS' website, provides 'confidential and random' urine, oral fluid and blood testing.
Tests searching for traces of steroids take place at 'gold standard laboratories approved by the World Anti-Doping Agency' while testing for all other substances takes place in labs approved by the United States Department of Health and Human Services.
The latest drug scandal to plague the sport
The news comes less than two weeks after Dillian Whyte returned an adverse finding which forced his heavyweight rematch with Anthony Joshua to be cancelled a week before.
English welterweight Conor Benn's ongoing clomiphene scandal also may not be over.
It remains unclear if United Kingdom Anti-Doping and the British Boxing Board of Control will appeal the National Anti-Doping Panel decision which ruled in favour of Benn at the end of July.