Anthony Joshua defeated the tough but limited American Dominic Breazeale in the 7th round in the first defence of his IBF heavyweight title, at the O2 Arena in London on Saturday night, scoring his 17th inside the distance win in 17-fights.
Breazeale stayed in there despite earlier assaults from the Watford world champ who was always looking to explode. The win increases Joshua's stock and sets him up for some mega fights with the other stars of the big boy division! It is clear that Joshua still has plenty of learning to do, but he says he feels ready to take on any of the world's other elite heavyweights and learn on the job at the highest level.
Joshua was taken beyond three rounds for just the second time in his career but did not think his victory over Breazeale was harder than his seventh round stoppage win over fellow Briton Dillian Whyte in December.
"Definitely Whyte was tougher than Breazeale, it was a different kind of fight as well," said Joshua.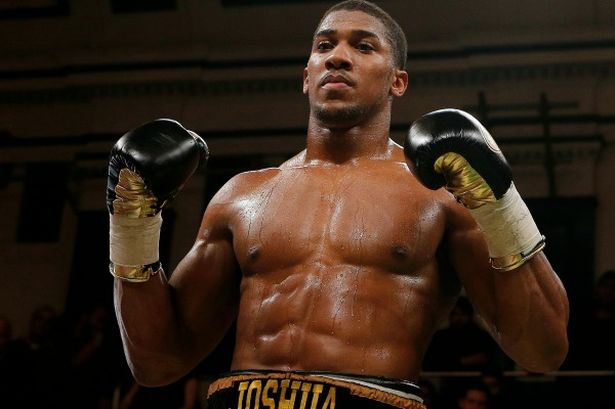 It has beea rapid rise for Joshua, a gold medallist at the 2012 Olympics, he blasted his way to professional stardom when he ripped the belt away from Charles Martin earlier this year.
His next fight is likely to be against New Zealand's mandatory challenger Joseph Parker, after a proposed November fight against fellow Briton Tyson Fury was scraped after the Mancunian suffered an ankle injury in preparation for his rematch against Wladimir Klitschko this month, and the fight postponed until September or October.
WBA, WBO and IBF world champion Fury's immediate future was thrown further into doubt after a report in the Sunday Mirror claimed he had allegedly tested positive for the banned substance in a sample taken last year before he fought Klitschko.
The claim has been strongly denied by the Fury camp and we await the outcome.It has now come to light that Joshua's team and the Fury camp had been in advanced negotiations for an all British heavyweight showdown to take place in November between the pair, but now it will have to wait while Fury recovers, rearranges his return with Klitschko and appeases the testers. The heavyweight landscape you feel could move along quickly now and opportunities will not wait around such is the competition starting to come through.
Joshua's promoter Eddie Hearn confirmed talks have been ongoing with Fury's trainer and uncle Peter Fury.
"Our conversations with Peter Fury were to look at that fight for November, December, or spring, summer next year," he said.
"The injury has kind of made the decision for us. We'll see what happens with the inquiry, but we're doing our thing, we want to get all the belts."
"The injury (to Fury) is a shame because he's worked hard to get where he is, and I hope he can overcome it and get back to winning ways because it's a fight that everyone wanted and I was serious about." said Joshua who added he was up for facing any other heavyweight out there.
"I'm in a good position, Wilder, Fury, Haye, I'd fight any one of them, and they all want me."I was really looking at Tyson Fury. I hope he gets better soon, as I was hoping to get that sometime in the winter if everything went well. We're going to have to reschedule that and look at other opponents like Parker if he's vacant or anybody else that the people want.
"I need to rest. I'm tired. I'm working hard. And now I can get some rest and recharge my batteries and start afresh again."
Meanwhile Hearn has plans to take his heavyweight overseas in the future and says a fight against Parker will happen in November at the earliest, while a unification scrap with Fury is looking highly unlikely now, although a fight with WBA champion Deontay Wilder is a serious fight for 2017."The Parker fight's going to happen in either November, December, or March, April," said Hearn.
"Klitschko is a fight we'd love as well, but I'm always reluctant to make a fight of that magnitude in November.
"We've had approaches from Africa, China, United Arab Emirates, to bring him there and have fights and that's something I'd like him to do. Certainly in America, Dubai.
[sam id="1″ codes="true"]
"I've seen Deontay Wilder calling out AJ's name. That's a fight we'd like to build towards, a dual Pay-Per-View on Showtime in the US, and Sky here. We probably need a couple of more fights, maybe even a fight in America in early 2017.
"Our conversations with [Tyson Fury's trainer and uncle] Peter Fury were to look at the Fury fight for November, December, or spring, summer next year, but you never know with Tyson Fury how long someone's going to be in the game, because he's a little bit out there. The (ankle) injury has kind of made the decision for us."
Former London 2012 Gold medalist Joshua will now travel to Rio to offer help and support to the Great Britain boxing team in their latest Olympic bid as he evaluates his next step.
[sam id="30″ codes="true"]