Isaac Chamberlain confirmed in a social media post on Sunday evening that he suffered a broken orbital bone in the third round of his Commonwealth and European title clash versus Chris Billam-Smith on Saturday night. Chamberlain's tweet read "Broke my orbital bone in round 3 and fought to end. Are you really willing to die for this? I'm built for this I'll be back".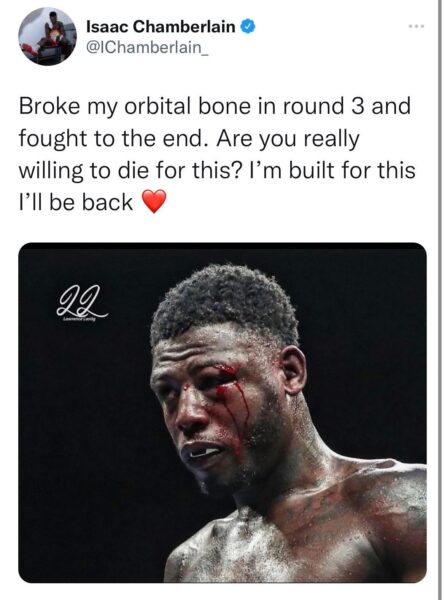 The Brixton man suffered the second professional defeat of his career in a highly-entertaining twelve round clash in Bournemouth in a fight where both men emerge with immense credit after the showing on the South Coast. The pair showed not only superb technical ability but also an innate toughness in a gruelling affair, one which saw Chamberlain's eye swell up considerably the longer the fight drew on.
The twenty-eight-year-old remained undeterred however and fought until the end in search of the Commonwealth and European straps, and will no doubt come again once his injuries have healed up.