Cardiff's Vale Sports Arena will play host to a Black Flash Promotions card this Saturday evening containing a wealth of talented prospects early on in their respective careers.
Unbeaten middleweight talent Kyran Jones (5-0-0, 1KO) is set to headline the event in a six-round bout versus Seamus Devlin (1-34-1) as the former continues to develop as a pro following his fourth-round points victory in the Welsh capital two months ago. Promising welterweight Ben Crocker (5-0-0, 1KO) is also set to appear as he takes on Richard Helm (1-10-1, 1KO) over six rounds. Crocker last appeared in Swansea in June as he emerged victorious with a dominant four-round display.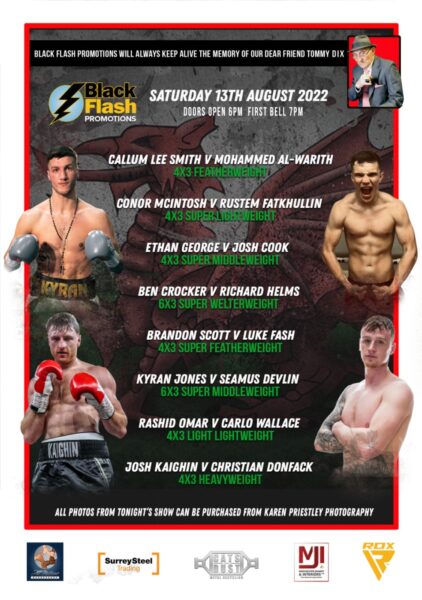 140-pound prospect Conor McIntosh (3-0-0) runs out for his fourth pro outing against the experienced journeyman Rustem Fatkhullin (8-39-0, 3KOs) in a four-round bout, while featherweight Brandon Scott (1-0-0) takes on Luke Fash (3-81-3). Fellow 126-pounder Callum Lee (2-0-0) returns for the second time in two months in a four-round clash against Mohammed Al Warith (0-5-0), and heavyweight Josh Kaighin (1-0-0, 1KO) fights Christian Adjoufack (0-10-0) in his second outing.
Further down the card in Cardiff, welterweight Rashid Omar (1-0-0) takes on debutant Karlo Wallace, and Ethan George (2-0-0) collides with Josh Cook (0-17-1) in a middleweight clash over four rounds.