Liverpool's Nick Ball set himself up for huge featherweight showdowns in 2023 after he dismantled Jesus Ramirez Rubio inside a round at York Hall on Friday night.
The heavy-handed Mexican was dubbed as Ball's toughest test to date but the Liverpudlian wasted no time as he floored Rubio twice inside the opening ninety seconds of the fight.
The first came as the result of a well-timed left-hook which left Rubio flat and looking up at his opponent.
A left uppercut, left-hook combination scored the second knockdown just seconds later with the writing seemingly on the wall for the Mexican after just half a round.
Another left-hand floored Rubio yet again and bundles of left and right hooks from Ball upon the restart left referee Victor Loughlin with little choice but to step-in and wave the contest off at 1:11 of the round.
The victory tops off a groundbreaking year for Ball who forms part of a healthy British featherweight division heading into next year.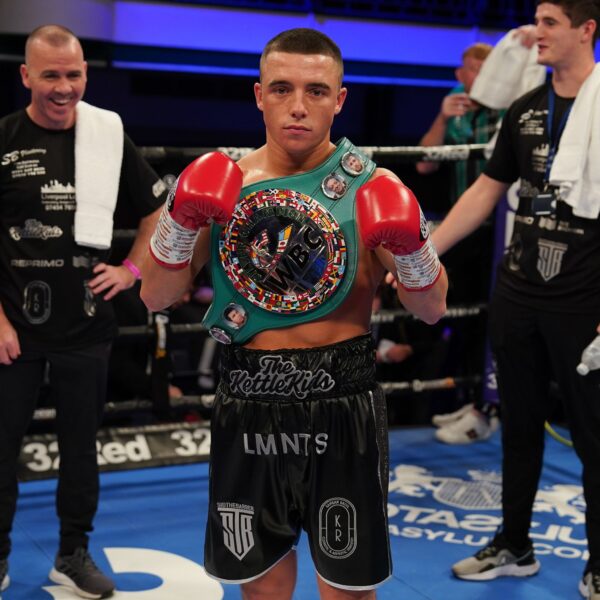 Heavyweight David Adeleye blasted through Elvis Garcia inside two rounds as the twenty-five-year-old moves closer to domestic title shots.
The Mexican survived the first session but trouble lay ahead for him in the second.
An Adelaye left-hand first floored the Central American after a sustained attack from the Brit.
Two further knockdowns soon followed courtesy of a right-hand for the second and a bundle of shots for the third which left the Mexican on the seat of his trunks.
Referee Kieran McCann mercifully waved the bout off nine seconds into his count.
Willy Hutchinson forced a seventh-round stoppage of Luca Spadaccini in his second outing at light-heavyweight.
Hutchinson dominated the affair, regularly landing clean to the Italian's head with winging hooks.
Spadaccini was brave but found himself on the canvas after a scuffing right to the temple.
He gestured to referee Lee Every that he had had enough and the contest was waved off at 1:26 of the round.
Umar Khan ran out a 60-54 winner in his super-bantamweight clash versus Alexander Taylor, while super-welterweight Carl Fail won all four rounds against Dwain Grant.
Sean Noakes emerged a 40-36 winner in his four-round welterweight contest versus Peter Aleksandrov.
Cruiserweight Aloys Youmbi halted Pawel Strykowski in two rounds in just his third professional outing.