BOXXER's Ben Shalom has confirmed that Natasha Jonas has received an offer from Matchroom to fight Terri Harper for all the belts at super-welterweight.
Shalom confirmed the offer in an interview with Boxing King Media on Thursday.
"Yeah, an offer has come in but I work for Natasha Jonas. I think she's had an incredible year. She's the headliner, she's been winning titles. She has done things that no one thought she could do", said Shalom.
"She obviously didn't get the rematch when she felt like she deserved it and [she thought she] beat Terri at the time [in 2020] and she wants the big names. She's only got one or two fights left, we'll do what Natasha Jonas wants to do."
The pair fought to a controversial draw in 2020 for Harper's WBC title at super-featherweight.
The Liverpudlian Jonas was left feeling aggrieved, believing she deserved to get the nod on the night.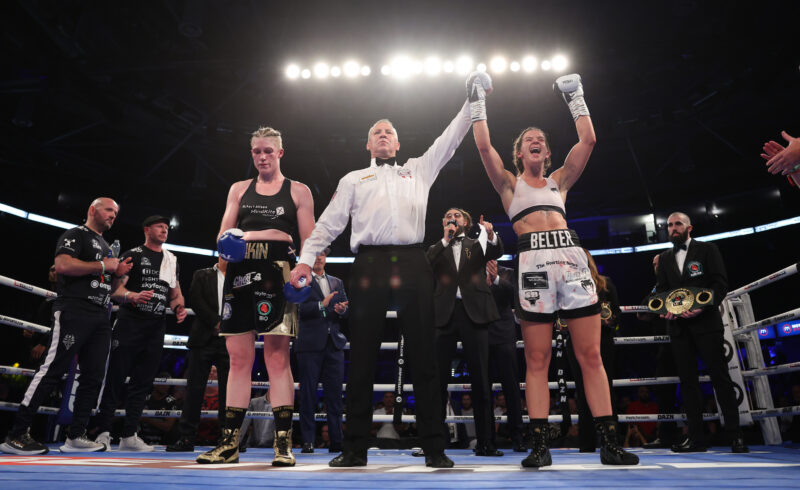 A second fight between the pair failed to develop and Jonas subsequently signed a long-term promotional deal with BOXXER and Sky Sports.
Shalom also addressed criticism from fans online towards Jonas accusing her of ducking the Harper rematch.
"I don't want to blame anyone but fans don't see [everything]. Tasha could've easily retired last year without becoming world champion, without opportunity, without the rematch, without anything, and a lot of things happened to try and make that happen.
"Again, I wasn't involved. But I know who Tasha is, I know her as a person, what she's achieved is incredible. I support every decision she makes, and for people to demand that Tasha does X, Y, Z don't know half the story."
Jonas herself spoke out on Twitter shedding light on why a second fight with Harper is yet to have taken place from her perspective.
"The immediate rematch was what we agreed to on live TV [after the Harper fight in 2020].
"Yet when my contract came through, it was the last fight for me in a 3 fight deal. I don't know what her deal was so can't say factually but I bet I wasn't her 1st fight on her contract either."
Jonas holds the WBC, WBO and IBF titles at 154lbs while Harper currently holds the WBA.
Both stepped up to super-welterweight this year due to a lack of world title opportunities at lower weights.