Chris Eubank Jnr and Liam Smith traded verbal blows at the announcement press conference in London for their middleweight clash on January 21st.
Smith steps up to middleweight from 154lbs to collide with Eubank Jnr at Manchester's AO Arena live on Sky Sports Box Office.
Jnr began the conference in typical Eubank fashion, declaring "the bad guy is back! He never cheats, he never lies, he never cuts any corners but he's still the bad guy."
The 33-year-old Eubank entered the room donning a KFC jacket, claiming the fast food company will be sponsoring him for his upcoming bout.
"They [KFC] saw how well I made the weight for my camp against Conor Benn…so they're supplying unlimited KFC for me for the next eight weeks and it'll be a part of my diet in the camp against Smith."
The 33-year-old insisted Smith does not pose a greater threat than Benn, whom he was set to face in October before the latter failed a VADA test forcing the fight to be pulled at the eleventh hour.
"I don't think this is gonna be a harder fight than Conor. Conor was an unknown, he was unpredictable, young, and he was undefeated.
"I know what Liam is, there's nothing he's gonna be able to do that is gonna confuse me or that I'm not gonna see coming."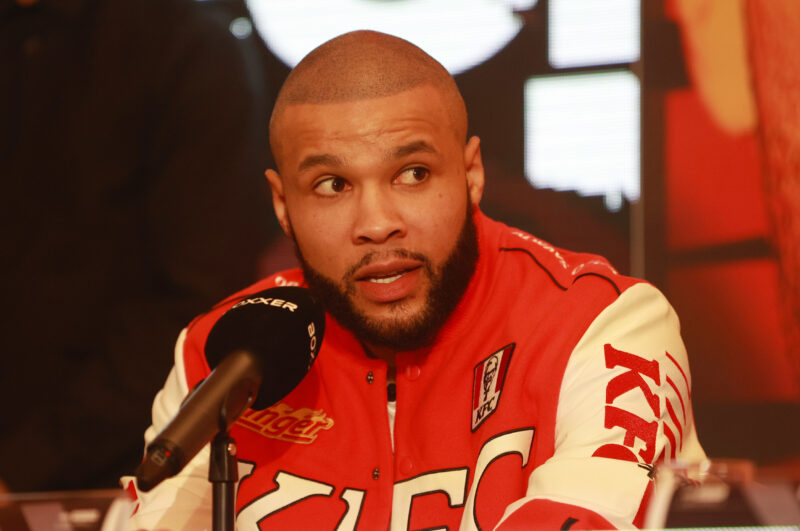 Smith predictably dismissed the claims and questioned the return of Roy Jones Jnr in Eubank's corner despite the American not being part of the camp for the Benn fight earlier in the year.
"What are you paying Roy Jones for then? You never had him for Conor. Why are you paying money if I'm an easier fight?", asked Smith.
"Money isn't an issue", returned Eubank.
"I want Roy in my corner for this particular fight. Roy is an American, it wouldn't have made sense for the story [to be a part of the camp against Benn]."
"50% of what I can be will be enough for me to beat Liam."
"There's nothing that he's gonna do on the night that I can't foresee. I know the fighter that Liam is, I've sparred with him. I know what he's capable of."
It was also confirmed that a rematch clause is in place in the event that Smith emerges victorious in Manchester.
"His whole team know this is a lot tougher fight [than Benn] which is why the rematch clause got put in place. Kalle [Sauerland, Eubank's promoter] made the Conor fight but didn't put a rematch clause in that", said Smith.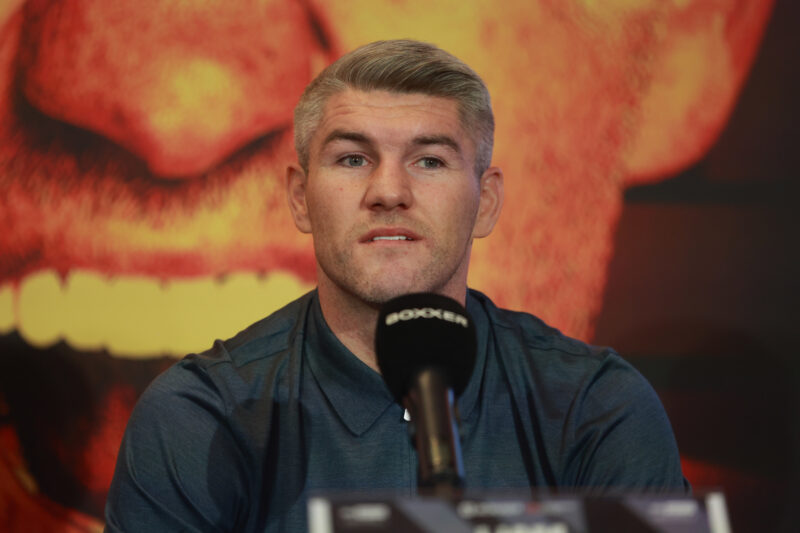 Sauerland insisted the reasoning behind inserting the clause was to do with business rather than any enhanced fears that Jnr could be defeated on the night.
"I would never let the A side go into a fight without a rematch clause in any fight and that's got nothing to do with Chris.
"We have a rematch clause in there because I have to protect our boxers", said Sauerland.
BOXXER CEO and Smith's promoter Ben Shalom insisted that Smith is the best he has ever been ahead of the clash with Eubank Jnr.
"For me Liam Smith is a better fighter now than the one that fought Canelo [Alvarez] and [Jaime] Munguia.
"Liam Smith's probably one of the best fighters on the inside we have in this country, it'll be interesting to see how Jnr deals with that. It's fireworks", said Shalom.