Fight Night is upon us! And it's coming live from the Motorpoint Arena, Nottingham in the form of a Featherweight Clash between Englands Leigh Wood, against Mexicos Mauricio Lara!

It seems like a lifetime ago since we witnessed the Featherweight Division turned on it's head, when Mauricio Lara knocked out Josh Warrington at the SSE London Arena back in February 2021 behind closed doors. It sent shockwaves through the division; an unknown entity in Lara stopping the Leeds Warrior, Josh Warrington in emphatic fashion. It was the unthinkable.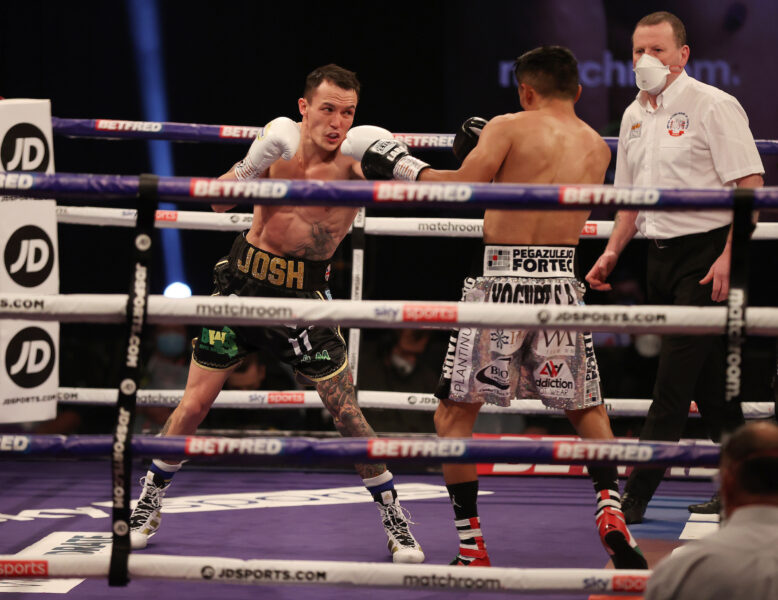 And the Featherweight Division was further thrown into the spotlight back in March 2022, when Leigh Wood stopped Michael Conlan in the Fight of the Year. That fight had it all; first round knock downs, toe-to-toe trading, cuts, bruises, blood and guts. And that 12th round knock out of Michael Conlan where he fell through the ropes was breathtaking. I remember watching that knock out and my mouth hit the floor. What had we just witnessed? Leigh Wood became a British Star that night; the real life Sheriff of Nottingham.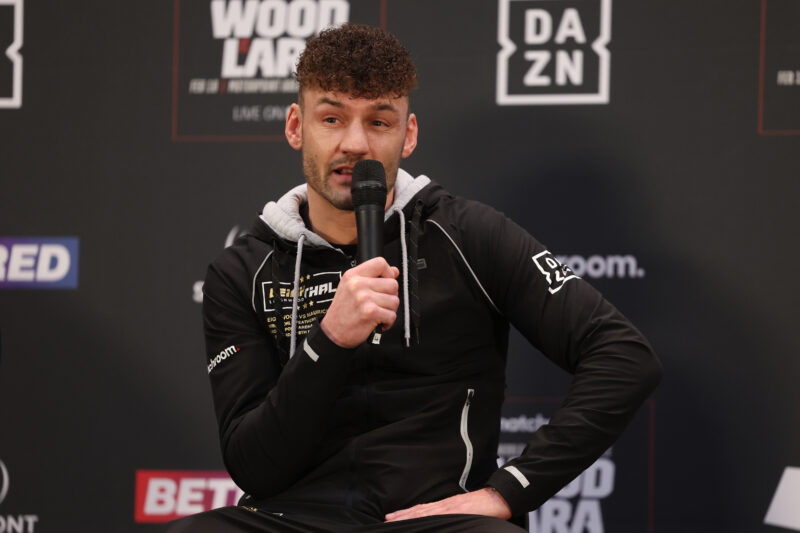 The two fights I'd hoped to have seen in the Featherweight Division this year included Mauricio Lara Vs Josh Warrington III, and Leo Santa Cruz Vs Leigh Wood. The trilogy between Lara & Warrington would have put to bed their rivalry (after a head clash halted their second fight at Headingley in September 2021), and Leo Santa Cruz Vs Leigh Wood would have unified the WBA Super & WBA Regular Titles if they had met.

But as we know, the sport of boxing is never that simple. With Josh Warrington losing the IBF Featherweight World Title to Luis Alberto Lopez back in December, and Leo Santa Cruz seemingly not wanting to fight anyone ever, this matchup was the perfect fight to make (and not a bad one either!).

But how does this fight play out? It's a really interesting one which has me scratching my head! Mauricio Lara has ascended to the top of the Featherweight Division and could be classed as one of the most avoided in the division. Besides the draw to Josh Warrington in their rematch back September 2021, it has been plane sailing for the Mexican ever since, with knock out victories over Emilio Sanchez and José Sanmartin coming along the way; both of which coming in Round 3.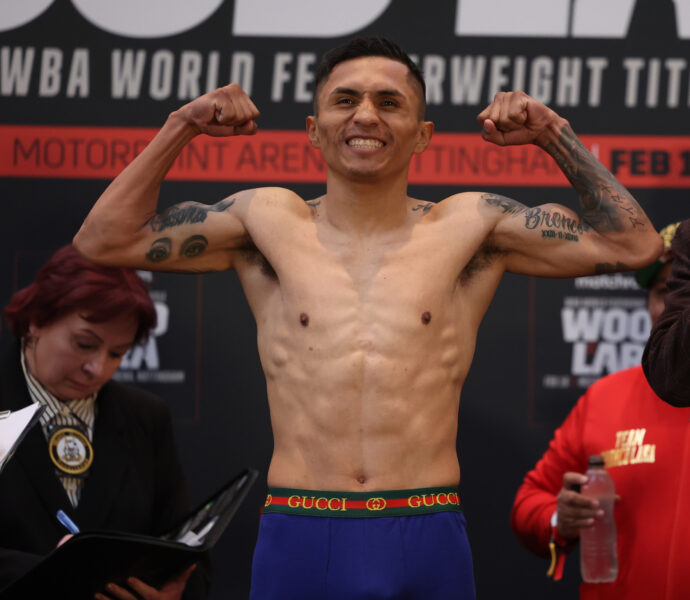 Leigh Wood has had to ascend to his position as a World Class Featherweight the hard way; losing to Gavin McDonnell in only his twelfth professional fight back in 2013 via a Sixth Round stoppage, it could have been all over there and then. Perseverance was key here, with twelve back to back victories, landing the Midlands Area Title and Commonwealth Title along the way. He would then face defeat a second time in the Semi Final of the Golden Contract Tournament to Jazza Dickens in 2020.

However, this never stopped Leigh Wood. Following the defeat to Jazza Dickens in 2020, Leigh Wood set about a remarkable turn around; winning the British Title Vs Reece Mould, WBA Regular Title Vs Xu Can and then cementing himself as a British Star after a Fight of the Year (and knockout of the year) against Michael Conlan. Leigh Wood deserves his place at the top table of the Featherweight Division; his past three performances in the ring have been outstanding. It is well deserved that he is now elevated to WBA Super Champion, and this will be on the line tonight.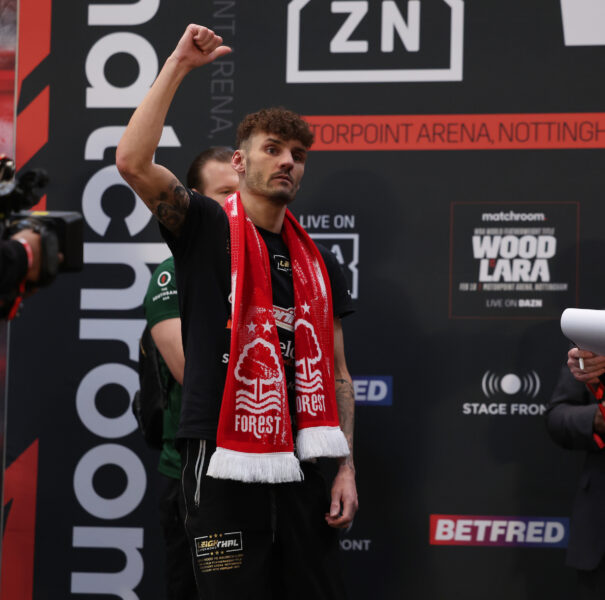 Verdict
I have this feeling that both Mauricio Lara and Leigh Wood will both now have a sense of achievement and belonging for their recent endeavours. And this can then allow contentment to settle in. If one man is not on his A-Game tonight, they will be found out. However, if both men aren't on their A-Game, it could make for a cracking contest, as they will both be at the same level.

If both men are 100%, I think this fight has everything to be yet another Featherweight fight of the year.

My heart says Leigh Wood, but my head says Mauricio Lara. Bronco always brings the heat, and always applies pressure. He is like a Duracell bunny; never stopping and continuing to surround his opponent with arrays of vicious attacks to the head and body. He just does not stop.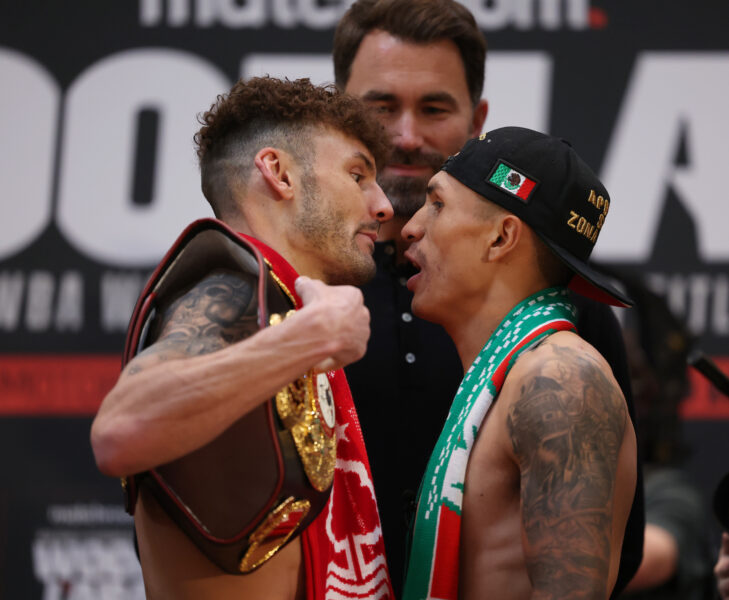 I feel as though Mauricio Lara has that inner strength to hurt opponents, and keep them hurt. This is why, unfortunately, I feel that Mauricio Lara will come into his own in the second half of the fight, with a stoppage around Rounds 10-12.

I've called Liam Smith and Artur Beterbiev victories thus far, so I do hope that third time isn't the charm and Leigh Wood does the business in emphatic fashion tonight. This will then set up a mouthwatering all English clash at the City Ground against the Leeds Warrior, Josh Warrington. Nottingham Vs Leeds!

Undercard
Dalton Smith looks to win the British Title outright tonight against Billy Allington. The Super-Lightweight from Sheffield has risen to the top of the British Tree, and will be looking to end proceedings emphatically to ensure his headline show in Sheffield in April goes ahead as planned.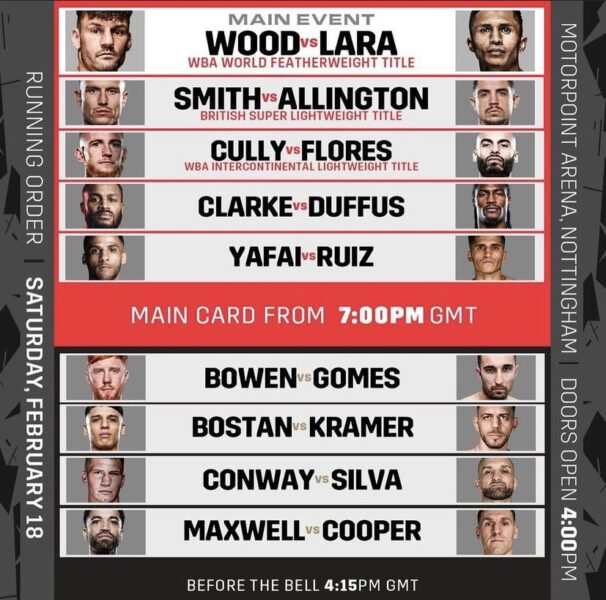 Cheavon Clarke returns against Israel Duffus, highly rated Lightweight Gary Cully stars in his first Matchroom promotion against Wilfredo Flores and Gamal Yafai, Kieron Conway, Aaron Bowen and Sam Maxwell all feature.

Catch all of the action from Nottingham live and exclusive on DAZN through your Smart TV, Smartphone and Games Consoles (through Monthly or Yearly subscription options).

– Before the Bell – 16:15
– Fight Night – 19:00

Looking forward to a fantastic main event.