The phrase 'stepping into the lion's den' is often thrown around in boxing and sport in general.
While often overplayed, this weekend's showdown between Chantelle Cameron and Katie Taylor perfectly fits the narrative.
As two reigning undisputed champions collide in Dublin, it is Cameron's super-lightweight belts on the line this weekend as she looks to land the biggest victory in her career.
Although she will be entering the 3Arena as champion on Saturday night, the Northampton fighter will be made to feel as though she is the challenger in every other aspect come the opening bell.
After a dominant ten-round victory over Jessica McCaskill to claim all the marbles at 140lbs in November, Cameron has been rewarded with a fight she has longed for since turning professional in 2017.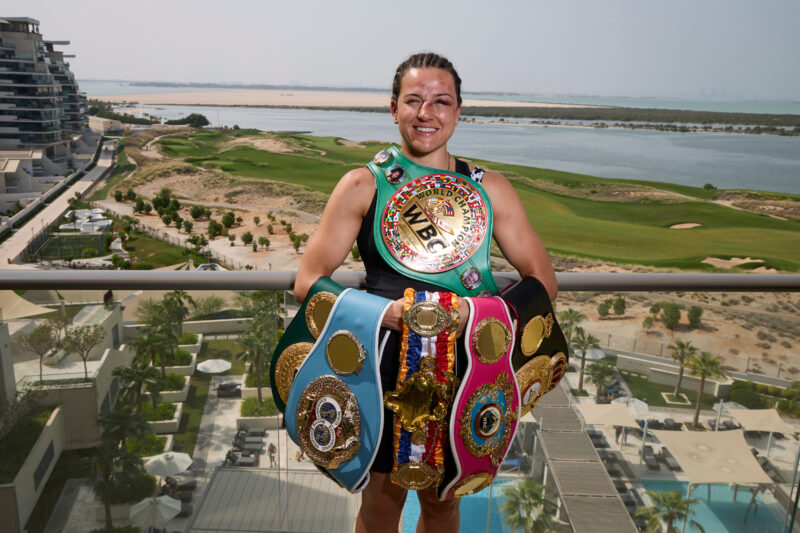 "It feels like yesterday I was in Abu Dhabi [after the McCaskill fight] thinking 'wow, I'm undisputed champion, it's not gonna get bigger than this'", Cameron said at the fight week press conference.
"I remember saying to Jamie [Moore] the next day, 'what's next, what can I achieve now I'm undisputed?' That was my dream, but fighting Katie Taylor, that's my bigger goal.
"It's what I always wanted, I didn't think it would happen but for me this fight is bigger than becoming undisputed champion."
The manner in which Cameron outboxed and later outfought McCaskill seven months ago rightfully heralded praise, but the atmosphere in the Middle East is in a different stratosphere to what the 32-year-old can expect this weekend.
It is the Katie Taylor homecoming after all, with the London 2012 gold medalist remarkably making her professional debut in her home country of Ireland seven years on from entering the paid ranks.
A hostile atmosphere is anticipated but also embraced from Team Cameron, with trainer Jamie Moore resolute in his assertion that she will not fold under the pressure in the biggest fight of her life.
"Fighting at elite level is often more about the psychological side. When you've got a fighter and you know they're world-class, the most important thing is being able to guide them through situations which might make them or break them", Moore told BBTV.
"I know what Chantelle's like – I know her inside out, her mindset and what makes her tick. Like all fighters, she has small amounts of doubt but as the fight gets closer, I've never known any fighter as confident as Chantelle Cameron.
"I always call her a shark. She has this glazed look over her eyes, they go black. It's like she's in killer mode, and once she gets to that stage there's no stopping her."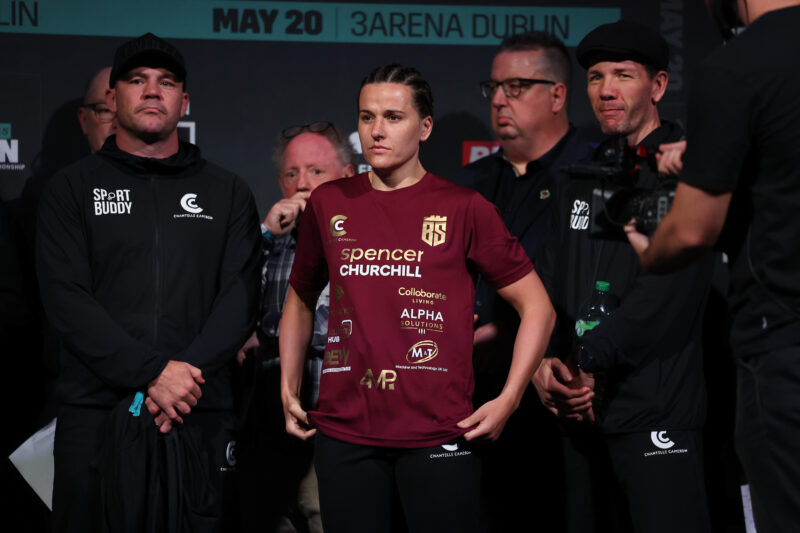 The anticipation also brings a different kind of pressure for Taylor who, after beating Amanda Serrano over ten hellacious rounds in New York last year, was initially set to meet the Puerto Rican in a highly-anticipated rematch on Irish soil.
Serrano withdraw from the bout through injury however and so Taylor, somewhat out of character for a fighter who often cuts a timid figure outside of the ring, immediately called for Cameron via her social media.
The invitation, duly lapped up by Cameron, laid down a marker of Taylor's intent who, despite some claims that she is now past her best, remains eager to continue to add star names to an already loaded legacy in both the amateur and professional ranks.
"One of the things I wanted to achieve when I first turned pro six years ago was to fight here at home", Taylor said this week.
"It's amazing to be bringing big-time boxing back to this nation where it belongs. This isn't any normal fight, this is undisputed champion versus undisputed champion. A very special fight, one of the biggest fights in boxing I believe.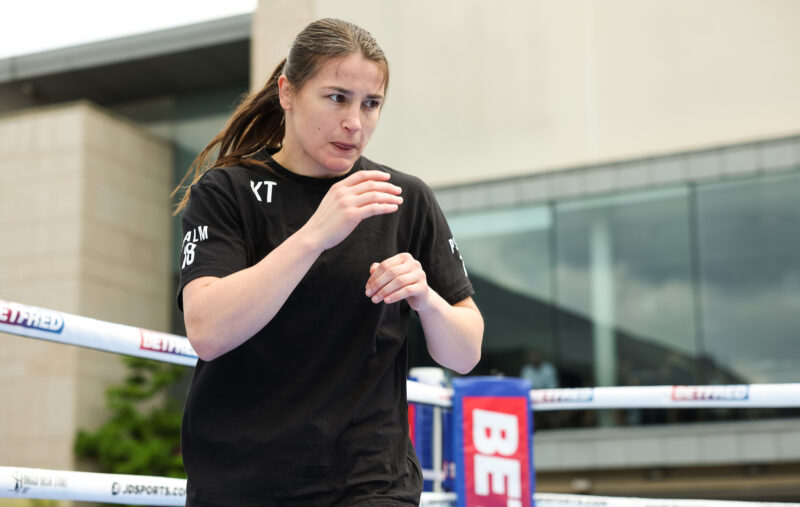 Despite this being her first pro fight in her country of Ireland, the impact she has had on the sport both on and beyond Irish shores cannot be doubted, evidenced by the reception she has received during fight week.
"We're definitely turning a new leaf for Irish boxing and hopefully this is the first night of many nights here at home in Ireland.
"Even at the public workout the other day, just looking at so many young fighters and young girls looking up to myself and Chantelle, it's absolutely fantastic to be in a position where you're influencing the next generation."
Both weighed-in on at 139.7lbs on Friday as Taylor makes the jump from lightweight to super-lightweight where she previously reigned as WBO champion with a 2019 victory over Christina Linardatou.
After both enjoyed successful careers in the amateur code, it is a matter of defining legacy that lies before them in the Irish capital.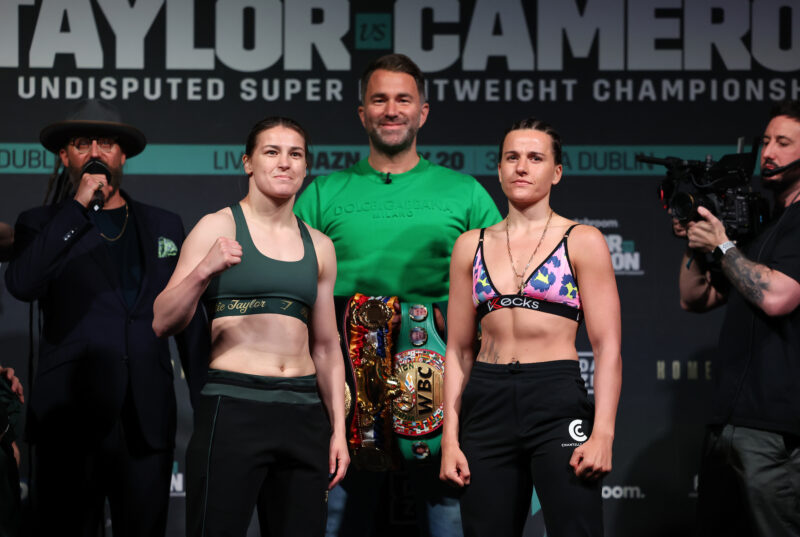 The Undercard:
While all eyes are on the main event this weekend, another intriguing female clash takes place at super-welterweight.
WBA champion Terri Harper (13-1-1, 6KOs) steps in against former undisputed welterweight ruler Cecilia Braekhus (37-2-0, 9KOS).
Harper impressed with a commanding unanimous decision win against Hannah Rankin to claim the belt in September but now faces one of her toughest tests against the Norwegian.
Despite having lost her previous two outings to the aforementioned McCaskill, Braekhus dominated the female welterweight scene for over a decade.
Braekhus no doubt possesses the technical ability to trouble Harper across the ten rounds but questions remain over her durability after a long 16-year career.
Should she roll back the years and display the same acumen which led to her moniker as 'The First Lady', Harper will face a mountainous task but at the age of 43, youth may be on the side of the Doncaster fighter come the sounding of the final bell.
Sticking at super-welterweight, Kildare's Dennis Hogan (31-4-1, 7KOs) returns to his home country as he takes on an in-form JJ Metcalf (24-2-0, 15KOs) from Liverpool.
Hogan defeated Sam Eggington via majority-decision over twelvn Dubline rounds in October.
Metcalf also enters on the back of three consecutive wins, including a career-best unanimous decision over Kerman Lejarraga in Bilbao last May.
Although they fight for the lesser recognised IBO belt on Saturday, the winner will remain in good stead for a shot at a major governing body title in the future.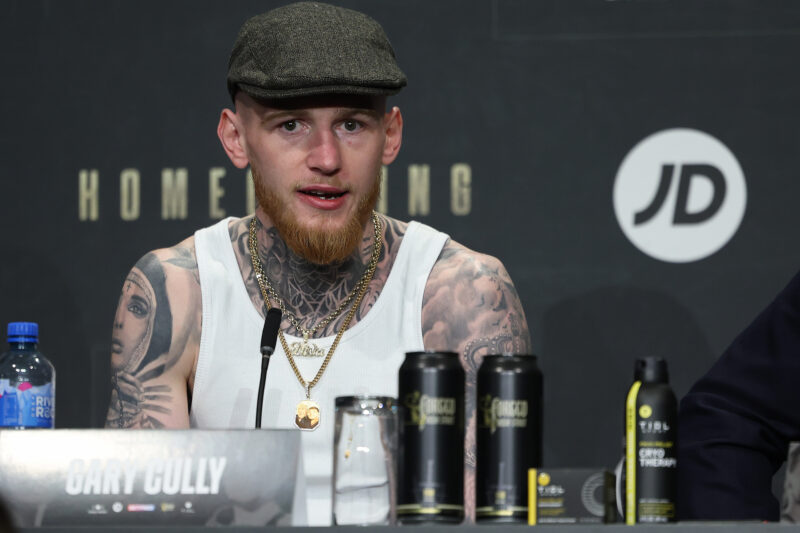 Naas lightweight Gary Cully (16-0-0, 10KOs) also features as he looks to land another dazzling knockout versus Mexico's Jose Felix (39-6-1, 30KOs), while Caiomhin Agyarko (12-0-0, 7KOs) returns to home soil for his first fight in ten months after a hand injury.
Kent's Grant Dennis (18-4-0, 3KOs) opposes Agyarko over ten middleweight rounds in Dublin.
Featured image: Mark Robinson/Matchroom Boxing.