Featured image: Lawrence Lustig/BOXXER.
With his career on the line and all eyes fixed waiting for another collapse at the hands of his rival, only a Eubank could deliver in the way Chris Junior did in Manchester on Saturday night.
A near punch-perfect performance saw Eubank comprehensively outbox and breakdown Liam Smith who was floored twice before referee Kevin Parker stepped in with 1 minute 45 seconds gone in the tenth.
The victory marks a spectacular turnaround for the Brightonian who, just eight months earlier, was stopped inside four for the first time in 35 professional fights.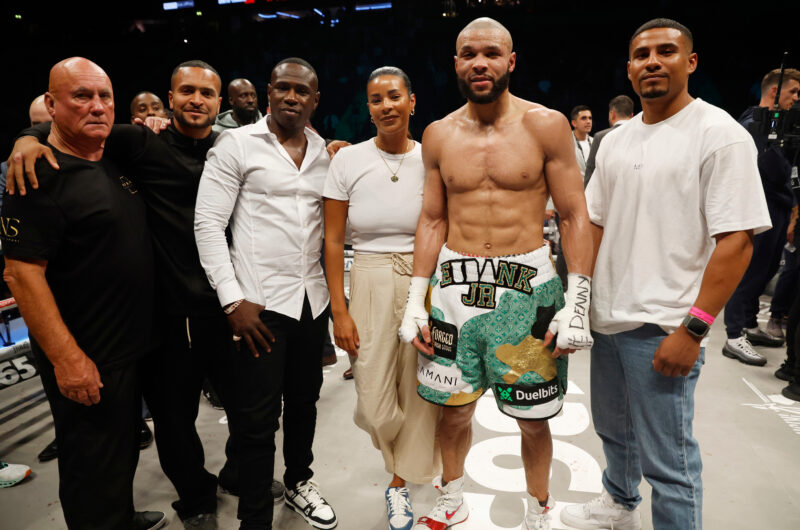 "It had to be [revenge]. I had no other choice, there's too many other big fights out for me that the fans wanna see and I wanna be involved in," Eubank said post-fight.
"Liam is a warrior, I respect him, his whole team and his family and his brothers. They always come out and put it all on the line. He didn't give up, he fought to the last second so big up to Liam and his team."
Smith looked dry from the weight cut on Friday which, in his view, played a part in what transpired at the AO Arena.
"From start to finish, I was just flat from the start. The weight killed me a little bit after the injury. I was just flat from the get go, Chris was sharp," he said.
"I couldn't move my feet and when I did I rolled my ankle. It's just one of them things. Chris was the better man tonight. I shout when I win [and] I'll take my defeat when I lose."
Eubank flies out of the gate
The opening rounds were scrappy as Eubank looked to jab from range before clinching to prevent Smith working on the inside.
Though a notorious slow-starter, the Liverpudlian appeared lethargic from the off and was too stationary a target which allowed Eubank to settle into a rhythm early on.
The latter couldn't miss with the right uppercut all night – a shot which saw Smith planted on the canvas in the fourth after Eubank's right glove pierced through his guard, forcing him to fall to his knees.
Smith bought himself precious seconds by spitting out the mouthguard but despite the extra recovery time, he did well to see out the round as Eubank's ascendency continued to grow.
Revenge was seconds away from being achieved in the following round with Smith trapped on the ropes with barrages of Eubank hooks and uppercuts winging in from all angles.
Not all were landing clean but Smith was undoubtedly troubled and his failure to return with shots of his own gave referee Parker a choice to make.
Eubank's output finally slowed as he retreated to preserve his own gas tank but Smith's unwillingness to turn the tide and go on the attack was telling of his own condition.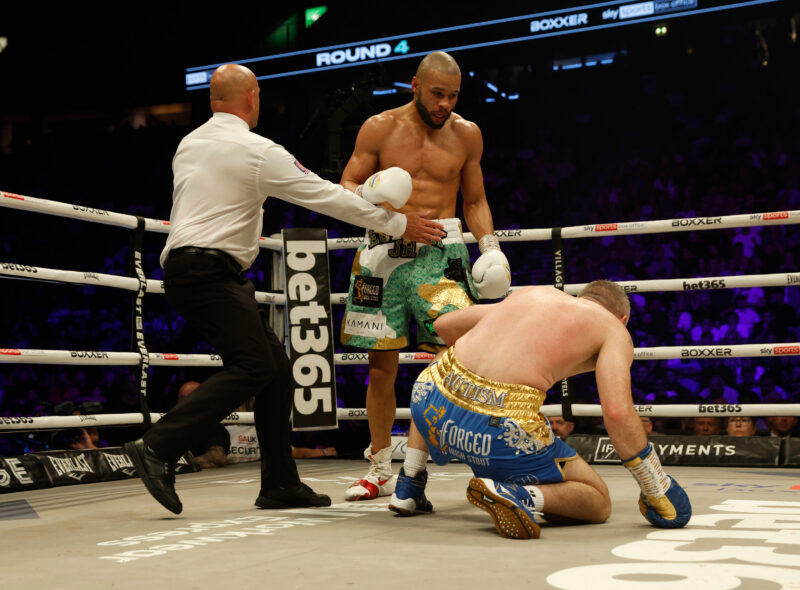 Eubank's dominance continues as Smith's ankles give way
The Eubank jab continued to dazzle into the sixth and seventh, regularly backed up by seamless uppercuts and hooks as the 33 year old continued his domination in an almost flow-state style.
Smith looked to stem the momentum in the ninth with an overhand right but Eubank beat him to the punch on most occasions, further sapping belief from the Liverpudlian.
By this point it was clear that Smith was struggling with mobility in at least one of his ankles – both of which appeared to roll under the weight of his body – making it difficult for him to tie Eubank down and let his hands go as he had done eight months prior.
The comeback looked to be complete in the opening minute of the tenth as Eubank forced Smith back to the ropes again, landing with left and rights including his trademark uppercut which bundled the latter to the canvas.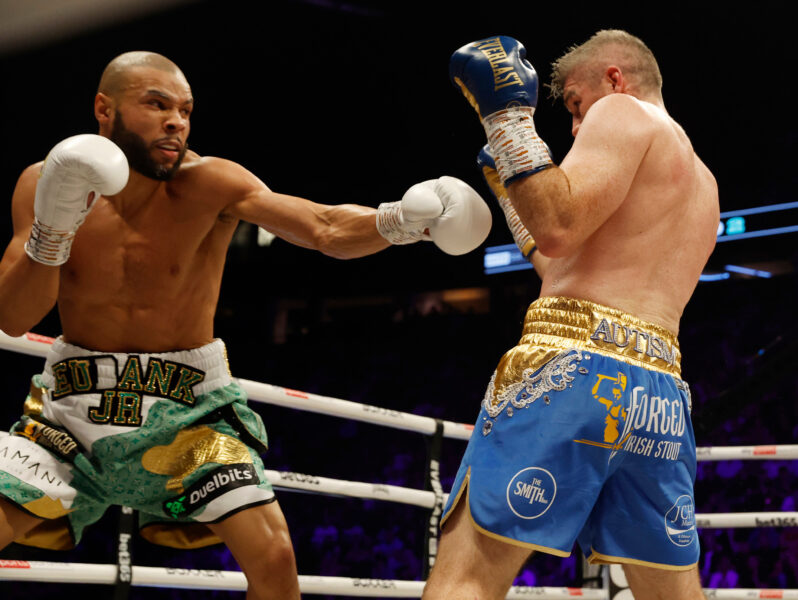 Smith predictably hurled himself up again – refusing to give in after ten troublesome rounds – but again found himself against the ropes moments later.
Eubank could smell blood and immediately set about him to no reply and referee Parker had little choice but to step in and save Smith who hadn't looked himself all night.
By now the 34 year old was brandishing a deep cut over his right eyelid – the result of a fight which he never seemed to get a foothold in despite dominating the same opponent at the start of the year.
Eubank refuses to buckle under the pressure
Though talk of retirement likely seem further away then ever before for Eubank now, the suggestion was not an unrealistic one heading into tonight such was the brutality of Smith's finish in January.
Carrying the name of a boxing legend undoubtedly has its positives but the weight of expectation can send a fighter hurtling to the ground faster and harder than most when things go wrong.
Eubank has however proved that when the heat is turned up, he can and will thrive, looking more focused and attentive than ever seen before as he made his way to the ring.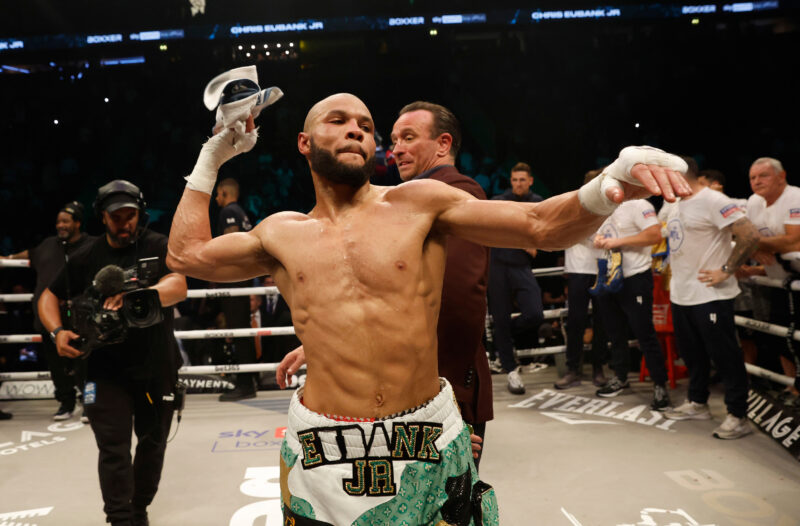 Enormous credit should also be afforded to new trainer Brian 'BoMac' McIntyre who – after teamed up with the Briton less than two months ago – has solidified his naming of trainer of the year.
Eubank's calling out of a retired Kell Brook, a 41 year old Gennady Golovkin and an unlicensed Conor Benn who was sitting ringside post-fight will rightly draw criticism but there can be no taking away from a resounding performance on the biggest night of his career.
Whether it be the trilogy with Smith or any of those named above next, Junior has finally proved his ability to not only compete but dominate at the highest level.