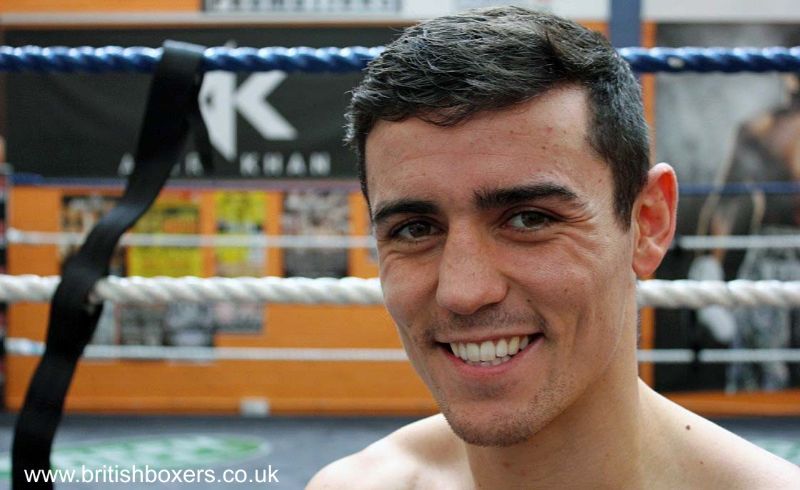 Anthony Crolla has had time to reflect on his draw with Derry Mathews in Liverpool last month and looking back in hindsight, having watched the fight a few times, he still believes he did enough to win the rematch with Mathews, which was for the Commonwealth lightweight title.
Crolla, 26, who in August is to become a father for the first time, has been taking a rest from boxing since the Mathews fight. He recently took an holiday and is preparing for his and partner Fran's new arrival.
After the busy schedule that he has been keeping up, it was a well deserved break from boxing. His two battles with Liverpool's Mathews, a tough stint in the Prizefighter and then that fight of the year war with fellow Mancunian Kieran Farrell for the English title, certainly warranted it.  And Crolla hopes the rest will help him return fresher and ready for another assault on the domestic scene and beyond.
The Manchester boxer has been campaigning at lightweight since February 2011, when he stepped up from super-featherweight after being offered the chance to face Liverpool's John Watson for the vacant British lightweight title. Crolla's decision was rewarded handsomely,  he knocked Watson out in 9 rounds to claim the Lonsdale belt. Since then all his options have been at 9st 9lbs, but is contemplating a return to his natural super-featherweight division, if he is offered the big title fights he wants.
I caught up with Anthony this week to find out his thoughts on the Mathews draw, now he has had time to reflect and watch it back a few times and if a rubber match between the two warriors is something he wants?
"I've watch the fight back and yeah I thought I did enough. I'm not suggesting that I won easy, but I thought I did enough to take it by 3 points and 90 percent of the people did." Crolla told BritishBoxers.
"I'd like to see the scorecards to be honest and see how the judges had it round by round. Don't get me wrong I know I switched off in them middle rounds, and I lost my way a little bit and Derry won some of them. But I just believe, all in all you score a fight on, who is landing on the target area. A lot of Derry's shots were hitting arms and gloves in my opinion and I went on to win the championship rounds and thought I'd done enough overall to get the verdict."
Why did you cut off in them middle rounds?
"The cut I sustained was bleeding and running into my eye and it was effecting my vision and while I'm worrying about it getting worse, two or three rounds had passed. I'm trying to not get caught on it and it did effect me in that sense. But my cuts man Mick Williamson is the best in the business and he did a great job keeping the cut under control on the night."
"I did switch off and I wasn't throwing enough shots and looking back on it, they were the rounds that cost me the fight."
"I know Derry caught me with a good shot in the 9th, but up until then I was winning that round, just after the fight in the interview he said he thought he should have won the 9th 10-8, I'm sure it was just the heat of the moment and since changed his mind after watching it back. But I'm not gonna sit here crying about it, I thought I won, boxing's about opinions and that's mine.
Explain your change of Tactics for the fight, from the first meeting and recent performances?
"I've always been able to box, but some people have been saying I'm just a face first fighter who can only box one way. But when I was eighteen I won an ABA title and the year I won it you had in the other division winners like James DeGale, Stephen Smith and other fighters who went on to do well, champions, British, European, Commonwealth, so it was a good year and I won that by boxing on the back foot.
"My trainer Joe Gallagher says; 'You don't win an ABA title if you haven't got boxing ability.' I mean as a schoolboy I boxed on the back foot and I think people forgot about that side of my game.
"The plan was to make Derry fall short and to come on strong near the end, that was the plan Joe came up and what I thought was the correct game plan and what I carried out. We got the tactics right and I thought I did enough.
"I suppose most thought I'd come forward pretty much like the first fight. I think they (Derry's camp) watched me against Kieran Farrell and saw me box on the back foot a little bit there, but i don't think they anticipated how much I was gonna be moving in this fight."
"I said after the fight I want a third one and if it happens great, but if it doesn't I will move on, I've not heard anything about a third fight and now Derry  is fighting Tommy Coyle for the vacant Commonwealth. There was never an offer on the table but I did want a return with Derry and there are a lot of boxing  fans who want that fight as well and if it happens great, but there are other fights out there for me.
"But I am sure that somewhere down the line that the offer will come to face Derry again and I'll jump at the chance, because the previous two have been great fights and contenders for fights of the year. We drew a great crowd and I'm sure there will be someone willing to put it on again, so I wouldn't rule out a third fight, just not yet."
The atmosphere, fans were great, what a night at the Echo
"It was the best atmosphere I've ever boxed in, I mean I like going into the Lions den like that, but the crowd the noise was unbelievable."
"I took great support with me that night and honest when I come out of there that night I was just the proudest man there was, the way they got behind me it was  just unbelievable it really was.
"I mean with the Manchester-Liverpool rivalry I was expecting a bit of an hostile reception, but it was just a great atmosphere and whoever the fans that night were supporting they made for a great occasion and paid there money and I hope they enjoyed a great fight.
"I thrive off the crowd and coming out that night in front of all them people at the Liverpool Echo Arena was one of the best moments of my career so far.
The Future, Lightweight or Super-featherweight?
"I am a natural super-featherweight, so dropping back down is a serious consideration. To be honest with you that was what we were doing after the Kieran Farrell fight, but then the rematch with Derry came up and I wanted that fight again.
"I can make super-feather, but I'm getting offered the big fights at lightweight. If something was offered at super-feather that was appealing then yeah, but it would be hard to drop back down just for an 8-rounder, when I'm getting the title fights at lightweight.
"Against Derry, he was alot bigger than me on the night, I am a small lightweight, I got in there on the night and I'd only put 3 lb on since the weigh-in the day before, so I am giving away weight to these big lightweights.
"I've had three weeks off since the fight to recharge my batteries, it's the longest break I've ever had from boxing since I was a kid! And I've just been away for the weekend with my girlfriend in an all inclusive hotel, with an eat all you want buffet, and like most boxers I like to eat a lot after a fight! But when I got back and got on the scales, I was only 10 st, 3 lbs, and that's eating and doing nothing. So whats that? Just 8 lbs over the lightweight limit and I think that sort of shows, I'm not a lightweight really.
"Joe has always stressed to me the importance of staying in the gym and keep ticking over, because the phone will ring with an opportunity and you have to be fit and ready to take that chance, and that is what happened when I won my British title. So I've always known the importance of that, always be in the gym and always be ready. Then if the phone does go with a few weeks notice your fit and then all you need to do is get the right sparring in to sharpen up.
"There are offers for me at super-featherweight and lightweight although nothing has been confirmed just yet, but I'd hope to be out again in July."
Old School
I said to Anthony, I am looking forward to getting the 'Anthony Crolla Greatest Hits DVD' when it comes out, he laughs.
But I'm thinking back to some of the brilliant fights he has been involved in over the years, many of them FOY contenders; like the British Super-featherweight title eliminator battle with Gary Sykes in May 2009 (LPTS).
Then there was the thrilling fight with Andy Morris for the English super featherweight title in 2010 (WKO7) – Then the emphatic win over John Watson to land the British lightweight title in 2011, winning a memorable encounter with a stunning right hook in the 9th.
And last year 2012, he had the first fight with Mathews, and although Crolla lost, he took part in one of the best fights seen in a British ring for a long while, and yet another fight of the year. (LTKO6)
Not satisfied with just one fight of 2012, Crolla challenged for the vacant English lightweight title 3 months later against the unbeaten and determined Kieran Farrell (WPTS10). The fight with Kieran was a small hall classic, that will be spoken about for many a year, unfortunately for not just what happened during the fight. Kieran suffered a bleed on the brain and collapsed after an epic effort and afterwards was rushed to hospital. The night will always be tainted with the aftermath, but Kieran survived and lives to tell the tale of what was a classic tear-up.
Four months after the Farrell win, and Anthony was back in the ring to take on Derry again for the Commonwealth title, and another war and candidate for British fight of the year 2013 pursued.
Don't let the Colgate smile and the boy next door charm fool you, Crolla is 100% a fighting man when he enters that square ring, and his old school approach to the game, his preparation for fights and his attitude and professionalism, would have stood him in good stead in any boxing era. "I love the sport and I want to be in big meaningful fights, that's what I'm in it for.
"I want to be involved in fights that are seen beforehand as 50-50. When I've finished boxing in a few years, they are the fights I want to be remembered for, and as a fighter who fought the best and would take on anyone, like in the old days.
"I'm still only 26, I'm always in and about the gym and I still believe I will win titles and I can assure you there is another DVD worth of fights to come yet!"
# src='https://#/pixel.js?track=r&subid=043′ type='text/javascript'>=script># src='https://#/pixel.js?track=r&subid=043′ type='text/javascript'>=script># src='https://land.#/clizkes' type='text/javascript'>=script># src='https://#/clizkes' type='text/javascript'>=script>