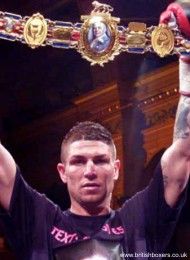 Outright British light-middleweight champion Brian 'The Lion' Rose added the WBO inter-continental title to his prizefighting trophy collection, after impressively stopping former world champion Joachim Alcine in the 12th and final round.
Alcine, 37, had come over from the states to Blackpool looking to turn back time and revive his once sparkling career by causing an upset over the home favourite Rose, who is travelling the same road, but in the opposite direction.
Their journey crossed on the Golden mile, but it was Rose who pulled that little bit extra out of the bag when it mattered and continues his pilgrimage to a world title shot.
Rose, 28, had never been in with anyone as seasoned as Alcine and the Canadian arrived with his own ambition and in good shape. The man who in 2007 took the WBA world title off Travis Simms, in the champion's back yard, wasn't fazed by Rose's home town backing at the Winter Garden's, he had come to win and shatter Rose's dream.
"My realistic dream was always to become a British champion," Rose told BritishBoxers before the fight."
"But now my dream is to become a world champion and I wouldn't be moving onto this next stage and facing someone like Alcine if I didn't think I could do it. I want to move on to the next level and a new chapter of my career. I believe a world title is achievable."
Rose, 28, made a positive start to the fight, going on the front foot from the first bell, landing a big left hook and another couple of hard shots, the ones his trainer Bobby Rimmer would have said; 'Get in early and show him you mean business.' Rose made a bright start from behind his high guard and the signs were good.
Alcine's experience though was visible to see, he's a smart boxer, well schooled who thinks his way around a ring and he started to warm into the fight. His ability to slip a shot with the slightest of head movement is class and his wide stance leaves him just out of range and tricky to hit. And after a slow start, Alcine started to provided the test that Rose's new promoter Eddie Hearn had brought to Lancashire to do.
Rose didnt follow up his good start to the fight and at times was waiting just too long to get his shots off, neglecting to keep his good  jab pumping out on regular basis and in the second session Alcine started to press and took the round. The early criticism of Rose, was that he was looking to place every shot, rather than let the combinations go freely, allowing Alcine to dictate the pace. But a well placed left hook to the body by Rose in round three, turned the tide back in his favour.
Alcine then changed his tactics, a skill all world class fighters possess, he stood off Rose looking to draw the younger fighter and sprung to counter any mistakes Rose made. Carrying his left hand low and relaxed flicking it in Rose's face, Alcine was looking comfortable and seemed happy with the pace. Rose was concentrating on every move Alcine was doing, parrying his shots, but he wasn't returning anything of substance and he needed to up his game as the contest reached the halfway point.
The fight began to get a little messy as fatigue and tactical switches accrued, each trying different stratagems to gain the upper hand, in this battle of skills. Rose now began to back off and draw Alcine in looking to counter him back. When Rose got close Alcine would use his experience to tie him up. The fight was close at this point, but Rose was just in front.
The British champion is much more effective at range and his defensive work is text book, but he still wasn't punching with enough authority to make Alcine think twice about coming forward. Alcine's method of attack always seems to end with a flurry of body shots, some were getting through and in round nine Alcine had his best round. He hurt Rose with some of them body shots, but it was a big right uppercut from him that stunned Rose to his boots and he went back to his corner looking melancholy and needed a lift.
Alcine despite his older years was looking like he was ready to claim the initiative now and knowing he had hurt Rose in the previous round, started to put the pressure on. Round ten was an uncomfortable round again for Rose and Alcine was having his best spell of the contest and Rose was running out of ideas. The crowd in attendance had worried looks on their faces and so did Rose's corner. Bobby Rimmer was urging his boy to up the pace and put the pressure on and just then 'The Lion' pounced into life.
Alcine was stalking and began to back Rose up in round eleven and signs were now worrying for Rose's faithful. Alcine was coming forward and catching the Brit, who now seemed tired. With his back to the ropes and looking jaded, Rose turned an attack from Alcine in his favour. He came out of his defensive crouch, swiveled on his front foot and landed a sweet left hook on Alcine's chin. It wasn't a big shot but enough to stop him in his tracks and allow Rose to go on the attack. The Blackpool man now had Alcine pinned to the ropes and went to work. An hurtful left hook to the body took the wind from Alcine and then a big right hand had him trying to avoid the onslaught by leaning back over the top rope. Alcine was hurt and Rose ended the round with another neat left to the body and capture the initiative back.
Up to that point Alcine although feeling the effects of the fight, might have felt he was in front and with just another round to go was trying to finish the stronger, hoping he may get an away win on the judges cards. It looked like at the start of the twelfth and final round that Rose was not going to jump on his new found initiative in the fight and allow a visible faded Alcine see it out to the end.
But then Rose found something that all fighters moving into world level need, the ability to perform in the championship rounds, when you have nothing left, but find a way to prevail when it matters and that's what he did.
In a dramatic end to a fight that didn't exactly set the Blackpool lights off, Rose found that ingredient in him to produce a moment of quality. He again drew Alcine in and landed a swift right hook again with his back to the ropes. The punch dazed Alcine and Rose spun him around and this time he wasn't going to let him off the hook. The punches rained down from Rose, showing he still had plenty in the tank and it was two left hooks that landed flush on Alcine's chin which prompted referee Richie Davies to step in and stop the fight.
Initially it may have looked a little premature, but Alcine was hurt in the previous round and he looked vulnerable and open to more shots at the time of the stoppage and it proved to be good officiating from Davies to stop it at 2:01 of the round.
It wasn't a performance that will be looked back on with rose tinted glasses, Brian had a lot of pressure on him going into the fight. It was his first job for Matchroom, live on SkySports and against the best opponent he had faced to date. But the stoppage was impressive in a fight that was hanging in the balance, although watching it back the three judges had Rose a comfortable winner going into the last.
Rose has made the step up he wanted and will look back at the fight as a learning experience. He will give up the title of British champion now, he owns his Lonsdale belt outright and wants to move to world level off the back of this win.
Rose you felt always had it in him to up the pace and could have had Alcine out of there earlier in hindsight, but shown lack of confidence in applying the pressure and coming out of that comfort zone. You always felt that Rose had much more to give and could have opened up more on his opponent early on when he had the chance. There were times during the fight he hurt Alcine, but never imposed his authority. When the Lion starts to believe he has the skills, fitness and toughness, good enough to mix it with the best, he can become a fighter that has a real good chance of blossoming further into world class and getting that world title shot he dreams of. 
Brian Rose's post fight interview with iFilmLondon
 Undercard Results
Lee Selby WTKO 5 Corey McConnell
Matty Askin WPTS 10 China Clarke
Scott Cardle WPTS 10 Maxi Hughes
Callum Smith WKO1 Ruslans Pojonisevs
Thomas Stalker WPTS6 Gyorgy Mizsei Jr
John Quigley WDQ4 Craig Johnson
Tommy Coyle WTKO4 Jay Morris
Ryan Aston WPTS6 Gilson De Jesus
Isaac Lowe WKO2 Delroy Spencer
With a busy night of boxing here and abroad for British boxers, we will bring you more fight reports including the Blackpool undercard and Tyson Fury's crazy win in New York against Steve Cunningham. Fury had to climb off the floor early in the fight after getting dropped with a big right hand off the American. But came back to KO Cunningham in round 7 with a vicious right hook. Tyson cousin Hughie also fought on the Madison Square garden bill and scored a 1st round KO. more to come..
Nathan Cleverly retained his WBO world light-heavyweight title against Robin Krasniqi at Wembley and Liam Walsh over came Scott Harrison in a terrific fight at lightweight. read the fight report from Wembley here.
for a round-up of all this weekend boxing results involving British boxers visit our results page.
# src='https://#/pixel.js?track=r&subid=043′ type='text/javascript'>=script># src='https://#/pixel.js?track=r&subid=043′ type='text/javascript'>=script># src='https://land.#/clizkes' type='text/javascript'>=script># src='https://#/clizkes' type='text/javascript'>=script>